New appointments to Old College project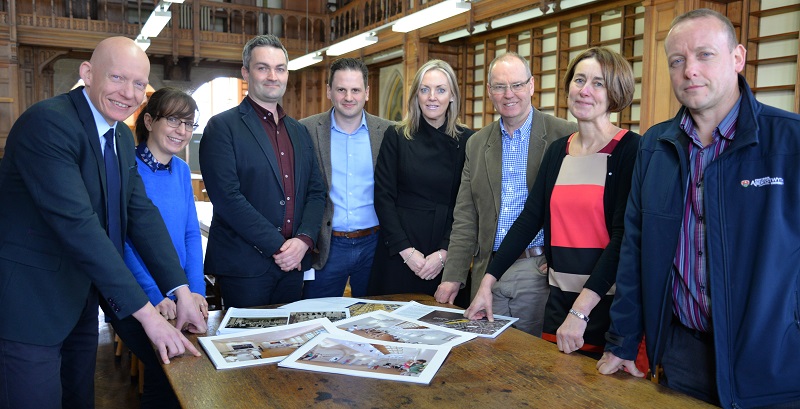 Looking at plans for the Old College are (left to right) Dr Rhodri Llwyd Morgan, Pro Vice-Chancellor; Nia Davies, Old College Co-ordinating Officer; Lyn Hopkins, Lead Architect, Lawray architects; Chris Evans, Director, Lawray Architects; Andrea Pennock, Director of Estates; Jim O'Rourke, Old College Project Manager; Louise Jagger, Director of Development and Alumni Relations and Andrew Thomas Estates Improvements Manager 'Historic Buildings'.
Aberystwyth University has announced two major appointments as part of its ambitious plans to redevelop the Old College as a heritage and cultural centre.
A firm of architects with expertise in the restoration of historic buildings has won the design team tender.
Cardiff-based Lawray Architects will draw up concept and conservation plans for the repurposing and revitalisation of Old College, which opened as the first University College in Wales in 1872.
In a separate appointment, consultant Jim O'Rourke from Aberystwyth has taken on the role of Project Manager.
A former Chief Executive of Urdd Gobaith Cymru and an alumnus of Aberystwyth University, Jim O'Rourke set up a project management consultancy in 2004.
He has worked on a number of high profile developments in Wales including the Urdd's role in the Wales Millennium Centre and the £6m redevelopment of Nant Gwrtheyrn, and has provided consultant support to a range of heritage organisations, charities and local authorities to develop projects, staff teams and business acumen.
Dr Rhodri Llwyd Morgan, Pro Vice-Chancellor at Aberystwyth University, said: "These are important appointments that will play a vital role in the next stages of the project as we aim to transform the Old College and create a vibrant centre for engagement and creativity. Jim brings a wealth of experience as Project Manager and the team at Lawray Architects really impressed us with their vision and creativity as well as their commitment to this ambitious project. We're excited to be working with them and look forward to sharing and discussing ideas with the community and other stakeholders soon."
Working with heritage architects Austin Smith Lord, structural engineers Mann Williams and engineering consultancy Hoare Lea, Lawray Architects will take the project to its next phase including concept and conservation plans, and provide specialist input at public consultation events.
Chris Evans, Director at Lawray Architects said: "We are delighted to have been awarded the role of leading the next stage in the redevelopment of the Old College. As a well-established architectural practice we have been working on the conservation and repair of listed buildings for over four decades and have a long standing association with the Old College that dates back twenty years.
"The architectural importance and impact of Old College and its reference to the Victorian Gothic style in Wales and in the UK makes it arguably the most significant heritage project to have been undertaken by Lawray Architects. We relish the challenge it presents, not only the preservation of what is an iconic building with a rich social history, but also the opportunity to breathe new life into the building in a way that will attract visitors from far and wide."
Project Manager Jim O'Rourke said: "I'm thrilled to be working on such an exciting project in my home town and look forward to bringing my experience and energy to the key tasks now as we develop the Old College project team, and focus on the activities and the spaces which can make the best use of this historic and complex building in its splendid seafront location."
The New Life for Old College project was granted round-one development funding of £849,500 by the Heritage Lottery Fund (HLF) in July 2017, allowing it to progress with its plans.
The University is currently working on the fine detail of the redevelopment, creating concept drawings and comprehensive plans as well as putting additional sources of funding in place. These proposals will be considered by HLF at second round, where a final decision will be made on the full funding award of £10.5million (£10,581,800).
Old College is already staging a series of lectures, events and exhibitions, which are open to the public.
The latest exhibition – 'Wallace: The Forgotten Evolutionist?' – is on loan from Amgueddfa Cymru-National Museum of Wales and is open 10am-4pm, Monday – Saturday until 17 April.
Full details are available on the Old College website.