Aberystwyth University celebrates One World Week 2018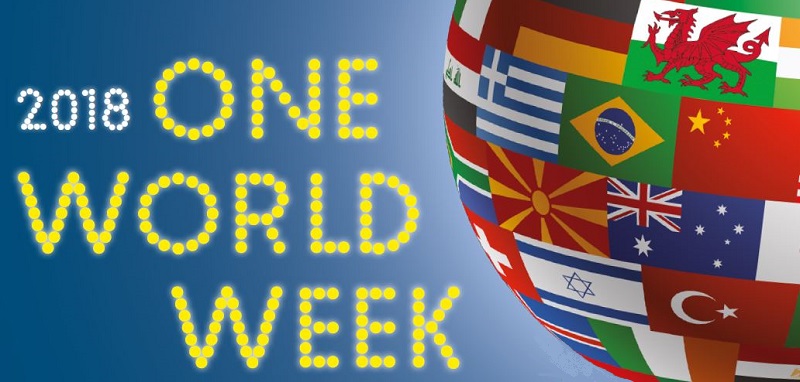 Aberystwyth University will celebrate and promote the richness and diversity of cultures and nationalities in its international student community at its One World Week festival beginning on Monday 5 March.
Organised by the University's International Office and the Aberystwyth Students' Union, One World Week is now an established annual event in the University's calendar. It celebrates the University's global diversity and recognises the contribution of international students to the University and the local community.
This year's festival is launched by the One World Week Gala Evening at the Students' Union on Monday 5 March at 7.30pm, where international students from across the globe will showcase their talents in a wide range of performances.
On Thursday 8 March the One World Week World Fair takes place. This event, held in the Students' Union, allows international students and societies to 'exhibit' their culture by running a stall, offering traditional food, language skills, crafts, and introducing visitors to music, food and drink and traditional dress from their country.
This year's One World Week activities will also include a Conference on Women, Migration and Refugees, a Film Evening with discussions around global themes, a Quiz Night, and a Photograph Exhibition 'Global Aber and International Women Students: contribution and achievements'.
Throughout the One World Week celebrations, the University's award-winning restaurant, TaMed Da, will offer a series of speciality menus encompassing dishes from different regions and countries across the world.
Closing the festival on Saturday 17 March is the eagerly awaited and popular Malaysian Evening which showcases the diversity of Malaysian culture. Run by the Malaysian Student Society, this year's event is entitled 'Warna: Colours of Malaysia', and promises to be a magnificent evening of entertainment, and a wealth of traditional music, dance and cuisine. The event will be held at Aberystwyth Arts Centre at 6pm. Tickets, which include a meal of Malaysian cuisine, are available from the Box Office on 01970 623232 or from the Arts Centre website – www.aberystwythartscentre.co.uk.
Lisa Fisher, International Assistant at the University's International Office said: "Aberystwyth University has a vibrant community of students and staff from all around the world. We are very proud to be part of a University with such a strong global community.
"Now in its fourth year, the One World Week celebration recognises the contribution that international students make to our University and the local community. It provides a platform for international and home students to come together to celebrate the University's diversity of cultures and promotes the value of all our home and international students and staff working and studying alongside each other.
"One World Week would not be possible without our students who work so hard to make each year even bigger and better. I have really enjoyed working alongside them this year and am looking forward to what promises to be a vibrant and cultural One World Week festival.
I hope that as many students and staff as possible come and join us at our events throughout the week to celebrate Aberystwyth University's rich and diverse global community."
AU9918