Excitement and Wonder of Science launched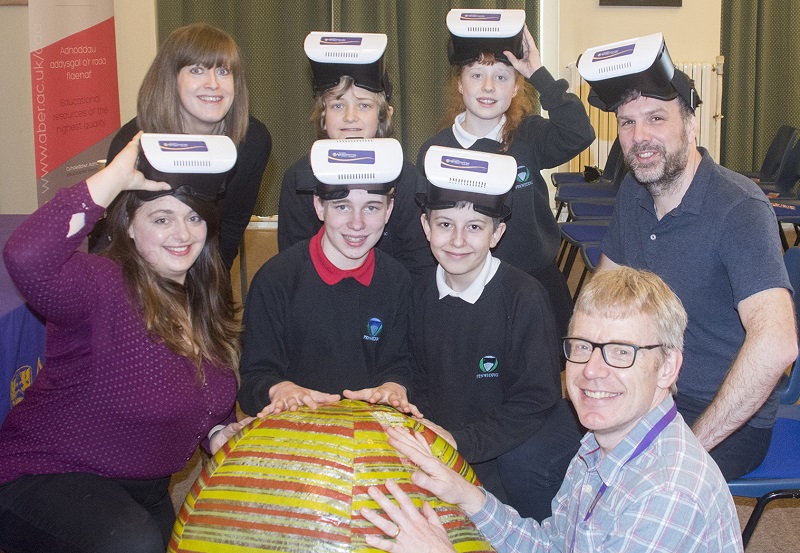 Pictured are Fflur Davies, Assistant Director CAA Cymru (top left), Dr Huw Morgan (top right), Carys Huntly (front left) and Martin Nelmes (front right) from the Department of Physics at Aberystwyth University with year 7 pupils from Ysgol Gyfun Penweddig at the launch of Cyffro a Rhyfeddod Gwyddoniaeth
A new Welsh medium science website for 7-16 year old pupils has been launched by Aberystwyth University education publisher CAA Cymru.
Cyffro a Rhyfeddod Gwyddoniaeth (Excitement and Wonder of Science), has been developed to stimulate thinking and encourage pupils to explore further scientific questions that arise in their everyday lives.
It also applies the content of Science in the National Curriculum in Wales and the new WJEC GCSE Science specifications.
The resource has been sponsored by the Welsh Government and authored by Cerian Angharad of Cardiff based STEM consultancy See Science.
Fflur Davies, Assistant Director of CAA Cymru, said: "This resource will be available to schools through the Hwb website, with guidance for teachers on how to use it effectively with the pupils in the classroom.
"There are over 50 scientific questions for learners to consider, as well as suggestions for various activities and experiments. The website will be a highly valuable Welsh-medium resource for schools in Wales."
Cyffro a Rhyfeddod Gwyddoniaeth was launched at the Old College, Aberystwyth University on Thursday 22 March 2018 in the company of year 7 pupils from Ysgol Gyfun Penweddig.
As part of the launch they heard a talk on the solar system and planets by Dr Huw Morgan from Department of Physics at Aberystwyth University.
They will also took part in various scientific-based activities and the event will be available on the CAA Wales website www.aber.ac.uk/caa shortly.
CAA Cymru is one of Wales' largest educational resources publishers and produces high quality books and digital resources in both Welsh and English and has published approximately 2,500 publications since it was established in 1982.