Award for Aberystwyth University's Language Exchange Platform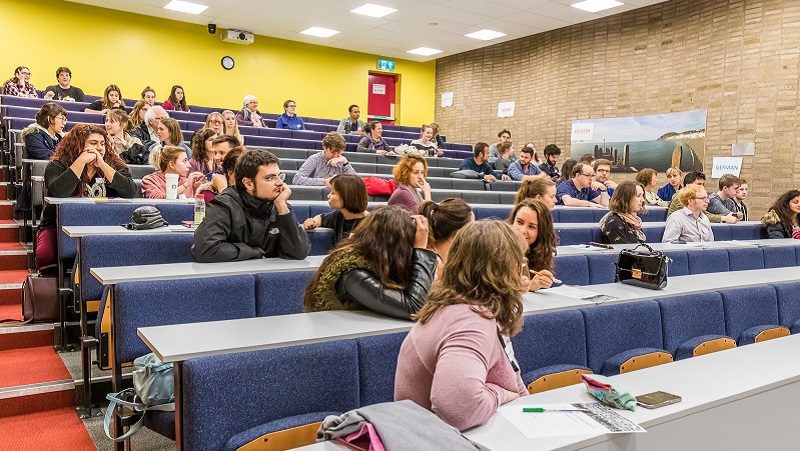 Language Exchange Platform students at Aberystywth University
A unique project to promote the sharing of languages and culture at Aberystwyth University has been highly commended in the annual Universities Association of Lifelong Learning (UALL) Award Scheme.
The Language Exchange Platform delivered by the University's Lifelong Learning department was given the award in the association's International category, which recognises innovative engagement, including partnerships that create change in an international or transnational context.
Set up in 2009, the UALL Award Scheme celebrates projects, programmes, partnerships, and research that promote lifelong learning in the higher education sector. 
The Language Exchange Platform at Aberystwyth University uses tandem learning, in which learners work together with a partner from another country or with one who speaks the language they wish to learn.
Antonio Barriga Rubio, the driver behind the project, and Modern Languages Coordinator for Lifelong Learning at Aberystwyth University: "We are delighted to win this commendation. The UALL has recognised the innovative engagement of the Language Exchange Platform and the promotion of change in an international context. It is an acknowledgement that the Platform can have a transformative effect on people's lives.
"This academic year we have had 130 people take part and we are exchanging over 30 languages - from Persian to Japanese, Mandarin to French, and Welsh to German. Members of the Language Exchange Platform are not only able to work face-to-face, they now also have connections with learners at other universities in Spain, France and Germany via Skype.
"Aberystwyth University is a multicultural and multilingual University, with staff and students from around 100 nationalities speaking more than 40 different languages. Apart from the regular language classes offered by Lifelong Learning and other University courses, we believe that students, staff, and the wider community should have the opportunity to take advantage of this unique environment. The fact that we are making a difference is appreciated and we all need to be proud of being part of it."
Professor Judy Broady-Peston, Director of the Institute of Professional Development at Aberystwyth University, said: "Competence in other languages opens up a wide variety of exciting career opportunities for students. This exciting initiative developed by Antonio and the Lifelong Learning team reaffirms our commitment to multilingualism at Aberystwyth and is one of a series of opportunities offered to students here."
Student Views
Comments from students who have been part of the Language Exchange Platform include:
"I highly recommend participating in a language exchange, as a way of supplementing any language studies. What I have learnt from this is invaluable" - Roksana Cowan.
"This experience made me feel more confident as my language partner is amazing to talk to, she corrects me and is very supportive" - Amie Heffernan.
Learning another language at Aberystwyth
As part of Aberystwyth University's Lifelong Learning provision, registered students can also choose to follow one module per term in a language which isn't part of their main degree programme.
Language modules on offer free of charge in 2018 include Arabic, Breton, Chinese, Greek, Japanese, Russia while a selection of Modern Language courses in French, German, Italian and Spanish are available at a concessionary rate.
Aberystwyth's Welsh-medium Students' Union UMCA also offers free Welsh lessons to students who want to learn the language.
AU16418