Selfie film scoops British Universities Film and Video Council award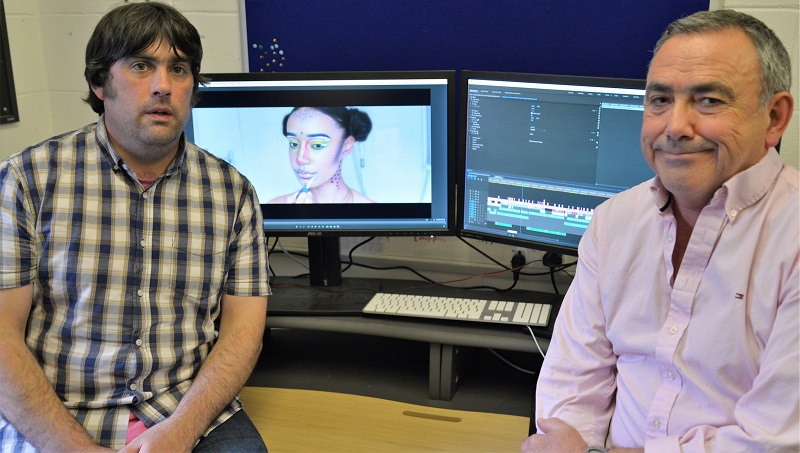 Dr Greg Bevan (left) and Dr Glen Creeber who produced the award winning 'Into the Looking Glass- how selfie culture is preparing us to meet our future selves'.
A film about the future of selfie culture by two Aberystwyth University lecturers has been praised for its "very high production value" by the judges of the British Universities Film and Video Council's Learning on Screen Awards 2018.
Into the Looking Glass- how selfie culture is preparing us to meet our future selves by Dr Greg Bevan and Dr Glen Creeber was announced as winner of the Audiovisual Essay Award category at the awards held at the BFI in London on Thursday 26 April 2018.
The 24 minute film takes a close look at the future development of selfie culture and its proliferation via smart technology.
The British Universities Film and Video Council's Learning on Screen is a charity whose members are experts in the use of moving image in education, delivering online academic databases, on demand video resources, training, information and advice.
Speaking after learning of their success, Dr Glen Creeber said: "We would like to sincerely thank the 'Learning on Screen Awards' for this wonderful recognition. This is the first video essay we have ever produced, so it's particularly satisfying to have received this tribute and it will encourage us to make many more in the future. We are currently working on a new one about the use of Virtual Reality in the classroom - we can only hope it is received as well as our first."
Dr Anwen Jones, Head of the Department of Theatre, Film and Television Studies said: "I am thrilled that the innovative work of colleagues has been recognised in this way. It is testament to their commitment to excellent learning and teaching that has been inspired by, and is suited to the demands and challenges of their field of expertise. This is Higher Education at its best."
Speaking ahead of the awards ceremony Dr Bevan said: "Video essays as academic outputs are still a fairly new idea. It's a way of engaging with your audience more imaginatively, and also of introducing theories and concepts to new and non-academic audiences who might never ordinarily read a journal article.
"We also hope the video essay will be a useful teaching aid in the fields of digital media, digital culture, media and communications, and beyond".
The film explores the idea that the screen is coming increasingly nearer to the viewer - from the village cinema to the living room. Now it is carried in the form of a tablet or phone; but what lies beyond the likes of VR sets and smart watches? Could eye and brain implants lead to the screen disappearing altogether? Will the viewer eventually become one with the screen?
The original score for the film was composed by Dr Alan Chamberlain, a Senior Research Fellow at the Mixed Reality Lab, Department of Computer Science at the University of Nottingham.
Dr Alan Chamberlain said: "It's exciting to see the importance of this collaboration being recognised at a national level and nominated for an award. Working with Aberystwyth University has allowed us to show the impact that cross-disciplinary research across universities can have.
"This project brings together the Arts and Sciences in a way that it is both interesting and innovative. Aberystwyth University is one of the creative powerhouses in the academic landscape of Wales and it's been a great experience to work with people there, we're already working on our next project."