'A Volatile Nile: 6,000 Years of Environmental Change in Northern Sudan'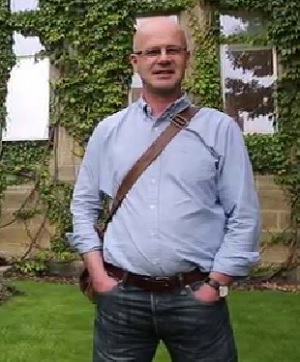 Professor Jamie Woodward
Aberystwyth University alumnus and Professor of Physical Geography at Manchester University, Professor Jamie Woodward returns to his alma matter this week to deliver the latest Department of Geography and Earth Science Centenary lecture.
Professor Woodward, who graduated in Geography from Aberystwyth University in 1986, will lecture on 'A Volatile Nile: 6,000 Years of Environmental Change in Northern Sudan'.
Open to all, the lecture takes place in A6 in the Llandinam Building on the Penglais campus at 6pm on Wednesday 23 May 2018.
Professor Paul Brewer, Head of the Department of Geography and Earth Sciences said: "It is always a pleasure to welcome back to Aberystwyth alumni who have made a significant contribution in the field of Geography and Earth Sciences, particularly as we celebrate our centenary. In a world challenged daily by the consequences of environmental change, understanding how changes to the environment over thousands of years have affected the cradle of humanity will be both fascinating and pertinent to the world we live in today."
Professor Woodward is a geomorphologist with particular interests in the nature and impacts of environmental change in the Mediterranean region and the Nile basin.
He is currently working on two projects in the Nile Valley of Northern Sudan with archaeologists from the British Museum exploring the relationship between human activity and environmental change over the last 10,000 years.
The work, funded by the Australian Research Council and the Leverhulme Trust, also sees him collaborate with colleagues at Aberystwyth University and the universities of Adelaide, Durham, Bergen and Manchester.
Professor Woodward is Editor of Geoarchaeology: An International Journal since 2007, and in 2016 published The Ice Age: A Very Short Introduction with Oxford University Press.