New report showcases Welsh universities' civic mission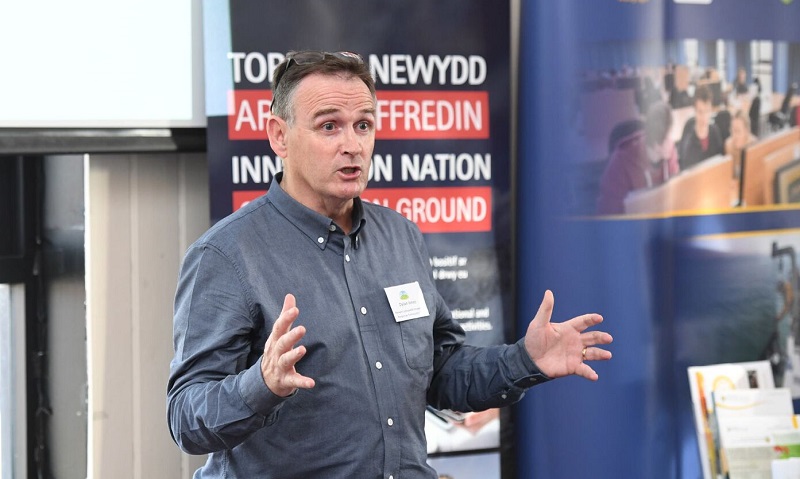 Dylan Jones, Chair of the Penparcau Community Forum, speaking in Cardiff Bay at the launch of HEFCW's Innovation Nation: On Common Ground report.
A new report published by the Higher Education Funding Council for Wales (HEFCW) highlights the impact of universities on local, national and international communities.
Innovation Nation: On common ground was launched by HEFCW at a celebration of Welsh institutions' civic engagement activities in the Norwegian Church, Cardiff, on Wednesday 13 June 2018.
The report includes more than 50 case studies showing how universities are working in partnership and playing an important role in both local and global communities.
In a keynote speech to delegates from a range of universities and partners, the Welsh Government's Cabinet Secretary for Education Kirsty Williams AM said: "Civic mission work helps with bringing communities and universities together. The report highlights the best practice civic mission work already happening in our universities. Let's keep that momentum going."
Examples in the report of how Aberystwyth University is making a contribution to improving the social, economic, environmental and cultural well-being of people and places in Wales include:
The APT partnership between the Aberystwyth Arts Centre and the Penparcau Community Forum, funded by Cynnal y Cardi, to provide transferable work experience skills and training as part of an innovative arts pilot.
The Aberystwyth Robotics Club for local secondary school pupils who work with student STEM ambassadors to design and build robotic platforms.
The research on rural health and well-being carried out by the University's Well-being and Health Assessment Research Unit (WARU).
The research on management of bathing waters by the Department of Geography & Earth Sciences to improve public health and bathing water compliance for Welsh and international communities.
The Choice|Dewis Project led by the Department of Law to enhance justice-seeking opportunities for older people suffering domestic abuse.
A public engagement event bringing together stakeholders from across Mid Wales to formulate alternative and sustainable futures for the region.
Speaking at the event in Cardiff, the Chair of Penparcau Community Forum Dylan Jones said: "Our partnership with Aberystwyth University has opened up a range of opportunities for people of all ages from Penparcau to learn new skills and find out more about how an organisation like the Arts Centre operates. As well as event management, creative workshops and training in the visual and performing arts, we've also benefitted from visits to Theatr Clwyd, Bangor's Pontio arts centre and MAC in Birmingham."
Professor Elizabeth Treasure, Vice-Chancellor at Aberystwyth University, said: "As universities, we have an important role to play in working with our local communities and economies, and to contribute to society as a whole through the impact of our research and education as well as the achievements of our staff, students and alumni.
"At Aberystwyth, our aim has always been to open the doors not only to those who want to study a degree programme or work with us, but also to those who live in the town and the wider area. We do this through our research and a range of engaging activities, including creative learning classes at our Arts Centre, fitness and well-being classes at our Sports Centre, lifelong learning, and Welsh for Adults classes. Our year-long partnership with the Penparcau Community Forum has been particularly inspiring and we hope to see further projects of this nature in the future."
HEFCW's Innovation Nation: On Common Ground report is available in full online: www.hefcw.ac.uk/publications/hefcw_reports_and_statistics/hefcw_reports_statistics.aspx