Aberystwyth University at the National Eisteddfod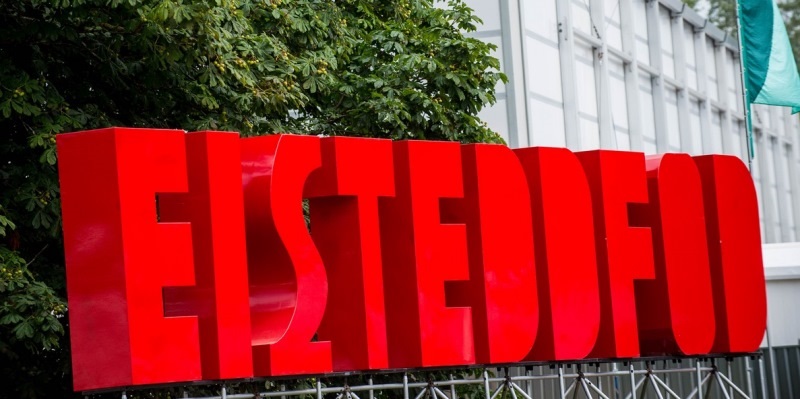 From poetry to mathematics, Aberystwyth University has a whole range of activities at the National Eisteddfod in Cardiff next week.
Come and see us at our stand near the Senedd, our exhibitions in the Science pavilion, our tepee on the Maes B camping site at Fitzallan School or one of our lectures in the Pabell y Cymdeithasau.
"The National Eisteddfod is one of the highlights of the year for Aberystwyth University. It's a great opportunity to share some of our research and our ideas with a wider audience through lectures, events and activities, "said Dr Rhodri Llwyd Morgan, Director of Welsh language and Culture and External Relations at Aberystwyth University.
"It's also a chance to meet and inspire future students, to catch up with current students and to reconnect with our alumni and other supporters. It's going to be a busy week but we look forward to welcoming visitors old and new to our stand at Cardiff.
Aberystwyth University Stand (303-304)
Join us at 2pm on Monday 6 August to hear Professor M. Wynn Thomas in conversation with Dr Rhianedd Jewell from the Department of Welsh and Celtic Studies about her pioneering volume on Saunders Lewis' translations of plays.
Chaired Bard and Geography lecturer Hywel Griffiths will read and discuss poems from his recent volume, Llif Coch Awst'. He will read poetry that deals with the science and landscape of the Earth and other planets at 12pm on Tuesday, 7 August.
As usual, our popular reunion reception for alumni will be held at 2.30pm on Wednesday 8 August in Ffresh, the restaurant at the Millennium Centre.
The stand transforms into a cinema on Thursday morning, August 9 at 11.30pm, with the showing of the award-winning film Two Sisters and a Brother by Meleri Morgan, a former Television, Film and Theatre student.
Edafedd Dŵr (Water Yarn) by Film lecturer Dr Ffion Jones will follow which focuses on the farmers of the Talybont area, Ceredigion and their experiences of water and their memories of flooding.
On Friday10 August at 11am, put your maths skills to the test by trying out a number of interesting puzzles before we turn our sights to the world of translations at 1pm and our postgraduate programme, Professional Translation Studies. There is also an opportunity for you to test your skills as we translate some terminology.
If you just want a break after walking around the maes, there's always a cup of tea and a welcome on offer at the stand; with a children's corner, big screen to watch the competing and main ceremonies, a virtual 360 tour of Aber, and plenty of good company.
You can check out our programme of activities for the 2018 National Eisteddfod on our website.
Aberystwyth University's main stand isn't the only place to see staff at work on the Eisteddfod field
Pabell y Cymdeithasau (3)
A fun-filled session in the Senedd building on Monday 6 August at 2.45pm in the  company of some of Aber's most exciting writers, led by two lecturers and former students at Aberystwyth, Eurig Salisbury and Hywel Griffiths.
On Tuesday 7th August at 4.15pm, the annual E G Bowen Lecture will be delivered by Dr Rhys Dafydd Jones of the Department of Geography and Earth Sciences and the Centre for Welsh Politics and Society – WISERD @ Aberystwyth on 'The Tolerant Nation? Brexit, belonging and central European migrants'.
Discussing Language Policy
On Wednesday 8 August at 1pm, there is an invitation to discuss contemporary research in language and language planning with Professor Rhys Jones, Dr Elin Royles, Dr Huw Lewis and Dr Rhodri Llwyd Morgan in Jolyons Hotel, Cardiff Bay.
Theatre and Drama
The University is involved in three theatrical performances during the week.
On Wednesday 8 August at Theatre Café,  join us for The Black Chair a devised physical theatre piece by young people from Aberystwyth Arts Centre's Youth Theatre about prospects, art, and loss of life at a young age will be. The piece is a reaction by the young people to the story of Hedd Wyn and the losses of the First World War, as well as their own hopes for the future and new generations.
The Chair at last year's Eisteddfod marked the centenary of the Black Chair of Birkenhead and was the work of Aberystwyth alumnus, Rhodri Owen, who studied Fine Art at the School of Art. Osian Rhys Jones, another Aber graduate, won the Chair.
Aberration is also visiting the Eisteddfod this year on Friday 10 August at 1p.m. Presented by Mike Parker, with music from Mer Gân and spoken word from Cywion Cranogwen.  Aberration is an LGBT + arts evening in Aberystwyth, which is on tour this summer with support from Aberystwyth University,
The winning play of last year's Drama Medal, Milwr yn y Meddwl, will be staged from the 6-10 August week at Theatr y Maes. The play is the work of playwright Heiddwen Tomos, a Drama and Welsh graduate.
The Science Technology Pavilion
Aberystwyth University will also be at the Science and Technology Pavilion this year where you can find out about our cutting-edge research from our Mathematics, Physics and Computer Science departments a as well as trying some challenges.
Maes B
Aberystwyth University is sponsoring Maes B, the main Welsh-language rock and pop music festival which is held as part of the Eisteddfod. Thousands of festival goers are expected to attend Maes B which is described by the organisers as the National Eisteddfod's "official after-dark little brother".
Tepee Aber will be based on the camping site, which will offer a space to unwind and charge mobile phones. Members of Aberystwyth University staff and UMCA – Aberystwyth's Welsh Language Students Union - will also be on hand in the tepee to give advice about student life, a week before A level results are released.