Aberystwyth University hosts US Fulbrighters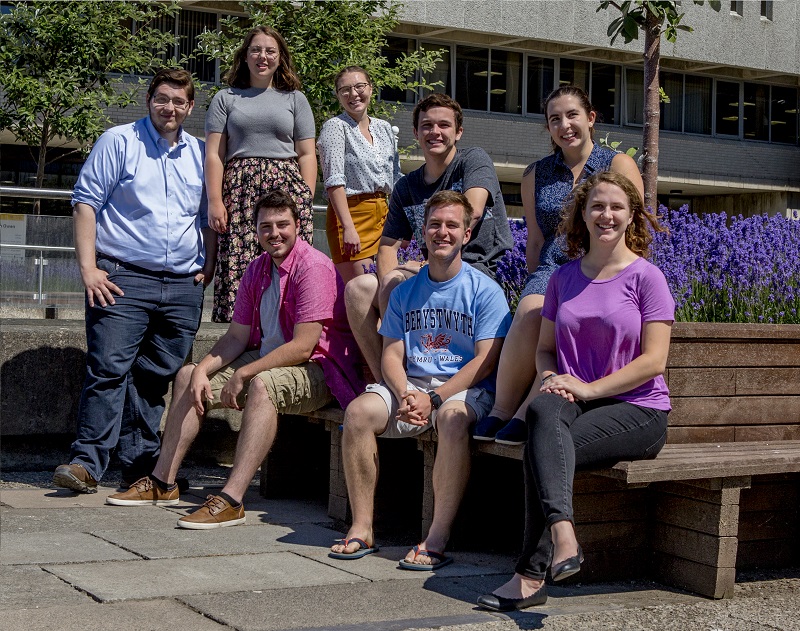 The 2018 Fulbright Aberystwyth University Summer Institute students from Left to Right, top row: Kevin Treadway, Janet Webster, Sarah Shapley, Justin Heywood, Camila Seluja; bottom row: Isaac Keller, Blake Jackson, Casey Wilson
Aberystwyth University hosted eight Fulbright students from the United States in July 2018, giving them the opportunity to explore the culture, heritage and history of Wales and the UK as well as experience higher education at a leading UK university.
The Fulbright Aberystwyth University Summer Institute is a three-week cultural and academic programme, focusing on contemporary issues in identity and nationhood through the lens of Wales.
During their stay, the students experienced a stimulating mixture of classroom work and experiential learning, with trips and tours to historical and cultural sites of significance to the programme.
There was also a busy social programme and opportunities to explore Aberystwyth and the surrounding coast and countryside.
The 2018 Fulbright Aberystwyth Summer Institute was held in Aberystwyth University's Department of International Politics, the oldest such department in the world, which celebrates its centenary next year. The programme also drew on the interdisciplinary research work of the Centre for Welsh Politics and Society.
Dr Anwen Elias, a Reader in Politics at Aberystwyth University, said: "The aim of the programme is to provide the students with an exciting academic programme, to explore the geography, culture, heritage and history of Wales as well as develop their learning, research and communication skills.
"During their three week stay, the Fulbrighters had the opportunity to discover the National Library of Wales, learn some of the Welsh language, participate in round table discussions with key figures in Welsh politics, enjoy a variety of trips including the Senedd in Cardiff, and the Centre for Alternative Technology in Machynlleth, and explore the beautiful countryside and coast of mid-Wales."
The visiting students came from Syracuse University, New York; Sarah Lawrence College, Oregon; Gettysburg College, Pennsylvania; Allegheny College, Pennsylvania; Western Kentucky University, Kentucky; Roanoke College, Virgina; Arizona State University, Arizona, and Colorado State University, Colorado
The Department of International Politics are also hosting a UK/US Fulbright Postgraduate Scholar. Kaela Bamberger received the Aberystwyth University Award for International Relations and is doing a Masters degree in International Politics.
Celebrating its 70th anniversary this year, the Fulbright programme promotes peace and cultural understanding through educational scholarships, and is one of the most prestigious global awards programmes.  The Summer Institutes are designed to introduce students to the UK while developing their academic and leadership skills.