Real living wage accreditation for University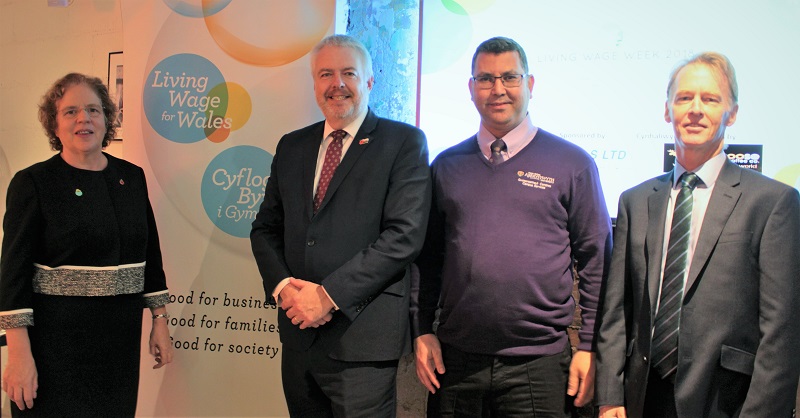 (Left to right) Aberystwyth University Vice-Chancellor Professor Elizabeth Treasure, First Minister of Wales Carwyn Jones AM, Mohamed Cheggaf from Aberystwyth University and Dr Emyr Roberts, Chair of Aberystwyth University Council at the launch of living Wage Week on Monday 5 November 2018. Aberystwyth is one of 174 employers in Wales who have signed up voluntarily to pay the Real Living Wage.
Aberystwyth University has been officially accredited as a Real Living Wage employer.
The news was announced by the Living Wage Foundation at the beginning of Living Wage Week 2018.
Aberystwyth University is one of 174 employers in Wales who have now signed up voluntarily to pay the Real Living Wage.
The Vice-Chancellor of Aberystwyth University, Professor Elizabeth Treasure, said: "Aberystwyth University is one of the biggest employers in Mid Wales, with more than 2,000 full-time and part-time staff. We value the contribution they make to all areas of campus life, and their dedication and commitment underpins the success of our institution. Our decision to adopt the Real Living Wage reflects our principles and values as an ethical employer, and we are now working to support responsible employment practices throughout our supply chain."
Following a decision by its Council, the University began the process of paying the Real Living Wage to staff on lower pay scales in April 2018 while the institution submitted its accreditation application to the Living Wage Foundation.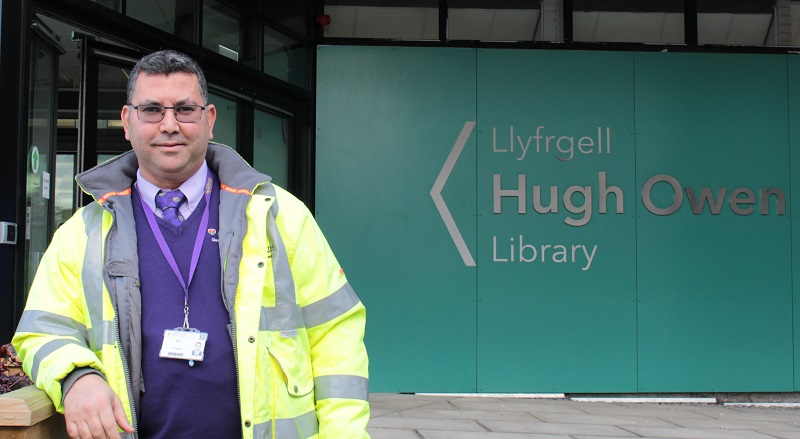 Mohamed Cheggaf, who works as a porter at the University, is among those to benefit from the higher rate.
"Receiving the Living Wage rate has made a big difference. The cost of living is increasing all the time, with shopping and other bills becoming more expensive. Now that I am earning the Living Wage, paying these bills is easier and life is better for me and my family," said Mohamed, who has also learnt to speak Welsh since moving to Aberystwyth.
Set by the Living Wage Foundation, the Living Wage is calculated on the earnings an employee needs in order to meet the basic costs of living and is higher than the UK Government's National Living Wage.
Launching the Living Wage Week Wales in Cardiff on Monday 5 November, First Minister of Wales Carwyn Jones announced that the Real Living Wage rate outside London would rise from £8.75 per hour to £9 per hour.
Living Wage Foundation Director, Tess Lanning, said: "Today's new Living Wage rates will provide a boost for thousands of workers throughout Wales. Responsible businesses know that the government minimum is not enough to live on. Employers that pay the real Living Wage enable their workers to live a life of dignity, supporting them to pay off debts and meet the pressures of rising bills.
"In particular we want to see local councils, universities, football clubs, bus companies and the other major public and private sector employers in every city commit to become real Living Wage employers. When they do, thousands of people get a pay rise, but other local employers also follow their lead. If more of these institutions step up, we can start to build true Living Wage places."