CAA Cymru launches a series of children's books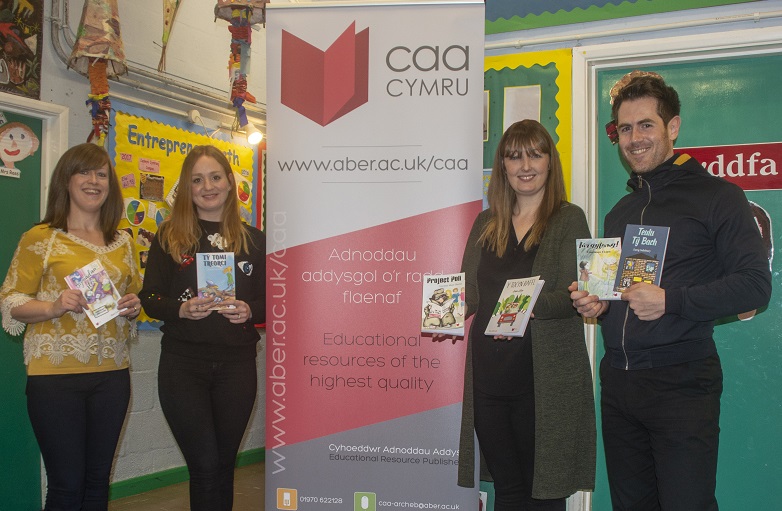 (left to right): Fflur Aneira Davies, CAA Cymru; and authors, Mari Lovgreen; Gwenno Mair Davies and Eurig Salisbury, Interim Head of the Department of Welsh and Celtic Studies at Aberystwyth University.
Three well-known authors, all of whom are graduates of Aberystwyth University, have contributed to a series of new and original novels for children aged 7-11 years old.
Cyfres Halibalŵ, which consists of six humorous novels written by some of Wales' most popular children authors, was launched at Llanbrynmair Primary School on Wednesday 7 November 2018.
The authors include former students of Aberystwyth University's Department of Welsh, Gwenno Mair Davies, Mari Lovgreen and Eurig Salisbury, who is currently the Department's Interim Head.
All three, along with the series' editor, Fflur Aneira Davies graduated from Aberystwyth University in 2004.
Speaking at the launch, Fflur Aneira Davies from CAA Cymru said: "We are delighted to publish these original books for the children of Wales. They have been written by popular authors who frequently work with children of this age and therefore understand their target audience. The books' liveliness, humour and colour illustrations by talented designers, are sure to appeal to girls and boys across Wales, and sales have been excellent in the first few weeks of publication."
Cyfres Halibalŵ is published by Aberystwyth University publisher CAA Cymru, and the project is funded by the Welsh Government.