Exhibition: 'This Is How It Feels'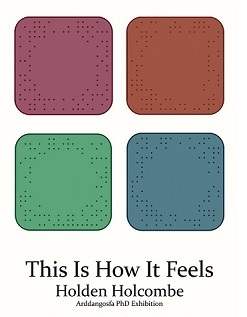 Transgender men and their journeys of transition will be the focus of a new art exhibition opening at the Aberystwyth University School of Art Gallery on Thursday 22 November 2018.
Holden Holcombe's exhibition, This Is How It Feels explores the intimate stories of eighteen transgender men and their journeys of transition from female-to-male by using emerging technologies such as augmented reality.
Open to all, the exhibition's opening will take place between 6-7.30pm, offering a glimpse into the trans experience.
Holden, a PhD student and Lecturer at Aberystwyth University's School of Art said: "This research and exhibition not only allowed me to show my perspective as a transgender artist in emerging media, but to raise my voice as an activist for transgender rights. The exhibition provides a space for transgender and cisgender people to truly communicate and understand one another and the vast similarities we all share."
Holden's research considers the impact of masculine gender role stress in transgender men and the position of transgender voices in contemporary art practice.
This Is How It Feels will be at the School of Art Gallery until 9 February 2019.
The Gallery is open between 10am and 5pm, Monday to Friday, but will be closed for the Christmas period from 21 December to 4 January 2019. Admission is free.