Theatr y Werin re-opened by Lord Elis-Thomas after major investment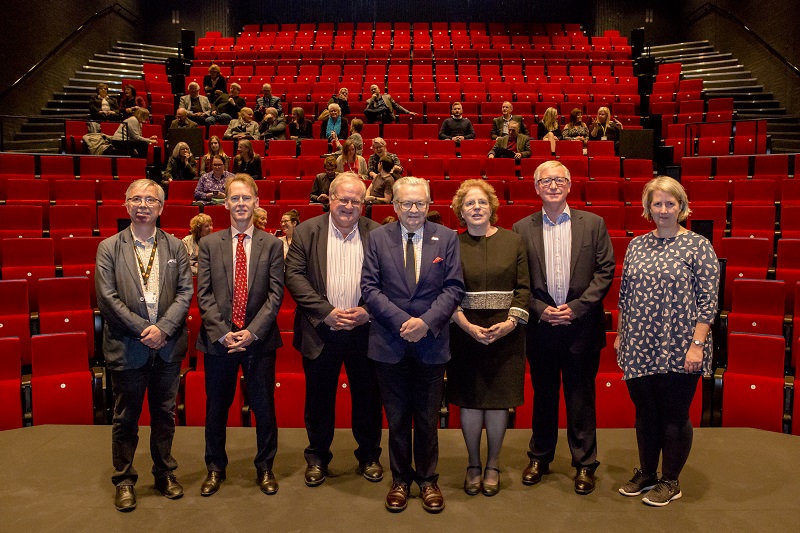 (left to right): Dafydd Rhys, Director of Aberystwyth Arts Centre; Dr Emyr Roberts, Aberystwyth University's Chair of Council; Nick Capaldi, Chief Executive of Arts Council Wales; Lord Dafydd Elis-Thomas; Professor Elizabeth Treasure, Aberystwyth University's Vice-Chancellor; Phil George, Chair of Arts Council Wales and Louise Amery, Deputy Direcor of Aberystwyth Arts Centre.
One of Wales' leading theatres, Theatr y Werin at Aberystwyth Arts Centre, has been officially re-opened following a major refurbishment.
A special event held on Thursday 22 November 2018 saw Lord Elis-Thomas, Welsh Government Minister for Culture, Tourism and Sport officially re-open the theatre.
To mark the occasion, Lord Elis-Thomas also unveiled a specially commissioned englyn poem by poet and Acting Head of the University's Department of Welsh and Celtic Studies, Eurig Salisbury.
The doors of Theatr y Werin closed temporarily on 3 April 2018 for the £750,000 project, as the venue underwent its first comprehensive electrical upgrade since it opened in 1972.
Funded by Aberystwyth University, the work has seen investment in new electrical systems and equipment as well as new seating and carpets in the 300-seater auditorium.
The theatre reopened for business in October 2018 and has already presented a wide ranging programme of events including performances from Theatr Genedlaethol Cymru, Geraint Jarman, Theatr Na N'og, Meic Stevens, Theatr Bara Caws, Imitating the Dog and more.
Dafydd Rhys, Director of Aberystwyth Arts Centre said: "We're very pleased that Theatr y Werin is back in action again, and we've had a hugely positive reaction both from audiences and from theatre companies performing on the stage here. Aberystwyth University's commitment to investing in the Arts Centre sees the theatre set up for thenext twenty years and enables us to continue to programme the very best of work from Wales and internationally here in Aberystwyth."
Lord Elis-Thomas was given a tour of the Arts Centre prior to the opening, joined by the University's Vice Chancellor Professor Elizabeth Treasure, and the Chairman of the Arts Council of Wales, Phil George. Lord Elis-Thomas said: "I am delighted as Welsh Minister for Culture and a former part-time lecturer in drama at this Unviersity to re-open 'Theatr y Werin' in its latest and finest form. Drama on all media platforms is key to quality of life and culture for so many people but nothing can replace the excitement of live events at the peoples' theatre."
Award-winning writer Eurig Salisbury is a lecturer in the University's Department of Welsh & Celtic Studies and his novel, Cai, won the Prose Medal in the National Eisteddfod in 2016. His Englyn reflects how everyone is welcome in Theatr y Werin, literally 'theatre of the people:
Theatr y Werin
Trefnwyd, gosodwyd y sin ‒ a heno,
Pa un a wyt frenin
Ai o doriad y werin,
Sudda i gôl ein seddi gwin!
University Vice-Chancellor, Professor Elizabeth Treasure said: "From thought-provoking drama to pantomime, music and dance, Theatr y Werin has been a leading source of enlightenment and entertainment in Mid Wales for almost forty years. Our recent investment in the theatre's infrastructure demonstrates the University's continuing commitment to the success of the Arts Centre, which plays such an important role in the cultural life of our town, region and country."
The theatre refit has been made possible by a huge number of people. The University's support has made the whole project possible, not just financially, but also through the support and expertise of the Estates Department who project managed the work. The main contractors were Fagan Electricals, and the Arts Centre's own Technical Team worked on the project throughout to ensure it was ready to reopen.
There are many more performances booked into the theatre in the forthcoming months, including leading dance company Aakash Odedra, family favourite 'The Tiger Who Came to Tea', Ballet Cymru, and the Arts Centre's own festival production of 'The Railway Children'.
For a full listing of performances and events visit the Aberystwyth Arts Centre online.