Malaysia, Truly Asia! Aberystwyth Malaysian Night 2019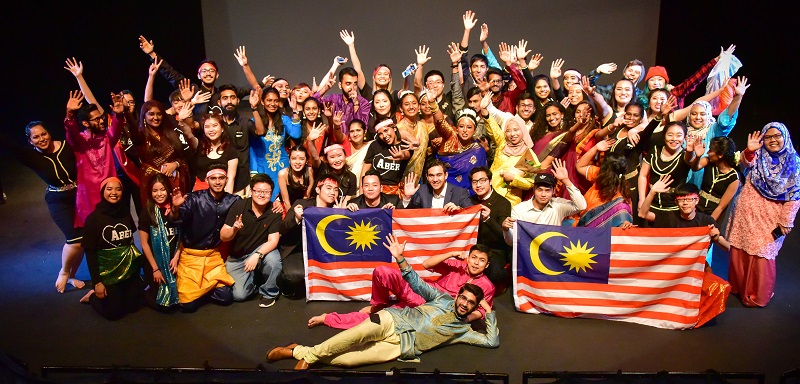 Aberystwyth Malaysian Night 2018
The annual Aberystwyth Malaysian Night on Saturday 23 February promises to be a magnificent evening of entertainment which showcases the rich diversity of Malaysian culture.
Organised by the University's Malaysian Student Society, Malaysia, Truly Asia! looks set to be an unforgettable authentic cultural evening of traditional Malaysian performances and cuisine.
Ruth Owen Lewis, Director of the International Office at Aberystwyth Unviersity said: "Aberystwyth University is extremely proud of its long links in Malaysia which go back to 1948 when we recruited our first Malaysian student to study Law. Since then, hundreds of Malaysian students have studied in Aberystwyth, bringing their vibrant culture to the shores of Ceredigion.
"The Malaysian Night is a celebration of these students and their country. A variety of performances can be expected, including traditional singing and dancing with colourful costumes, and more contemporary acts. Not forgetting the Malaysian food which is offered as part of the evening – a very important aspect of the Malaysian culture and certainly worth sampling!
The students have worked so hard to put on an excellent event, and I hope the evening is well supported by students, staff and locals. Please come along to have a taste of Malaysia!"
Malaysia, Truly Asia! takes place at 6pm on Saturday 23 February at Aberystwyth Arts Centre. 
Tickets, which include a meal of Malaysian cuisine, are available from the Box Office on 01970 623232 or from the Arts Centre website
www.aberystwythartscentre.co.uk/festivals/malaysia-truly-asia.  
Aberystwyth University will also celebrate and promote the richness and diversity of cultures and nationalities in its international student community at its One World Week festival which runs from 4-8 March 2019.
Organised by the University's International Office and the Aberystwyth Students' Union, One World Week is now an established annual event in the University's calendar. It celebrates the University's global diversity and recognises the contribution of international students to the University and the local community.