Heatwaves at sea are more frequent and threaten biodiversity, study suggests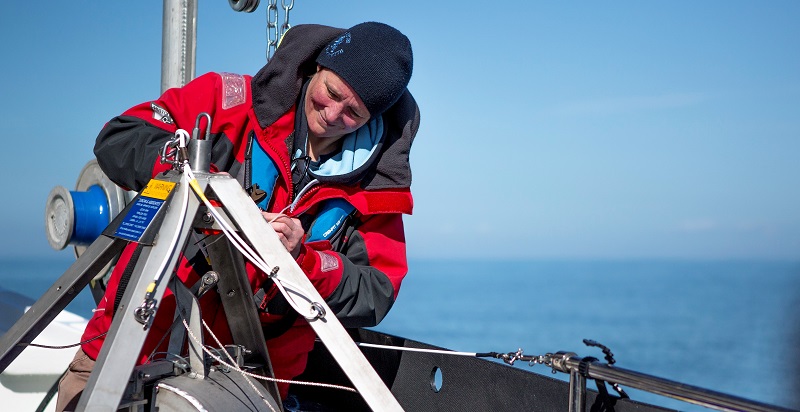 Dr Pippa Moore, co-author on the study of Marine Heatwaves which has been published in Nature Climate Change.
As the UK reflects on record February temperatures, scientists at Aberystwyth University are reporting a significant increase in heatwaves at sea - with potentially detrimental consequences for marine life.
Writing in the journal Nature Climate Change, Dr Pippa Moore from the Institute of Biological, Environmental and Rural Sciences and colleagues from seven different countries report a 54% increase in 'Marine Heatwaves' between 1987 and 2016 compared with the period 1925 to 1954.
Similar to heatwaves on land, marine heatwaves occur when unusually warm weather persists for prolonged periods of time at sea, but their impacts on marine species and ecosystems are poorly understood.
Led by Dr Dan Smale of the Marine Biological Association (UK), this is the first study to assess the biological impacts of several prominent global marine heatwaves.
While they vary in their intensity, size and duration, they all affect critical animal and plant species including corals, seagrasses and kelps.
Marine heatwaves also alter the structure and function of marine communities and have had major implications for human livelihoods through impacts on fisheries.
The study reports some regions to be particularly vulnerable to marine heatwave intensification.
These include the Pacific, Atlantic, and Indian Oceans due to the co-existence of high levels of biodiversity, a prevalence of species found at their warm water range limits, and/or being subject to additional non-climate human impacts.
Lead author Dr Dan Smale said: "Marine ecosystems currently face a number of threats, including overfishing, ocean acidification and plastic pollution, but periods of extreme temperatures can cause rapid and profound ecological changes, leading to loss of habitat, local extinctions, reduced fisheries catches and altered food webs."
Dr Pippa Moore from Aberystwyth University and a co-author on the paper said: "Marine heatwaves have for a long time been hidden in comparison to heatwaves on land. The recent terrestrial heatwave in the UK, with the hottest ever recorded winter temperatures, has resulted in many plants and animals becoming active months ahead of normal. When the heatwave ends and normal February/March weather conditions return, it is likely that these early arrivals will be negatively impacted and many might die. The same happens in the sea with marine heatwaves causing widespread mortalities."
The authors conclude that climate change will continue to increase the frequency of marine heatwaves and the associated impacts on marine biology could have broad reaching effects on ecosystems and the services they provide.