Putting the sound into silent films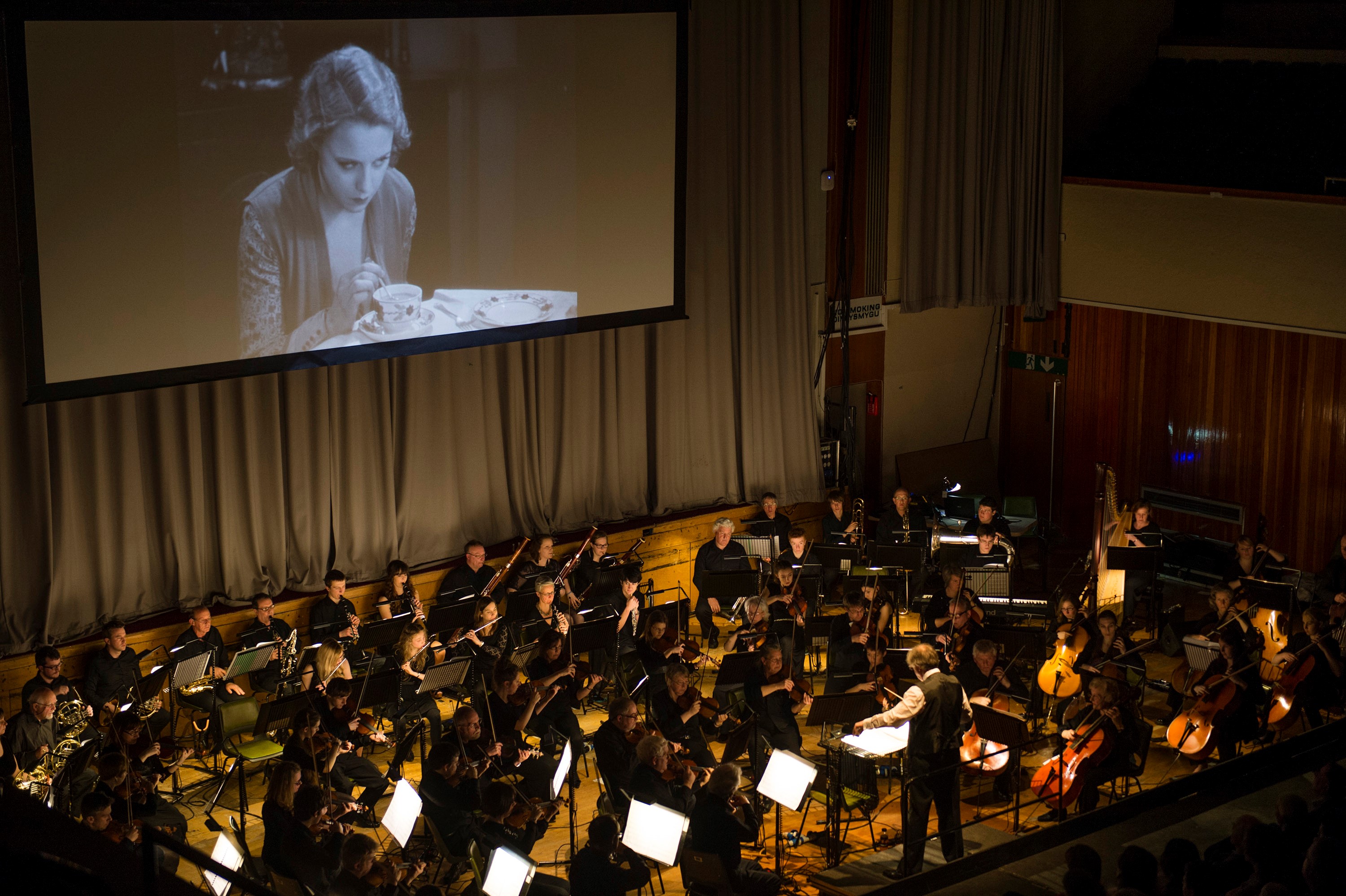 Philomusica performing Neil's score to accompany a screening of Hitchcock's thriller Blackmail at Aberystwyth Arts Centre in 2014. Photo credit: Keith Morris
The work of the UK's best known silent film accompanist and orchestral score composer will be celebrated at a series of events at Aberystwyth University from 22-24 March 2019.
Neil Brand, who studied Drama at Aberystwyth University, has performed across the globe and played to audiences of over 5,000 - from the Piazza Maggiore in Bologna to Trafalgar Square.
Having made his name as a pianist for silent films, he progressed to composing original orchestral scores for silent films.
He regularly features as a guest film music expert on television and radio, and presented recent BBC series' Sound of Cinema,Sound of Song andThe Sound of Movie Musicals.
Neil began his journey into a life of music and broadcasting in Aberystwyth, when studying here in the late 1970s. He was awarded an Honorary Fellowship by the University in 2013.
The celebratory weekend opens with a free public presentation in the Old Hall of the Old College, starting at 6pm on Friday 22 March.
In The Silent Pianist Speaks Neil will talk about his varied 25-year globe-trotting career, illustrated with clips from silent films, and plenty of extracts played live.
The central event of the weekend will be a screening of Anthony Asquith's silent film masterpiece, Underground, accompanied live below the big screen by Philomusica playing Neil's score. 
The evening, which starts at 8pm on Saturday 23 March at Aberystwyth Arts Centre, will also feature extracts from famous film scores for Gone with the Wind, Murder on the Orient Express andThe Big Country. 
Tickets are available from the Arts Centre Box Office on 01970 623232 or www.aberystwythartscentre.co.uk.   
Aberystwyth University's Director of Music, David Russell Hulme, has worked with Neil as an orchestrator and arranger, and is conducting Philomusica's performance on Saturday night.
David said: "Music and film have had a living partnership from the earliest days of the moving image to the latest blockbusters. Experiencing silent film with a full orchestra playing a tailor-made score live is a unique and exhilarating experience. The orchestra creates a vivid, almost operatic, dimension that draws in and immerses the audience in the imagery and drama on the screen. Films like Underground, richly filmed in atmospheric black-and white, come to life in a way you have to experience to appreciate. The score is wonderfully varied, imaginative, richly melodic and, of course, full of atmosphere and drama.
"Conducting for silent film without click-tracks or other aids is hugely exacting – 90 minutes of continuous music, measured to exact metronome tempi so that key visual moments coincide exactly with the music. It is the conducting equivalent of crossing Niagara Falls on a greasy tightrope."
Finally, at 2pm on Sunday 24 March, Neil will be on stage at Theatr-y-Werin in Aberystwyth Arts Centre with his new show about the great Buster Keaton, inviting the audience to journey with him through Buster's early life, funniest gags and most death-defying stunts, before he accompanies the classic Keaton 1928 silent feature film, Steamboat Bill Junior.