Strengthening Breton and Welsh links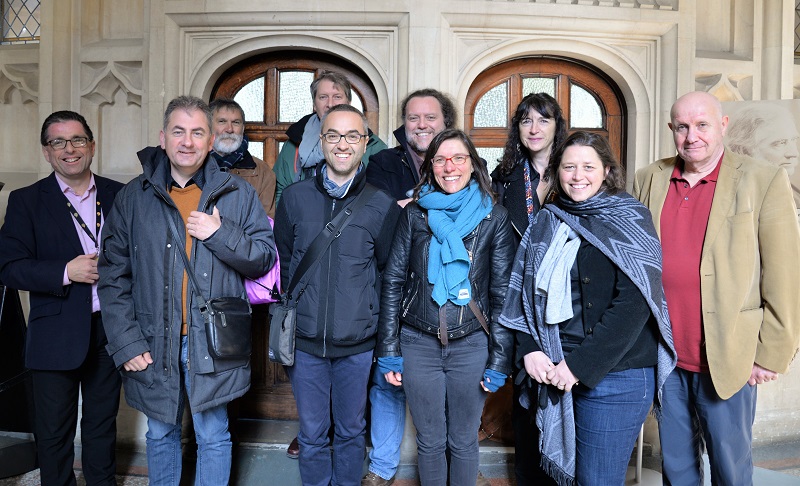 (back row from left to right): Siôn Meredith, Head of Learn Welsh at Aberystwyth University; Jean-Yves Kervarec; Drian Bernier; Olier Loussouarn; Jos Sicard-Cras; Phyl Brake, Coordinator Learn Welsh. (front row from left to right): Yannig Menguy, Arnaud Goapper, Anne Lefbvre, Joan Bizien
A group of Breton teachers has visited Aberystwyth University to learn more about how adults learn Welsh.
Delegates from the Mervent organisation attended classes with the University's Centre for Learning Welsh in Aberystwyth on Wednesday 10 April 2019.
Mervent organises Breton courses and intensive courses for adults and schools in Brittany.
The purpose of the visit was for them to find out more about the Centre's work, including the development of the national curriculum and course content, as well as share experiences and best practise of learning a language.
Siôn Meredith, Head of Learn Welsh at Aberystwyth University said: "I am grateful for the opportunity to welcome visitors from Brittany to Aberystwyth. We share the same efforts in reviving a Celtic language through teaching adults. This is an opportunity to learn from each other, and share hope together."
On their visit to Wales, the group also attended classes in Barry and Pontypridd.
Aberystwyth University's National Centre for Learning Welsh provides Welsh courses in Ceredigion, Powys and Carmarthenshire. For more information visit the website https://www.aber.ac.uk/en/learn-welsh/.