Aberystwyth University Hiking Club join the Weatherman Walking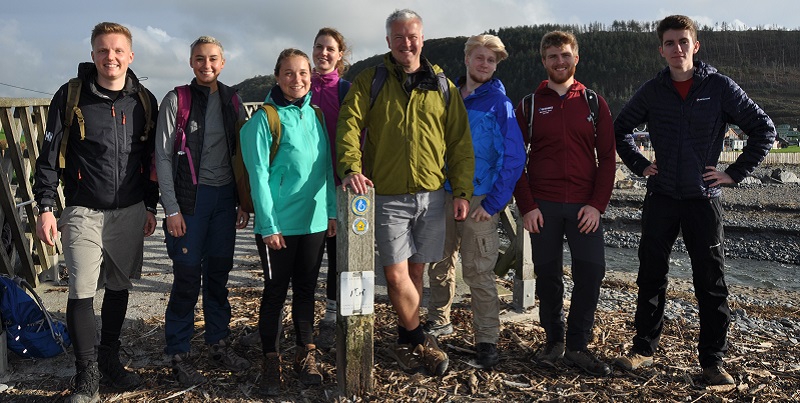 Derek Brockway with members of Aberystwyth University's Hiking Club, Aberhike
Members of the Aberystwyth University Hiking Club, Aberhike, will feature in an episode of the popular BBC Wales series Weatherman Walking airing on Friday 26 April 2019.
Presented by weatherman Derek Brockway, the latest 8-part seriesWeatherman Walking: The Welsh Coast celebrates the stunning and spectacular Welsh coastline.
The fifth episode in the series, which will be shown on BBC One Wales at 7.30pm on Friday 26 April, sees the well-known meteorologist and rambler explore a stretch of the coast between Ynyslas and Aberystwyth.
Setting off from the Ynyslas National Nature Reserve, Derek heads first for Cors Fochno where he discovers one of Britain's most important raised peat bogs. From there, it's on to Borth before braving the waves with a spot of paddle boarding.
After returning to dry land, Derek continues down the coast to take in the spectacular scenery at Wallog and Sarn Cynfelyn.
It is further down the coastal path at Clarach that he is joined by members of the Aberhike who take him as far as Constitution Hill with its famous cliff railway, and talk to him about the area and the University.
Derek rounds off the route amongst the ruins of Aberystwyth Castle, and the University's iconic Grade I listed Old College building on the seafront.