Aberystwyth student wins finalist slot in The Telegraph STEM Awards 2019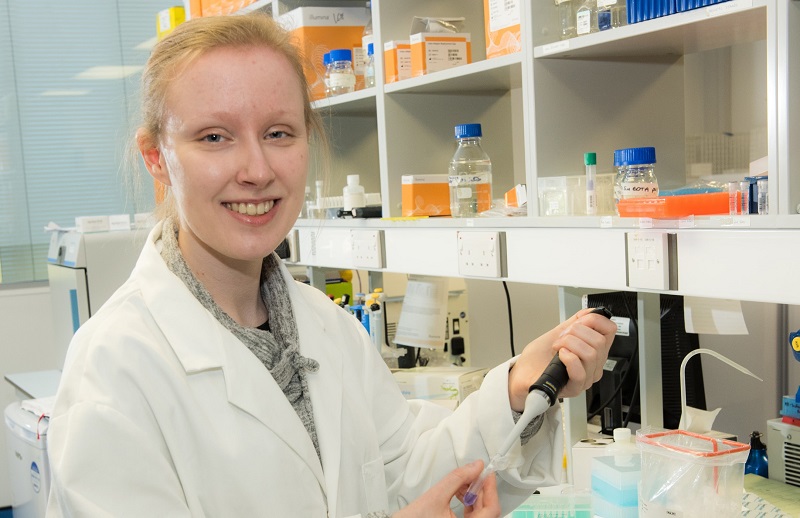 Eleanor Wilson, MBiol third year student at Aberystwyth University's Institute of Biological, Environmental and Rural Sciences, is the winner of The Telegraph STEM Awards 2019 Healthcare Challenge, and now one of five finalists for the overall award.
An idea for a new portable test to detect TB in humans has earned an Aberystwyth University student a place as one of five finalists in The Telegraph STEM Awards 2019.
Eleanor Wilson is a third year student on the MBiol degree at the Institute of Biological, Environmental and Rural Sciences (IBERS) and has been selected from a field of over 10,000 entrants for this year's award.
Now in their sixth year, The Telegraph STEM Awards offer undergraduates the chance to prove their talent to some of the biggest names in industry.
This year entrants were invited to put forward ideas that might solve problems in five challenge areas - healthcare, innovation, automotive technology, electrical and defence technology.
Eleanor's proposal is to use the gene editing platform CRISPR to diagnose TB in humans, a condition that can be prevalent among HIV sufferers worldwide.
Eleanor said: "This relatively new CRISPR technology is mainly used for gene therapy, but I have developed this idea to use it as a mobile diagnostic tool, which in very simple terms works in a similar way to a pregnancy test.
"My design uses CRISPR technology to scan DNA in a sputum sample for a "fingerprint" region specific to Mycobacterium tuberculosis.
"Once the CRISPR system has bound to the target region of DNA, an enzyme is activated resulting in a coloured band appearing in the device, thus reporting the presence of TB DNA in the sample.
"By changing the target DNA this system can also be used to look for drug or antibiotic resistance genes."
As one of this year's finalists, Eleanor presented her idea to a specialist panel in London in mid-April. The winner will be announced in June 2019 and will receive a prize of £25,000.
To get to the final Eleanor won the Healthcare Challenge section of this prestigious competition, and has secured a bespoke work placement with global healthcare company GSK.
Dr Dylan Philips, who lectures in genetics at IBERS, said: "Eleanor is an incredibly capable and creative student. She surprised us all when she announced that she was shortlisted for the Healthcare Challenge section. When she revealed her winning concept it was obvious that she'd come up with an inspired idea that utilises truly cutting edge innovations in genome editing."
Eleanor added: "From a young age, science has been the thing that I love. I am really excited about winning the Healthcare Challenge. It is a confirmation that I can have a creative and innovative idea that can actually come to something and potentially make a real impact.
"I wanted to study here at Aber because the course is unique in combining genetics and biochemistry and also offers training in bioinformatics - the application of computer science techniques to biological data.
"I love it here too – the outdoor lifestyle and the outstanding accommodation at Fferm Penglais. I hope to further pursue my studies by doing my PhD here too."