Fferm Penglais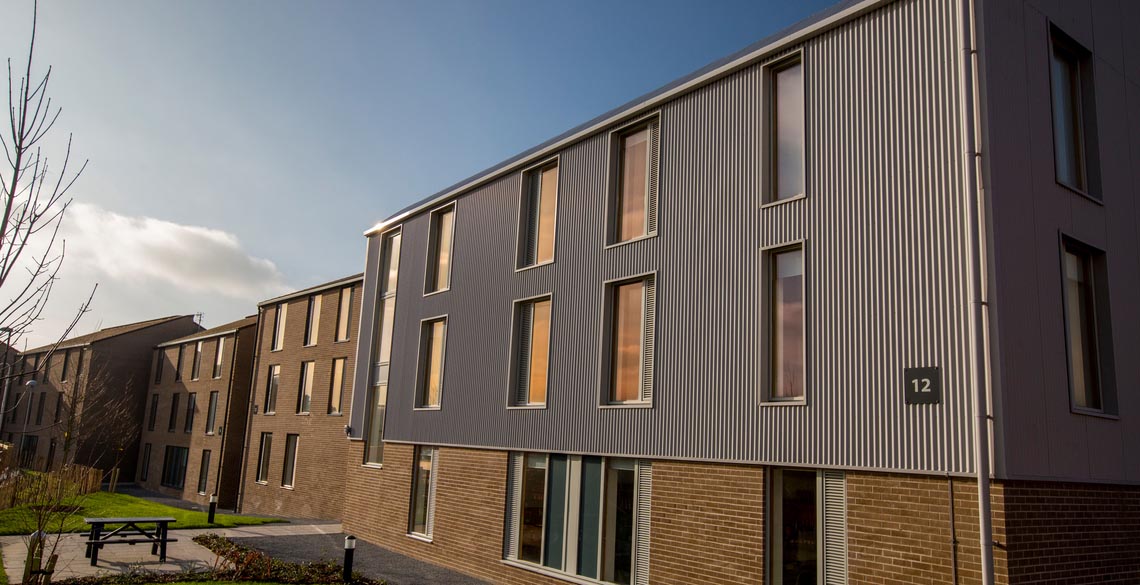 Fferm Penglais
Apply Online
Compare Residences
Overview
Fferm Penglais is situated adjacent to Pentre Jane Morgan and across the road from the Penglais Campus, which can be safely accessed via a footbridge. It offers you the very latest in purpose-built en-suite student accommodation. Located within easy walking distance of the University's academic buildings, the new residence provides a superb environment for living and studying with generous en-suite bedrooms and high specification studio apartments, including hard wired and Wi-Fi internet access. A convenient central service area provides café with pool table and 24/7 study areas, shop, vending, laundry rooms, bike stores, social and sporting facilities.
Accommodation
Fferm Penglais houses around 1000 students split between 22 blocks; 20 blocks containing en-suite rooms and 2 containing studio flats. Each block has either 6 or 9 self-contained flats comprising of 6 or 8 single bedrooms. Residents will have access to their own en-suite bathroom as well as a shared kitchen and soft seating area.
There is an area of accommodation located within the Fferm Penglais Student Residence dedicated for students who are Welsh learners or fluent Welsh speakers, and wish to live in a Welsh speaking environment.
Catering
Students in Fferm Penglais are self-catering, sharing kitchens in self-contained flats.
Fferm Penglais has an on-site shop located within SGUBORfach offering you low cost convenience items such as, fresh bread and milk, frozen foods, toiletries and cleaning products.
Fferm Penglais is also located within a 5 minute walk of CK's supermarket, or alternatively residents can shop at the larger supermarkets in the town.
However, if you also like the sound of using our catering facilities you can load your Aber Card with money, or family/friends can top it up on your behalf, to use at any of our outlets - you will also benefit from the 10% discount!
Facilities & Services
Fferm Penglais' main facilities include:
Self-catered accommodation.
High quality furnishings.
Large en-suite bedrooms.
Double beds.
Wall mounted TV in every shared kitchen - TV licence included.
Wi-Fi.
Access to Learning Centres (The Lounge @ Rosser or The Lounge @ PJM) - containing PC work stations, Wi-Fi, group study areas, photocopier, vending, leather sofa's.
Cleaning Service provided in all communal areas outside of your flat - entrances, landings, stairwells and corridors.
Laundry Rooms.
Café with Wi-Fi, sofas, pool table & group study / social areas.
On-site shop.
Vending machines.
Cycle storage.
Refuse & Recycling collection points.
Parking (limited, permit required).
Residence Assistants providing support and guidance.
What's in Your Room?
Furniture & Equipment
Double bed & mattress.
Under bed storage.
Bedside shelving.
Over bed lighting.
Wardrobe.
Hanging rail.
Desk & computer chair.
Above desk lighting.
Bookshelves.
Noticeboards.
Full length mirror.
Waste bin.
Roller Blind .
En-suite Bathroom
Large shower.
Toilet.
Wash basin with mirror and shaver light.
Clothes drying rack above shower.
Towel hooks.
Pedal bin.
Toilet brush.
What's in your Shared Areas?
Kitchen
2 x Fridge/Freezer's - 1 x fridge shelf or drawer and 1 x freezer drawer per person.
2 x Ovens with grills.
2 x Induction hobs*.
2 x Cooker hoods.
2 x Sinks.
Dishwasher.
Microwave.
Kettle.
Toaster.
Dining table and chairs (1 per person).
Iron.
Ironing board.
Mop & bucket.
Dustpan & brush.
Broom.
Hoover.
Bins - Dry mixed recycling, glass, food and general waste.
Lounge area
Wall mounted flat screen TV (minimum 42" screen) with a DVD playing capability and aerial connection (TV licence provided).
Soft seating.
Coffee Table.
Noticeboard.
* Check out this handy video to ensure that your pans are suitable for an induction hob:
Location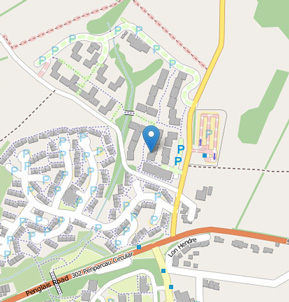 ‌Click on the map to view the exact location of Fferm Penglais.
Fferm Penglais is within a 5 minute walk of:
CK's supermarket.
Fish & Chip shop.
Bus stop.
Most Academic Departments.
University Libraries.
Gallery
Please note the images used are examples of a selection of rooms and styles may differ between locations. (Please click on the images to see a larger version).
Tour
Take a 360 degree tour of this residence by clicking and dragging on the image below; click on a highlighted area to move to a new viewpoint.
Please note the images used are examples of a selection of rooms and styles may differ between locations.
Video
Fees
| Room Type | Weekly cost 2018/19 | Length of licence 2018/19 |
| --- | --- | --- |
| Single en-suite | £130.82 | 40 weeks** |

**From 10.00am on 21/09/2018 – 10.00am on 28/06/2019