New website launched for Welsh literary magazine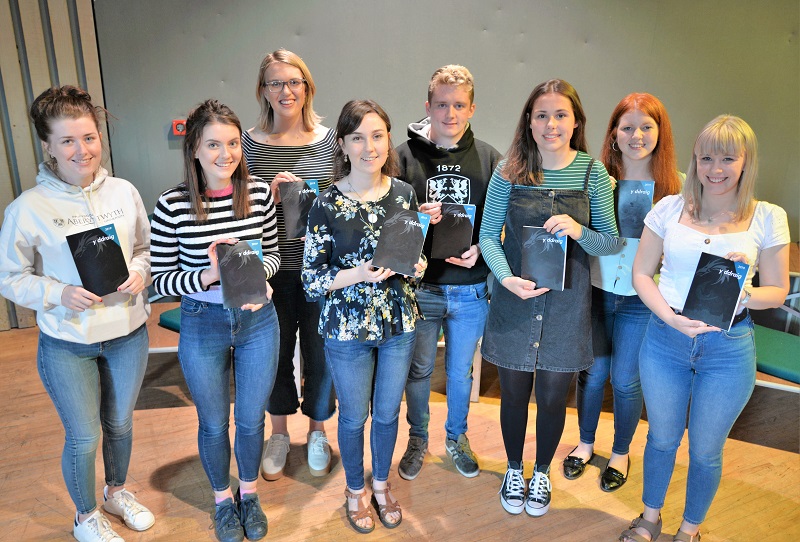 (Left to right): Members of the editorial board of Y Ddraig 2019: (front row): Gweno Martin; Nia Ceris Lloyd; Megan Elenid Lewis, who launched the new edition; Non Roberts; Sioned Mair Bowen; (back row) Elen Haf Roach; Owain Vaughan ac Alaw Mair Jones.
A new website has been launched for Aberystwyth University's Department of Welsh and Celtic Studies' student-led literary magazine.
Y Ddraig's website was launched at a special event at Aberystwyth Arts Centre on Tuesday 28 May 2019.
It's the first time the magazine has been published online since it was established in 2011.
Dr Rhianedd Jewell, lecturer in Professional Welsh at the Department of Welsh and Celtic Studies said: "The website highlights the hard work of our students who are responsible for editing the magazine, and recognises the wider and diverse community of people – almost all with close links to Aberystwyth – who contribute to the publication."
The new website was created by Eurig Salisbury, a lecturer in Creative Writing at the Department of Welsh and Celtic Studies: "There's more demand than ever for online Welsh language material, and this website provides a unique platform for students to showcase their interviewing, editing and creative writing skills. It also provides a platform for creative work by students from other departments in the University, for example Twm Ebbsworth in the latest edition, as well those making their mark in a variety of fields beyond the University."
The website includes a range of interviews and creative writing as well as previous editions of Y Ddraig and information about the editors and the Department of Welsh and Celtic Studies.
BBC Radio Cymru's February poet of the month and former Professional Welsh student Megan Elenid Lewis was invited to launch the new website and latest edition.
Megan, who is interviewed in this issue, said: "Y Ddraig was a good training ground for my career, as the editing and proof-reading skills have been of great benefit to me as a reporter and translator. The launch of this year's magazine, and the online version, show the opportunities available at Aberystwyth University and the Department of Welsh."
The latest edition includes an interview with journalist and reporter Siôn Jenkins as well as poems and prose pieces by students from departments across the University.
The Department of Welsh and Celtic Studies at Aberystwyth University is the only department in Wales to publish a student-led literary magazine.
Y Ddraig is edited by students on the innovative Professional Welsh degree at Aberystwyth University.