Founding Principal of the College of Librarianship Wales honoured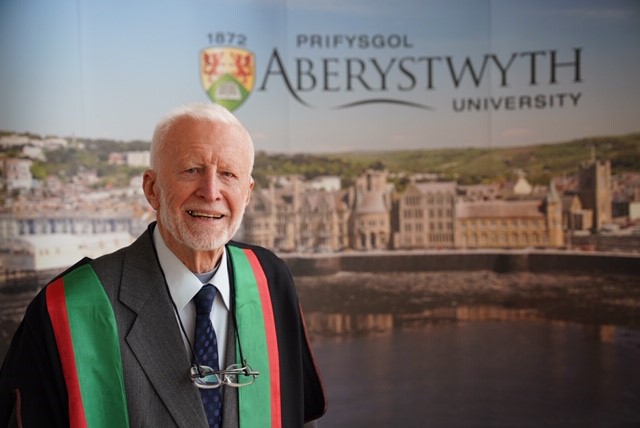 Professor Frank N Hogg OBE, founding Principal of the College of Librarianship Wales
Professor Frank N. Hogg OBE, the Founding Principal of the College of Librarianship Wales, has been awarded an Honorary Fellowship of Aberystwyth University.
Professor Hogg was educated at the University of Manchester Institute of Science and Technology and the University of Liverpool.
He spent 25 years as Principal of the College of Librarianship Wales from 1964–89, overseeing its rapid development into an international institution, attracting students and future library and archive leaders from all over the world to study at Aberystwyth.
In 1989 the College of Librarianship Wales became a constituent department of Aberystwyth University and more recently the Department of Information Studies.
Professor Hogg's contribution to the world of library and information science in Wales and globally was recognised with an OBE in 1988.
He still lives in Llanbadarn and remains actively involved with local and community issues in Aberystwyth.
Professor Hogg was presented as Honorary Fellow on Tuesday 16 July 2019, by Dr Anoush Simon, Head of the Department of Information Studies at Aberystwyth University.
The full conferral presentation is available below, in the language in which it was delivered.
Presentation of Professor Frank Hogg by Dr Anoush Simon:
Ganghellor, Is-Ganghellor, graddedigion a chyfeillion. Pleser o'r mwyaf yw cyflwyno Frank Hogg yn gymrawd Prifysgol Aberystwyth.
Chancellor, Vice-Chancellor, graduates and supporters. It is an honour and a privilege to present Frank Hogg as a Fellow of Aberystwyth University.
As the first and founding Principal of the College of Librarianship Wales (almost always known as CLW), Frank Hogg has had a significant influence on the history of library and information studies in Wales and the world. The breadth of his vision for the new College of Librarianship, founded in 1964, means that for 55 years Aberystwyth has been a key player in the field of library and information education. Students of CLW have gone on to play significant roles in the library and information sector. National Librarians of Wales, Scotland and Ireland, and the library leaders of many nations worldwide, including in South East Asia, Africa and China have been graduates of CLW.
The 1960s was a period of considerable change, with the sciences and information technology expanding rapidly, the growth of new academic subjects, and the establishment of many new educational institutions. The establishment of the College was the realisation of the long-held dream of a library school in Wales, and the initial aim had been to build a Wales-focused college, recruiting about 30 students annually.
This changed dramatically under the leadership of the new Principal. Frank Hogg's vision was ambitious from the start, crucial to the establishment and development of CLW. He wanted to 'think big' and to welcome students from around the world. By 1968 CLW was the largest 'library school' in the UK with over 400 students and 40 staff, and within 8 years it was the largest school of librarianship in Europe, providing professional training and academic qualifications in librarianship and information studies. Under Frank's leadership, CLW and therefore Aberystwyth, was established as a significant location for library education globally, attracting more international students than all the other British library schools combined.
A new campus was built at nearby Llanbadarn, including the CLW Library (later the Thomas Parry library), a purpose built 'library for librarianship', internationally renowned for the scope and breadth of its collection, and attracting visiting scholars from all over the world.
The College maintained close links with the library profession. Training and Liaison Officers travelled the world visiting libraries and other information centres, and brought their experience and expertise back to CLW. The development of both Distance Learning, and a series of International Graduate Summer Schools under Frank Hogg's leadership, further developed and secured the global reputation of CLW. Frank himself travelled widely, promoting the college and taking up a series of visiting professorships and development roles, for example at the University of Pittsburgh and the University of the West Indies, and was for many years President of the School Library Association.
Although international in its scope and vision, CLW also had a significant impact on Welsh community, education and culture. An initial impetus for the establishment of the college was the training of bilingual librarians. A Welsh Studies Department in CLW existed from the outset, specifically recruiting and training Welsh speaking staff, which developed over the years to deliver core subjects through the medium of Welsh, and the library developed a significant Welsh collection. CLW-educated librarians have played a prominent role in public, academic and specialist libraries in Wales for over 50 years.
CLW became part of the University of Wales Aberystwyth in 1989 following Frank's retirement, and has evolved over the years into the department we know today.
Frank Hogg was awarded an OBE in 1988. He still lives in Aberystwyth and remains actively involved with local and community issues. The Department has recently moved to new premises here on the Penglais campus, and so I think this is a fitting time to mark Frank's outstanding achievements and contribution to library and information education in Wales, the UK and internationally – and thereby also to honour hundreds of staff, and 1000s of students, and their impact on the library profession.
CLW had a global perspective from the outset that still resonates with us today. The legacy of the College of Librarianship Wales, and Frank Hogg's influence on that, and his vision of what it could be, can still be felt in the department that continues here. The students graduating today are the inheritors of that original vision, of an international, eclectic, committed focus on the library, information and archive professions and their potential contribution to society and community worldwide.
Ganghellor, mae'n bleser gen i gyflwyno Frank Hogg i chi yn Gymrawd.
Chancellor, it is my absolute pleasure to present Frank Hogg to you as a Fellow of Aberystwyth University.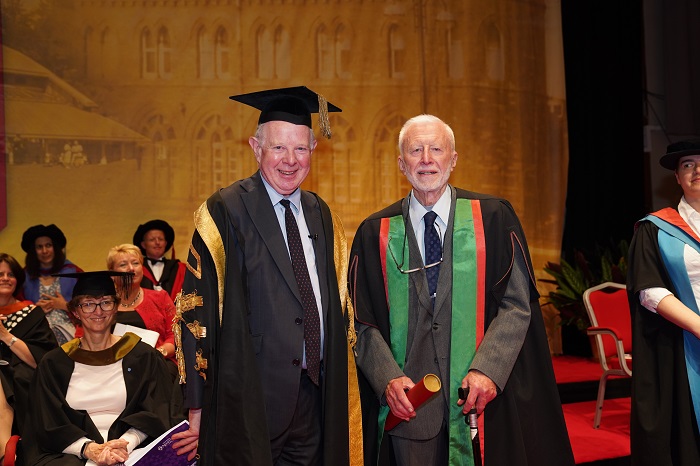 Photo: Lord Thomas of Cwmgiedd, Chancellor, with Professor Frank N Hogg OBE
Aberystwyth University Honours 2019
Nine individuals are being honoured by Aberystwyth University during the 2019 graduation ceremonies, which take place at the University's Arts Centre from Tuesday 16 until Friday 19 July.
Honorary Fellowships are presented to individuals who have, or have had, a connection with Aberystwyth or Wales, and who have made an outstanding contribution to their chosen field.
The 2019 Aberystwyth University Honorary Fellows are (in order of presentation):
Alan Phillips, retired peripatetic music teacher who worked for Ceredigion Music Service for 35 years
Professor Frank N. Hogg OBE, the first Principal of the College of Librarianship Wales
Ruth Bidgood, Welsh poet and local historian
Professor R Geoff Richards, Director of one of the world's leading orthopaedic research institutes, the AO Research Institute in Davos (Switzerland)
Emyr Jenkins, first Director of the National Eisteddfod and former Chief Executive of the Arts Council of Wales
Professor Virginia Gamba, leading expert in the field of disarmament research and policy formulation
Ian Hopwood, who has worked in the development field for over 40 years in UNICEF HQ and in field assignments in Africa, Asia, and the Arab Gulf States
The Rt Hon Carwyn Jones AM, former First Minister of Wales and Leader of the Welsh Labour Party 2009-18
Judith Diment, a leading global figure in the campaign to eradicate polio