Stick-on solutions to create marine habitats on coastal defences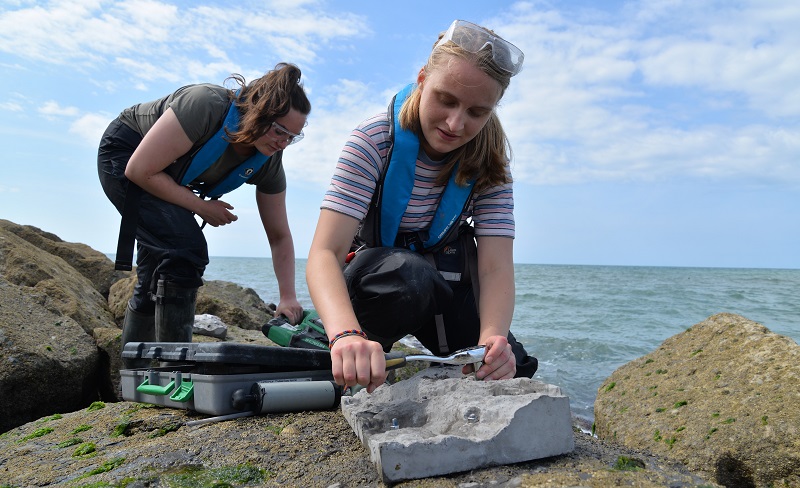 The concrete tiles being attached to man-made sea defences in Borth have been designed using a process called photogrammetry which creates a 3D image of the terrain found on natural rocky shores.
Efforts to turn vital sea defences into thriving marine habitats will take a significant step forward this summer.
Scientists from Aberystwyth University are for the first time attaching special tiles to man-made coastal flood-prevention structures in nearby Borth which are designed to mimic the ideal conditions to enable wildlife to take hold.
The initiative is part of Ecostructure which is part-funded by the European Regional Development Fund (ERDF) through the Ireland Wales Cooperation Programme 2014-2020.
As part of a collaborative project, scientists at universities in Wales and Ireland have created the tiles which duplicate the characteristics of successful natural habitats down to the finest detail.
The tiles are designed to enable the most diverse and rare species to thrive.
The novel tiles are currently being produced by colleagues at University College Dublin in the Republic of Ireland.
They have been designed using a process called photogrammetry which creates a 3D image of the terrain found on natural rocky shores using a series of photographs.
Intricate moulds are then created with a 3D printer in order to produce the finished product with a specially developed eco-friendly concrete.
The project, Ecostructure, is a collaboration between Aberystwyth University, Bangor University and Swansea University in Wales, and University College Dublin and University College Cork in Ireland.
One of the project leads, Dr Pippa Moore of Aberystwyth University said: "We know sea defences support less wildlife because they lack the complexity of habitats found on natural rocky shores. So what we're doing is finding ways in which some of our most diverse and rare sea life can thrive in these new environments.
"The tiles we have created are incredibly detailed – mimicking some of the natural surfaces which have been the bedrock of some species survival around our coasts. We're now at a stage where we can deploy these tiles on our coastal defences for the first time and see for ourselves how much of a difference they can make to the biodiversity which those areas support. After attaching the tiles to the sea defences, we will be closely monitoring how life embeds itself on them. It is an incredibly exciting step forward in this vital research area."
The work to attach the tiles will take place during August 2019.