Global health and sustainable fisheries research recognised for impact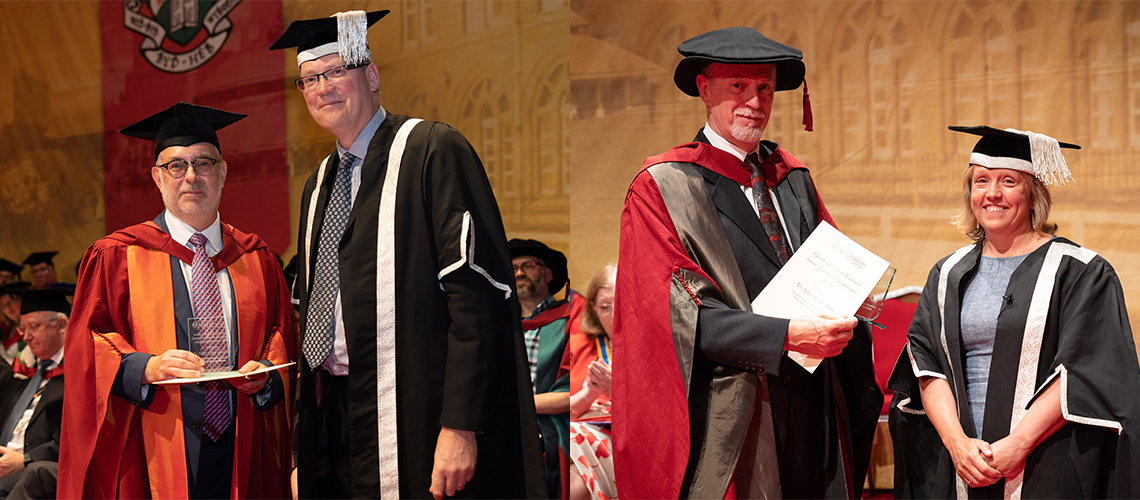 Professor Colin McInnes (left) with Professor Tim Woods; and Professor Paul Shaw (right) with Dr Anwen Jones receiving their Exceptional Impact Awards
Two members of staff working on pioneering projects at Aberystwyth University have been presented with awards in recognition of the positive impact of their research, both in the UK and internationally.
The Award for Exceptional Impact in Social Science, Arts and Humanities Research was presented to Professor Colin McInnes from the Department of International Politics.
Professor McInnes' research has led to the development of the World Health Organisation's framework for civilian health and military collaboration in disease outbreaks.
The Award for Exceptional Impact in Science Research was presented to Professor Paul Shaw, from the Institute of Biological, Environmental and Rural Sciences.
Professor Shaw has been using genetic methods to support effective and sustainable fisheries management.
The Aberystwyth University Awards for Exceptional Impact in Research were presented as part of the University's 2019 Graduation ceremonies which took place during July in the Great Hall at the University's Arts Centre.
Professor Elizabeth Treasure, Vice-Chancellor, said: "The Aberystwyth University Awards for Exceptional Impact, which were launched in 2018, recognise the achievements of staff who demonstrably use their research for the wider benefit of society. Congratulations to this year's winners who are working on two very different research projects, which both demonstrate the potential that the University has to effect positive change locally, nationally and internationally."
Disease outbreak collaboration
Disease outbreaks threaten national and global well-being, including economic development and security, but analysis by the World Health Organisation suggest that many states are poorly equipped to deal with such outbreaks.
In late 2017, the WHO identified militaries as possessing potentially valuable resources to help improve responses to outbreaks, but also the need to develop a framework to enable collaboration between civilian health services and the military.
Over the past 12 months, Professor McInnes drafted this framework for the WHO, which will greatly improve our ability to respond to disease outbreaks across the world.
Sustainable fisheries management
Professor Paul Shaw's research has focused on the genetic definition of stock structuring in fished species globally, including tuna in South Africa, toothfish in the Falkland Islands, and closer to home, a distinct seabass stock in Welsh waters of the Irish Sea.
His work has contributed to changes in the management of exploited stocks and Marine Stewardship Council classifications as sustainable stocks.
The research has also provided fishery managers with evidence to lobby national and international authorities for changes to regulations.
His work has led to more accurate, and so sustainable, exploitation of wild stocks, underpinning local and global food security and commercial development, whilst conserving biodiversity and protecting threatened populations and species.