Exhibition: Stuart Pearson Wright - HALFBOY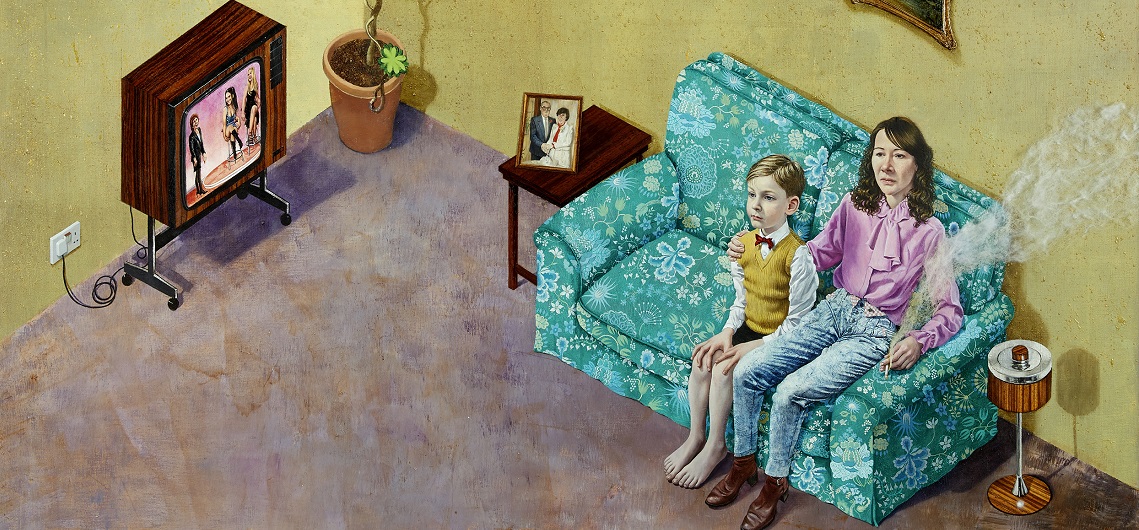 Half Boy and Half Sister by Stuart Pearson Wright [Oil, sheep's wool, zebra wood, wire, and mixed media on linen, 2018]
HALFBOY, a touring exhibition by Stuart Pearson Wright, is on show at the School of Art Gallery from 7 October – 22 November 2019. 
Conceived in a South London NHS facility in 1975 using anonymous donor sperm, the artist has no way of discovering his father's identity and, by extension, knowing his own. Initiated by photographs and personal memories, the works in this exhibition are an attempt to reconstruct his childhood in order to make some sense of this feeling of incompleteness.
The paintings are imbued with Stuart's portraitist's eye for detail, bringing to life the minutiae of time and place. Viewers are transported from 1980s council estates to thorny depressions in the landscape, bearing witness to tragicomic scenes from the artist's childhood and adolescence.
Humour and pathos jostle for attention in this autobiographical series of paintings and drawings which has been four years in the making.
Neil Holland, Senior Curator at the School of Art commented: "It seems odd to promote an exhibition by saying this, but Stuart Pearson Wright would rather not have had to paint the works in HALFBOY: he would rather have had a father to love him - to have grown up knowing his paternal grandparents, uncles, aunties, cousins. This aching void in his life and the attempt to address the profound sadness it causes him are given form in these painfully sad, funny, queasily beautiful paintings and drawings."
Stuart Pearson Wright said: "In 2007 I brought my exhibition Most People are Other People to Aberystwyth School of Art Gallery. It will be great to return there this year with my most recent body of work, HALFBOY."
Stuart Pearson Wright trained at the Slade School of Fine Art in London, during which time be won the BP Portrait Awards Travel Award (1998) awarded by the National Portrait Gallery (NPG). The subsequent exhibition at the NPG opened to rave reviews and Wright was heralded 'a Hogarth for our Times' by Godfrey Barker of the Evening Standard.
In 2000, a chance encounter with the actor John Hurt in Old Compton Street led to a small portrait on oak, which was subsequently bought by the NPG along with a portrait of the Ballet dancer Adam Cooper. Earlier in the year, he won the BP Portrait Award for Gallus gallus with Still Life and Presidents and was awarded a commission to paint J. K. Rowling for the collection of NPG.
Recent exhibitions of Wright's work were held at Riflemaker, London, in 2010, 2012 and 2013 and his works are in public collections including The British Museum, Government Art Collection, Ashmolean Museum, Fitzwilliam Museum and many others.
HALFBOY is on view at the School of Art Gallery, Buarth Mawr, Aberystwyth from 7 October – 22 November 2019.  The Gallery is open Monday to Friday, 10am to 5pm.  All are welcome and admission is free.