Ex-guerrilla textile exhibitions open in Colombia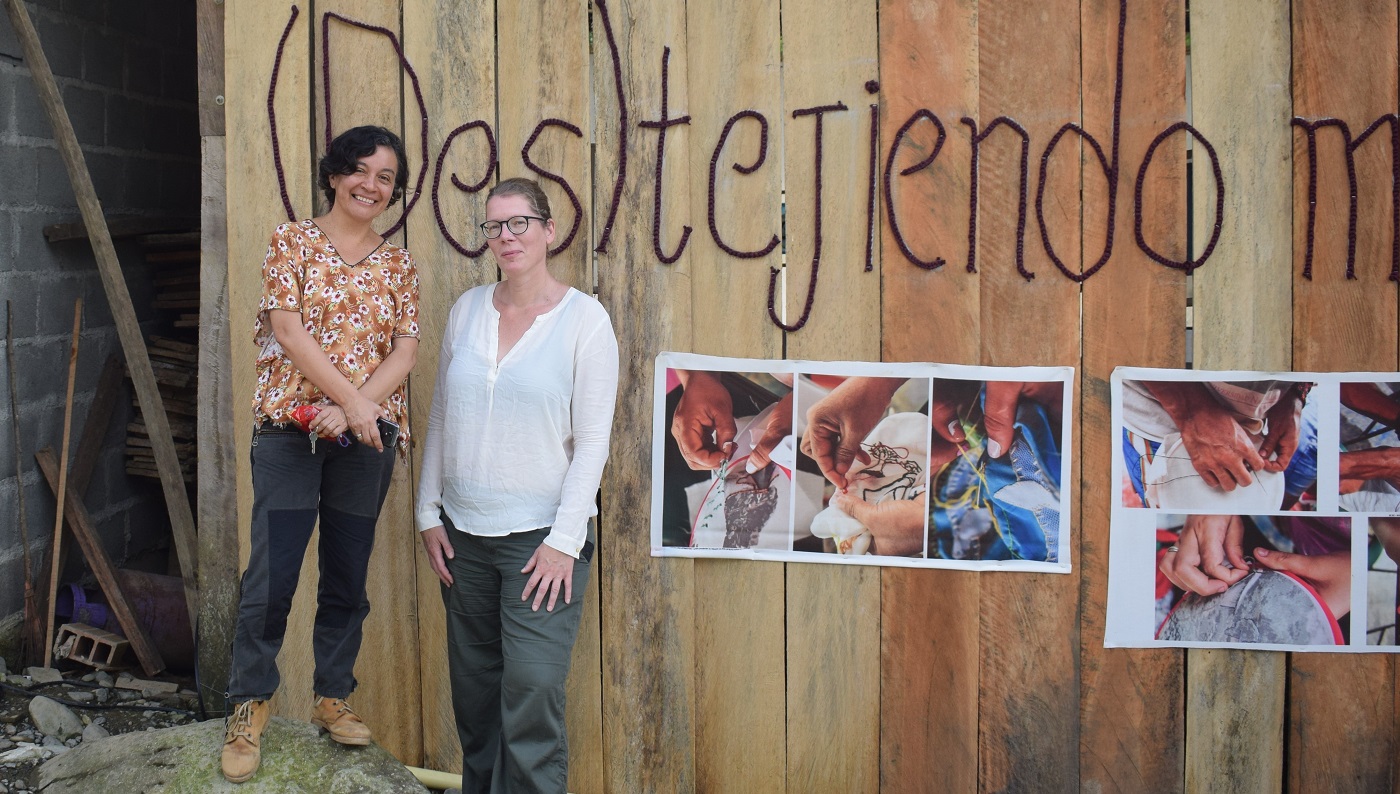 Dr Berit Bliesemann de Guevara of Aberystwyth University (right) and Dr Beatriz Arias from the University of Antioquia.
A political scientist from Aberystwyth University is in Colombia for the opening of a series of local exhibitions showcasing textiles made by former guerrilla fighters.
Dr Berit Bliesemann de Guevara from the Department of International Politics at Aberystwyth and Professor Beatriz Arias from the University of Antioquia in Medellin have been working with former members of the Revolutionary Armed Forces of Colombia (FARC) and local communities.
The project is part of a wider initiative aimed at helping Colombia's transition to peace after decades of bitter conflict.
Through a series of workshops, former insurgents and members of local communities have been creating sewn wall-hangings to express their memories of conflict, their experiences of the transition from war to peace, and their hopes for the future.
The first exhibition of their work was shown from 30 September – 4 October 2019 at a special exhibition in San José de Leon, a village set up by demobilised FARC fighters two years ago.
A further three exhibitions will be held in rural communities in Colombia and in Medellin before the end of 2019, displaying more than 70 pieces of work.
"(Un)Stitching the Subjects of Colombia's Reconciliation Process" is one of ten research projects launched in November 2018 by UK Research and Innovation (UKRI) in partnership with Colombia's Administrative Department of Science, Technology and Innovation (Colciencias).
The ten projects have been funded with £2.8 million through the Newton Fund, which is supported by the UK Government and partner countries.
Led by Dr Bliesemann de Guevara and Prof Beatriz Arias, a team of nine female researchers has been using storytelling and textile-making as methods to explore and impact on the challenges faced by former guerrilla fighters trying to adjust to civilian life and reintegrate into society.
Dr Bliesemann de Guevara said: "This series of exhibition is the culmination of seven months' work with former combatants and civilian communities where they have been able to share and discuss their experiences of conflict. Oral and textile narratives are not merely data to inform the analysis of ex-combatants' role in the process of reconciliation and social integration in Colombia; as a methodological intervention strategy they are intended to actively contribute to this process."
Dr Berit Bliesemann de Guevara 
Dr Berit Bliesemann de Guevara is a Reader in International Politics at the Department of International Politics at Aberystwyth University. Originally from the Baltic island of Fehmarn, Germany, Dr Bliesemann de Guevara studied at Hamburg University and received her PhD from the University of the Armed Forces Hamburg. She joined Aberystwyth University in 2012 from Bremen University.