Welsh and Indian writers launch unique children's poetry book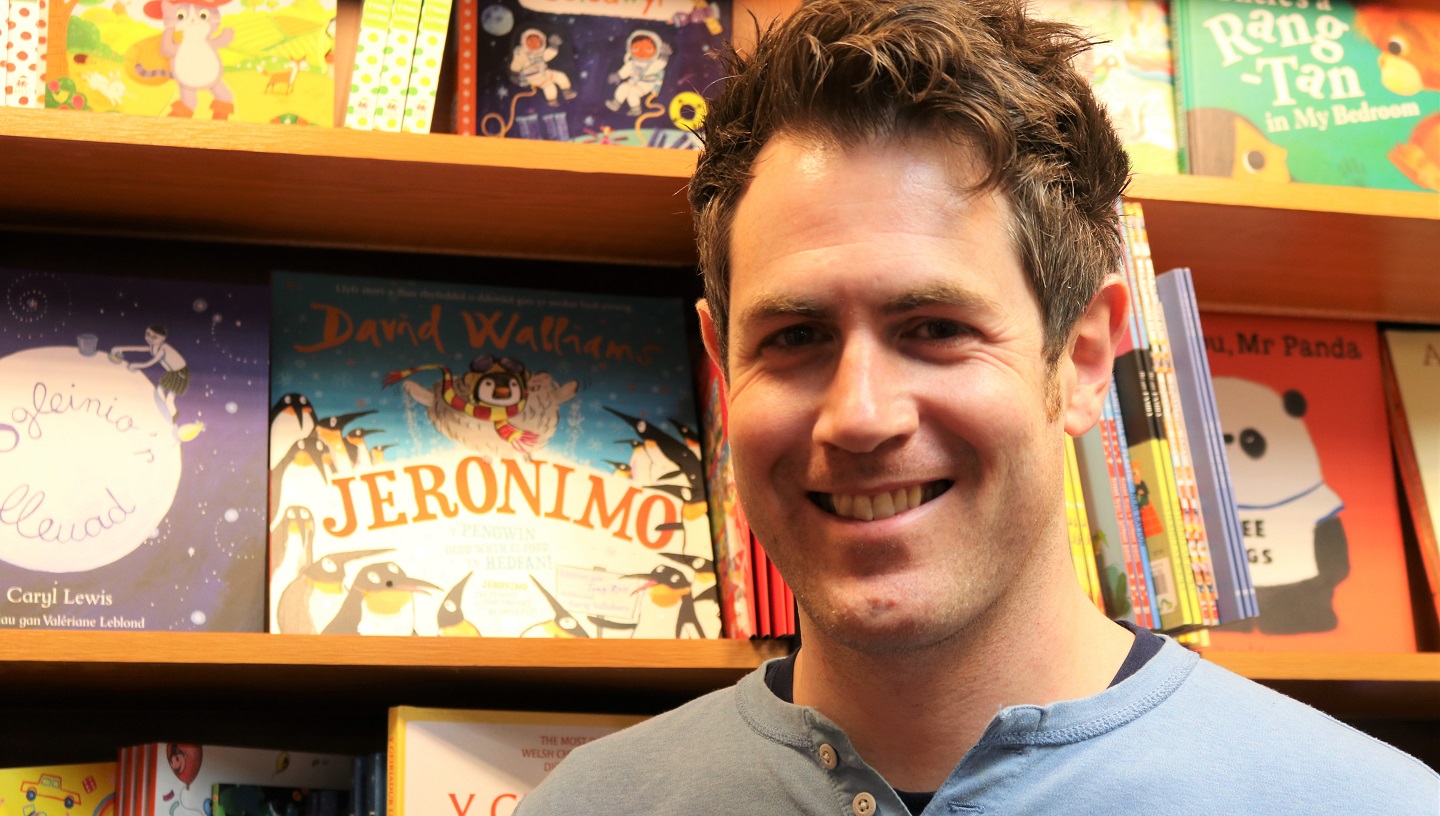 Eurig Salisbury will be at the launch in New Delhi of The Bhyabachyaka and Other Wild Poems – a collection of poetry which he co-authored with leading Indian writer Sampurna Chattarji.
A unique collection of poetry for children featuring the ancient Welsh art of cynghanedd will be launched in India on 1 December 2019.
The Bhyabachyaka and Other Wild Poems has been co-authored by Indian writer Sampurna Chattarji and Eurig Salisbury, a poet and lecturer at Aberystwyth University's Department of Welsh and Celtic Studies.
It will be launched in New Delhi at Buckaroo, an award-winning festival of children's literature which has been held annually in India since 2008.
Published by Scholastic India, the poems are written in English but draw on the writers' native languages of Bangla and Welsh.
For the first section of the book, the two poets penned verse based solely on the sound of unfamiliar words in each other's language such as Bhyabachyaka (befuddled) in Bangla and Ffrwchnedd (banana) in Welsh.
The other three sections feature poems inspired by invented words, by culturally important words like cynghanedd or puja, and by place names including the longest train station name in the UK - Llanfairpwllgwyngyllgogerychwyrndrobwllllantysiliogogogoch. 
Speaking ahead of the launch of The Bhyabachyaka and Other Wild Poems, Eurig Salisbury said: "What we've aimed to do in this collection of poetry is to bring both languages and their traditions to a wider audience of children and parents in India and beyond, in a way which is lively, interesting and often humorous.
"A number of my poems and one of Sampurna's poems include lines of cynghanedd, a unique form of Welsh writing using patterns of alliteration and internal rhyme. There is also a simple guide to cynghanedd in the book and we believe this is the first time this ancient Welsh art has been introduced in print to young audiences in India."  
A former Bardd Plant Cymru, or Welsh Children's Laureate (2011-2013), Eurig Salisbury will also be holding workshops with Sampurna Chattarji in primary schools in New Delhi on 2-3 December 2019.
Sampurna Chattarji said: "This book marks a journey to convergence (Welsh-Bangla) through shared experiences in each other's countries, and immersion in each other's cultural landscapes. The Bhyabachyaka is an adventure in poetry that re-imagines the idea of culture being territorial, of voice being mono-tonal, and of language being divisive. A new form of translation that arrives at a new lexicon: upturning hierarchies and subverting expectations – wickedly, quirkily, and yes, seriously.
"For example, my poem about 'Bara Lawr' (which is so Welsh!) begins as a rant about naming, and goes on to celebrate this "polyglot world we're in" by referencing words from Tamil, Hindi, Marathi, and of course, Bangla. Or my poem 'Hiraeth' which chimes with the Hindi words for humanity and reality. I hope this book will make kids, parents and teachers realise how much fun poetry is, and how our world is, essentially, one."
Head of Publishing at Scholastic India, Shantanu Duttagupta, said: "The Bhyabachyaka and Other Wild Poems has been one of the most fun and zany books that Scholastic India has ever published and it has been an absolute pleasure. This cross-cultural smorgasbord of nonsense will no doubt offer endless hours of rib-tickling giggles for Indian and Welsh children alike."
Eurig Salisbury and Sampurna Chattarji have been working together on a series of literary projects in both Wales and India since meeting at a translation workshop at the Tŷ Newydd Creative Writing Centre in 2011 organised by the Wales Literature Exchange.
This is their second co-authored book, following the publication in 2018 of a collection of poetry called Elsewhere Where Else / Lle Arall Ble Arall (Poetrywala) as part of a project organised by Literature Across Frontiers.