Enterprising students invited to bid for £10,000 prize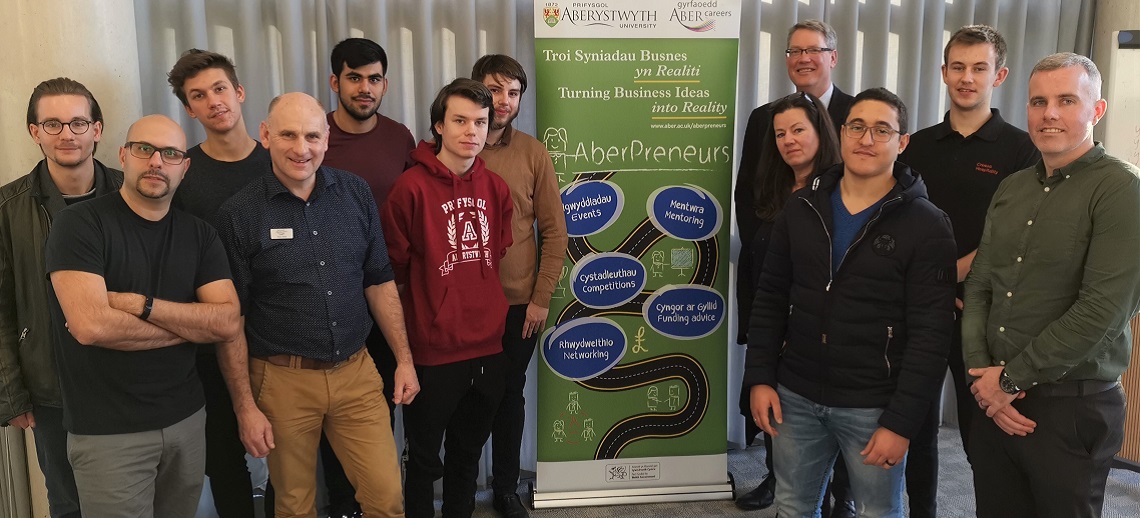 Staff and students at the launch of the 2020 InvEnterPrize competition
Aberystwyth University has launched the 2020 edition of its annual student enterprise competition, with £10,000 at stake for the winning entry.
InvEnterPrize provides an opportunity for entrepreneurial Aber students to develop and pitch a business idea or social enterprise idea to a panel of distinguished Aberystwyth University alumni.
The winning entry will be able to invest its winnings in equipment, facilities or professional services to turn an invention or business start-up idea into reality.
In addition to the £10,000 prize for the overall winner, there are two additional prizes in specific sectors this year.
The best proposal in the bio-sciences, life sciences and agriculture sectors stands to win a year's free office space at the Aberystwyth Innovation & Enterprise Campus, and there is a £3,000 Engineers in Business Fellowship prize at stake for the top proposal from Computer Science, Maths or Physics students.
The 2020 edition of InvEnterPrize, which is now in its 6th year, was launched on Monday 18 November 2019. 
Applicants have twelve weeks to develop their proposals. Those who make the shortlist will pitch their business ideas to a panel of successful Aber alumni in a 'Dragon's Den' style event on 27 March 2020.
After the official launch of the 2020 competition, Professor Tim Woods, Pro Vice-Chancellor for Learning Teaching and Student Experience, said: "It was a pleasure to attend the launch of Aberystwyth University's sixth InvEnterPrize student entrepreneurship competition, and to meet some of our enterprising students who hope to secure the £10,000 prize.
"Employability lies at the heart of the student experience here at Aberystwyth. Throughout their time with us, we offer our students opportunities to prepare for life after graduation and develop the skills they will need in the future. InvEnterPrize provides a fantastic opportunity for our students to develop a business idea, whilst gaining valuable expert advice along the way and attending business start-up workshops and presentations led by the University's 'AberPreneur' Network, before finally having their idea critically evaluated by successful business people."
Previous InvEnterPrize winners include online language-learning service Papora (2013), concept driverless delivery vehicle Car-Go (2017), and hair and beauty mobile app Clipr in 2018.
The latest winner is Amigrow, which uses satellite technology and machine learning to assist farmers with decision-making.
Sponsored by contributions from the alumni AberFund, InvEnterPrize is organised by the University's Careers Service.
Director of Development & Alumni Relations, Louise Jagger said: "Winning InvEnterPrize can give a significant boost to someone with a great idea that needs the financial support and guidance to get it off the ground. We are very grateful to the alumni who continue to give so generously towards the Aber Fund which funds the prize money, and to the alumni and supporters who dedicate their time as judges."
The University's Careers Consultant and Entrepreneurship Champion, Tony Orme, explains: "InvEnterPrize remains one of the biggest student enterprise competitions in the UK, and the launch of this year's competition is an exciting moment for entrepreneurial students at the University. We look forward to welcoming the students who are entering the competition to our AberPreneur events over the next few weeks, where they can pick up tips about market research, marketing and branding and financial planning and control; all vital skills for a new business start-up."
Aberystwyth University offers a full programme of events to support entrepreneurial activity amongst students (across all degree programmes), graduates and staff.
The application deadline for InvEnterPrize is Monday 3 February 2020. To find out more visit the AberPreneurs online page.