Former First Minister to join Aberystwyth University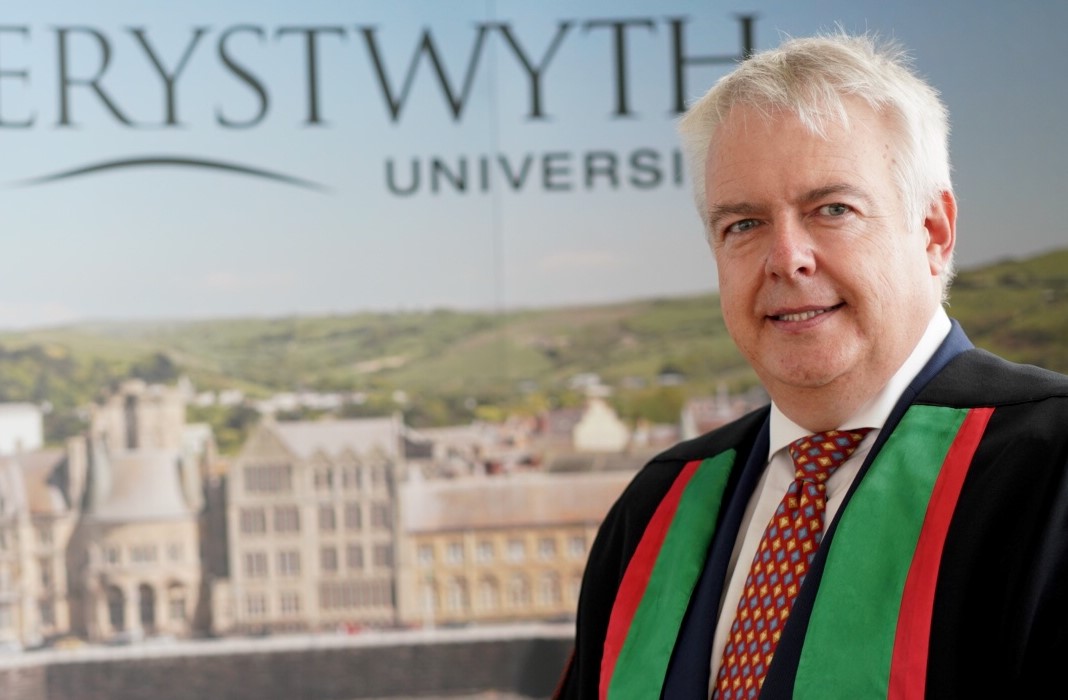 Former First Minister of Wales Carwyn Jones was presented as Fellow of Aberystwyth during Graduation 2019.
The former First Minister of Wales Carwyn Jones AM has been appointed Professor of Law at Aberystwyth University.
Carwyn Jones will join the University's Department of Law and Criminology on a part-time basis in advance of stepping down from his role as the Assembly Member for Bridgend at the end of the current Assembly in 2021.
In his new role he will deliver lectures and contribute to the wider debate on public and constitutional law.
Professor Elizabeth Treasure, Vice-Chancellor of Aberystwyth University said: "I'm delighted that Carwyn Jones will be joining us as at Aberystwyth. As a former First Minister, barrister and long serving public servant he brings with him a wealth of legal, constitutional and political knowledge and experience that will be hugely beneficial to our students and to colleagues across the University."
Speaking of his appointment, Carwyn Jones said: "It's a great honour for me to be appointed to a Chair at Aberystwyth University. I have great memories of Aber as a student and the university is very close to my heart. This is a time of tumultuous change is Welsh and British constitutional legal history and I'm very much looking forward to working with my new colleagues to ensure that Aber leads the debate on shaping our constitutional future."
A former pupil at Brynteg Comprehensive School in Bridgend, Carwyn Jones studied Law at Aberystwyth and was presented as Fellow of the University in July 2019.
After training as a barrister in London, he practised in Swansea for ten years during which time he worked as a professional tutor on the Bar Vocational Course at Cardiff University.
He was first elected to the first National Assembly for Wales in May 1999.
Appointed Minister for the Environment, Planning and Countryside following the 2003 election, he subsequently held the posts of Minister for Education, Culture and the Welsh Language, Counsel General and Leader of the House. He served as First Minister from 2009 until 2018.
Professor Emyr Lewis, Head of the Department of Law and Criminology at Aberystwyth University said: "As the first lawyer to be appointed First Minister of Wales, Carwyn Jones was one of the first senior politicians in Wales fully to understand the 2006 constitutional settlement, and to have the confidence to take steps to strengthen and clarify it.
"During his time in office he oversaw major constitutional developments including the referendum in favour of clearer and more effective legislative powers for the National Assembly, and successfully resisting challenges by the UK Government to Welsh legislation in the Supreme Court.
"During his premiership, he led the debate on devolving justice, which proved to be a turning point in the discourse on establishing an independent justice system for Wales. He was one of the first politicians in the UK to call for a constitutional convention to revamp the UK's constitution so as to make it fit for purpose after devolution, a theme which continues in his work for the Constitution Reform Group on the Act of Union Bill.
"His appointment will enrich the already excellent learning experience of our students and provide a valuable insight into the British constitution at a time of great potential change."
Law has been taught at Aberystwyth University since 1901 and the department is the longest-established in Wales.