Natural flavour enhancer developed to enable significant salt reduction in foods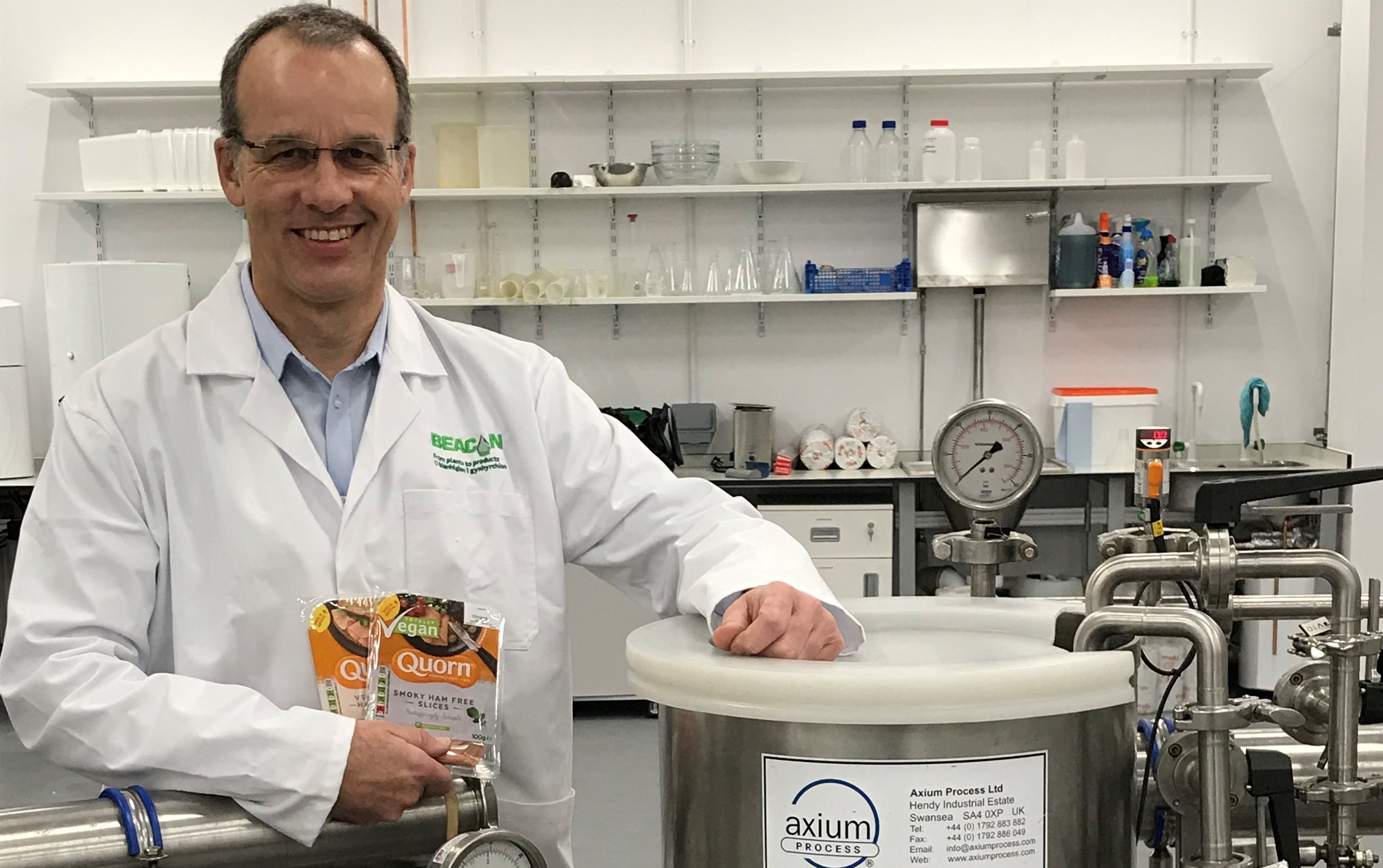 Dr Mike Morris at Aberystwyth University's biorefining centre.
Scientific research has succeeded in developing a food product which can be used to significantly reduce the salt content of pre-packaged meals and snacks.
The flavour enhancer has been developed by scientists at Aberystwyth University using a by-product made in production of mycoprotein, the main ingredient in all Quorn products.
It has been shown in tests to enable a 15-40% reduction in salt content in a range of food products without negatively impacting the overall taste of the food product.
The project has been carried out in partnership between Quorn Foods, and Aberystwyth University, along with retailer Waitrose & Partners, Create Flavours Ltd, Amano Enzyme Europe, Membranology and colleagues at Harper Adams University.
It was made possible thanks to funding by the UK Government's Innovate UK programme.
Test results have shown that the use of the enhancer, called 5' Nucleotides & Glutamates, or NAGs for short, has been effective as a salt replacement in savoury vegetarian foods, potato crisps and soups.
Other applications are planned for testing once sufficient quantities of NAGs are available.
The work at Aberystwyth was carried out by the team at the BEACON Biorefining Centre of Excellence, which is part of the university's Institute of Biological, Environmental and Rural Sciences (IBERS).
Working in the field of conversion of biomass and biowastes into biobased products with commercial applications, BEACON offers businesses and organisations access to the research, expertise and knowledge base of universities in Wales.
Led by Aberystwyth University, BEACON is backed with just over £12.2 million from the European Regional Development Fund through the Welsh Government.
BEACON Business Development Manager Dr Mike Morris of Aberystwyth University said: "This is an example of scientific research at BEACON which could have a far-reaching effect on people's health. Reducing salt in pre-packaged foods is seen as essential in order to reduce conditions like heart disease which place a massive burden on our health services and cause long-term debilitating conditions which negatively impact the lives of millions of people world-wide.
"This project has succeeded in taking a natural by-product and refining it into a state which can be added to foods to replace high salt content. The initial sensory tests carried out show that it is effective and doesn't negatively impact the flavour.
"We can see huge potential for this product, not just in the production of very tasty pre-packaged foods, but in drastically reducing the salt content of a popular part of modern diets."
The project has resulted in creating a blueprint for potential production of the flavour enhancer by Quorn Foods.
The company, headquartered in Stokesley, North Yorkshire, UK, is now exploring the business and commercial case for ongoing production of the taste enhancer in order to decide upon the next steps.
Dr Muyiwa Akintoye, Head of Research & Development for Quorn Foods said: "Here at Quorn Foods, we are very pleased that the Innovate UK funding has enabled us to make this breakthrough in redeveloping the liquid by-product from our fermentation process. Over the years, Quorn Foods has succeeded in improving the carbon efficiency of its production process by 37% between 2011 and 2017, thanks to the development of a carbon footprint methodology which allows for careful monitoring of emissions 'hotspots' along the entire supply chain. Further processing of the by-product in order to reduce and eliminate wastage is very much at the heart of our sustainability programme."