Water, gravity and the feathers of a crow: Science in the garden during Covid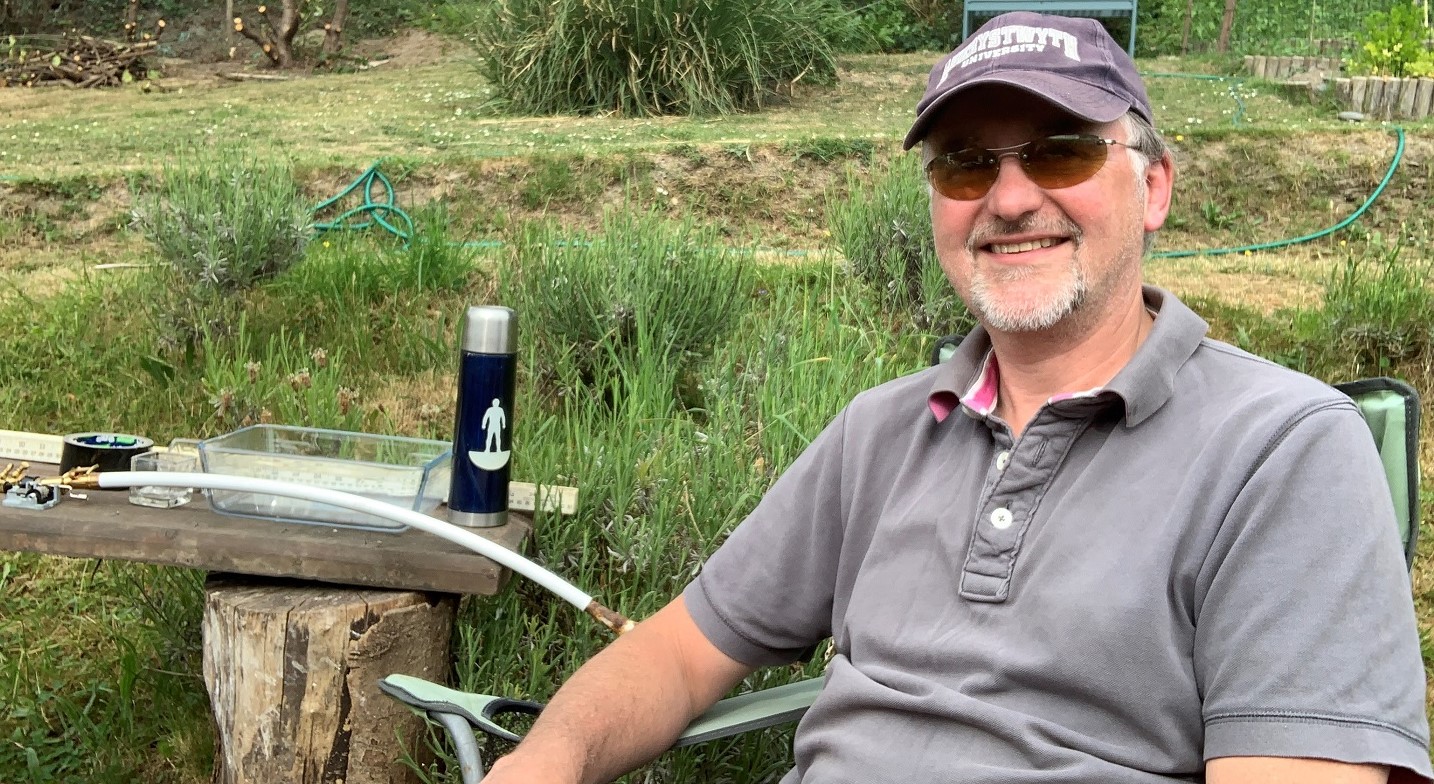 Professor Andy Evans, Head of the Department of Physics at Aberystwyth University and Chair of the National Eisteddfod's Science and Technology Committee
What does water flowing from a hose have to do with space travel, and how can the feathers of a crow help unlock the secrets of a virus like Covid-19?
These are two of the questions being discussed in a series of scientific experiments set to feature on the National Eisteddfod's 'Gwener Gwyddonol' site (Science on Fridays) over the next few weeks.
The experiments, recorded in Welsh, are the work of Professor Andrew Evans, Head of the Department of Physics at Aberystwyth University, and have been filmed in the back garden of his home in Llandre, near Aberystwyth, since the start of the lockdown.
Professor Evans, Chair of the National Eisteddfod's Science and Technology Committee, is an expert on materials such as diamonds, graphene and nano technology, elements used in quantum technology, photonics and solar cells.
His first experiment, Dwysedd Dŵr (Water Density), which features a demonstration and an accompanying short lecture on the science, is already online, and a new experiment will be added every Friday morning at 11 up until the festival's traditional week in August.
Amongst the scientific concepts that will be explained will be how to measure and keep time using the pendulum of a clock; gravity and space travel with the help of a hosepipe; and how melting glaciers impact on sea water levels.
He will also look at the feather of a crow to explain diffraction, a concept that enables scientists to discover the structures of materials at the level of individual atoms, and which is being used to study the structure of the Covid-19 virus.
According to Professor Evans, many of these experiments can be recreated using common objects found at home.
"The activities that usually take place in the Science and Technology Village at the National Eisteddfod have inspired generations of children and people of all ages to experiment through play and discover the world around them.
"It is very important for scientists that we share our research and enthusiasm, and it is wonderful to be able to do so through simple experiments from the garden. I sincerely hope that there is something here for everyone and that they will help us learn about the basic science behind some the latest discoveries and developments, be it space travel or understanding the latest materials that are transforming our daily lives, and even a little about how scientists are setting about understanding the structure of the Covid-19 virus."
Join Professor Andy Evans, and the crows that accompany him, for Gwener Gwyddonol / Science on Fridays, at 11 every Friday morning.