Pantycelyn welcomes a new generation of students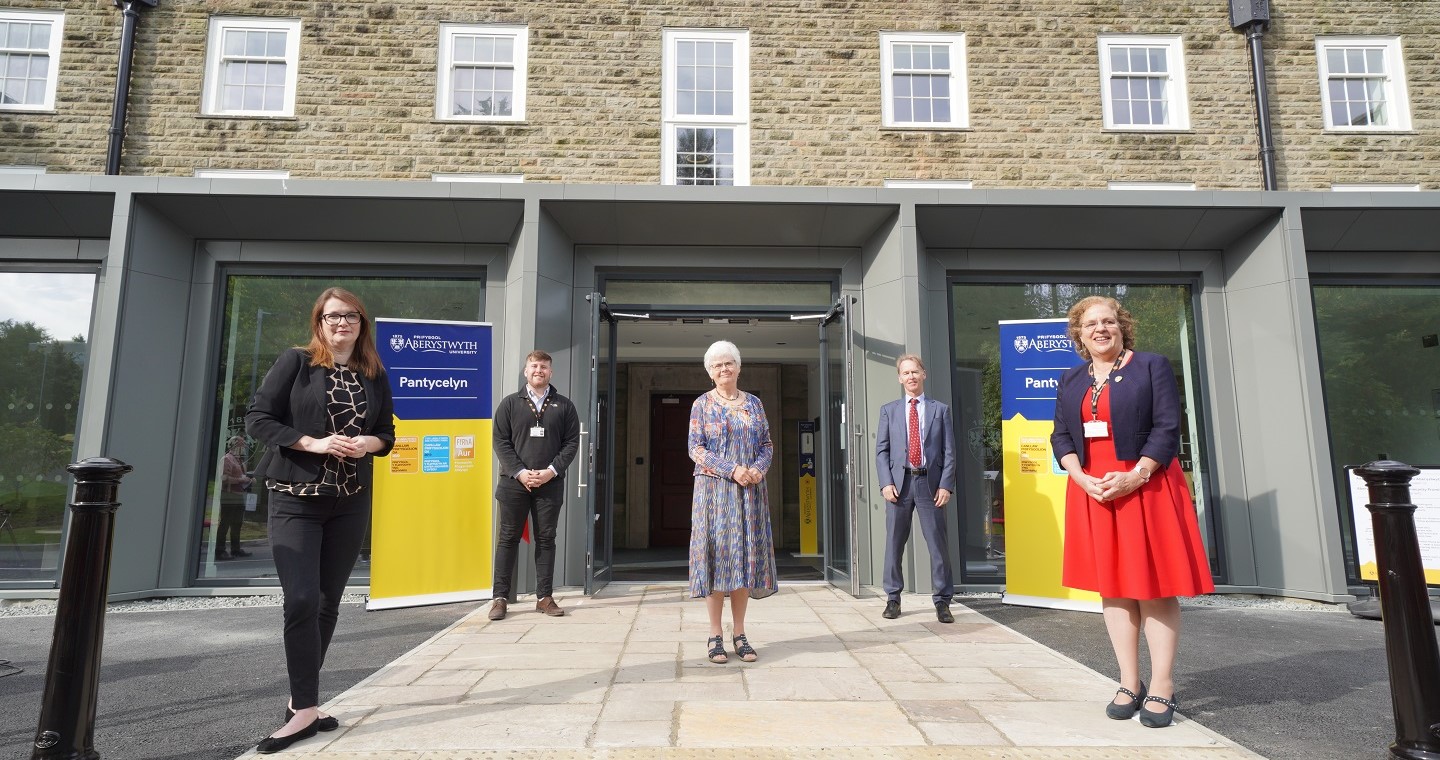 Left to right; Welsh Government Education Minister Kirsty Williams, MS; Moc Lewis, President of the Undeb Myfyrwyr Cymraeg Aberystwyth (Aberystwyth Union for Welsh Students); Gwerfyl Pierce Jones, former Chair of the Pantycelyn Project Board; Dr Emyr Roberts, Chair of Aberystwyth University Council, and Professor Elizabeth Treasure, Vice-Chancellor of Aberystwyth University at the opening of Neuadd Pantycelyn on Friday 18 September 2020.
Wales' most famous student hall of residence has doors once more today, Friday 18 September 2020, as students return to Aberystwyth University for the beginning of the new academic year.
Pantycelyn has undergone a £16.5m transformation and now offers accommodation for up to 200 students and a modern and contemporary home for the University's Welsh speaking student community.
Each of the bedrooms is newly built and includes an en-suite bathroom, and some of the Hall's best known rooms - the Large Lounge, the Small Lounge and the Senior and Junior Common Rooms have been reinvigorated.
And, in accordance with the wishes of the hall's supporters, the tradition of sharing mealtimes will continue with breakfast and evening meal provided in the hall's Ffreutur, Monday to Friday.
In addition to the University's own investment, the project received £5m from the Welsh Government's 21st Century Education and Schools programme.
The Education Minister, Kirsty Williams MS, will visit the hall on Friday 18 September to mark the re-opening, alongside Aberystwyth University's Vice-Chancellor, Professor Elizabeth Treasure.
Professor Treasure said; "This is a big day for us here at Aberystwyth University, and the culmination of an important journey. With the reopening of Pantycelyn we make clear our commitment to the Welsh language and culture, and to providing a modern and exciting home for a new generation of students who have chosen to join us here in Aberystwyth to experience the academic excellence of our University in a Welsh speaking community. It is also an opportunity for us to recognize and thank all those who have contributed to the rich history of this unique hall, students, alumni, friends and staff, and who have all played their part in making the dream of reopening Pantycelyn a reality."
Kirsty Williams MS said: "Neuadd Pantycelyn is an iconic building within the Welsh-speaking community and has been part of the fabric of the language locally for decades, as well as being a cauldron of talent for students who go on to play an important role in Wales and internationally.
"As part of our goal to achieve a million Welsh speakers by 2050, we want to develop post-compulsory education which supports people to develop Welsh language skills for use both socially and throughout their careers. Pantycelyn, and the wider Aberystwyth community, is important in nurturing the use of Welsh in all situations and by all who have some ability in the language.
"I'm really pleased to be able to support the refurbishment of Neuadd Pantycelyn and I look forward to this being a home to Welsh-speaking students for many years to come."
With its reopening, Aberystwyth University's Welsh Students' Union (UMCA) will return to the Pantycelyn and move into a brand new office where it will provide student support and advice, and become a focal point for its full activities programme.
Moc Lewis, President of UMCA said; "The reopening of Pantycelyn is an important day for everyone at Aberystwyth University and the facilities in the new hall are excellent. As the student voice, it is important that UMCA has an office in the Hall so that we can be part of day to day life there, supporting this important community. We are fully aware of the Hall's incredible contribution over the decades, but it is our turn now to write the next chapter, and today is an exciting beginning to a new episode in Pantycelyn's history."
Pantycelyn was first opened in 1951 as a hall for male students and became a Welsh medium hall in 1974.
Over the years it has proved to be a crucible of literary and musical creativity, with many notable authors and poets amongst its alumni, and bands that have made their mark on the Welsh rock and pop scene.
I also became home to the prominent historian and author of A History of Wales, the late Dr John Davies Bwlchllan, who was the Hall's Warden between 1974 and 1992.
In the spring of 1969, Pantycelyn came to the attention of the world as the home of the Prince of Wales. The Prince studied at Welsh at Aberystwyth University ahead of his investiture in Caernarfon in July 1969. Pantycelyn featured in series 3 of the popular Netflix series The Crown which was released in the autumn of 2019.