Aberystwyth researcher's 'future star' award for sustainable food project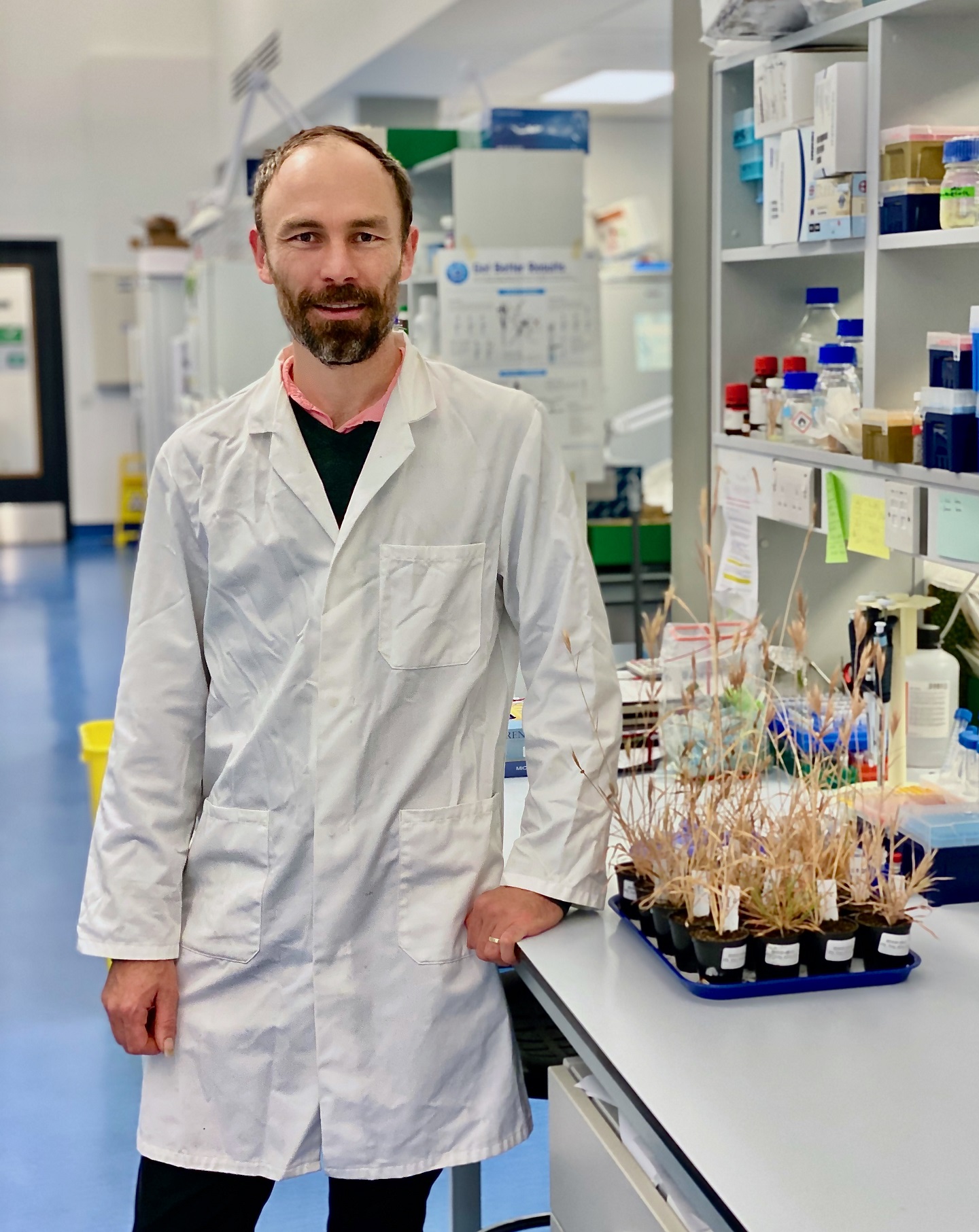 Dr Andrew Lloyd
An Aberystwyth academic has been recognised as a top talent by the UK's research and innovation body with support for his sustainable food study.
Dr Andrew Lloyd, from Aberystwyth University's Institute of Biological Environmental and Rural Sciences (IBERS), has been awarded a Future Leaders Fellowship by the UK Research and Innovation body (UKRI).
The prestigious award is designed to expand and retain a strong supply of talented academics in the UK, and supports the next generation of researchers to work on difficult and novel challenges.
Dr Lloyd's sustainable crop production project, involving partners in the UK, US, France and Australia, seeks to ensure crops can be grown successfully in the altered temperatures, rainfall, and new disease pressures that come with climate change.
The four-year study explores how the many thousands of beneficial traits found in wild crop relatives can be more efficiently incorporated into plant breeding programmes.
The cross-disciplinary project will use insights from the biomedical sciences to develop new tools for plant breeding, helping to develop a new generation of future-ready crops.
Meeting environmental challenges without relying on increased chemical inputs, requires introducing new resistance traits into cultivated crops. The research aims to help plant breeders access the beneficial traits found in wild relatives of crop species and accelerate the pace of traditional plant breeding.
Since 2018 Dr Andrew Lloyd has been a Sêr Cymru II Fellow in the Institute of Biological Environmental and Rural Sciences (IBERS) at Aberystwyth University. He commented:
"I'm truly excited to be recognised by UKRI as a Future Leader and to be working with a fantastic group of partners in the UK, US, France and Australia on this project."
"Ensuring sustainable food production in a changing climate is a big challenge facing the agricultural sector. We are aiming to develop tools for use in traditional plant breeding that reduce the time it takes to develop new varieties. These tools will also help re-capture environmental and disease resistance traits from wild crop relatives, that have been lost during crop domestication."
UK Research and Innovation Chief Executive, Professor Dame Ottoline Leyser, said: "Future Leaders Fellowships provide researchers and innovators with freedom and support to drive forward transformative new ideas and the opportunity to learn from peers right across the country.
"The fellows announced today illustrate how the UK continues to support and attract talented researchers and innovators across every discipline to our universities and businesses, with the potential to deliver change that can be felt across society and the economy."
Professor Iain Donnison the Head of the Institute of Biological, Environmental and Rural Sciences (IBERS) at Aberystwyth University added:
"Dr Lloyd's award is well-deserved recognition of his enormous talent as well as the importance of the research project. Aberystwyth University is a world-leader in plant science and sustainability, and this project underlines the importance of our work to the world as it faces up to the harsh realities of climate change. The development of new crops that are adapted to the environmental challenges we all face over the decades ahead are essential. Researchers in IBERS, here in Aberystwyth, are pioneers in this internationally significant field of translating plant science into future crop varieties."
Dr Andrew Lloyd obtained his PhD from the University of Adelaide in 2011, receiving a University Doctoral Medal for his research in evolutionary genetics. He has since held postdoctoral positions in France at INRA Versailles, and in the US as a Marie Curie Fellow at Harvard University.
This project has received funding from the European Union's Horizon 2020 research and innovation programme under the Marie Skłodowska-Curie grant agreement No 663830