National Spectrum Centre could spur Mid Wales jobs boost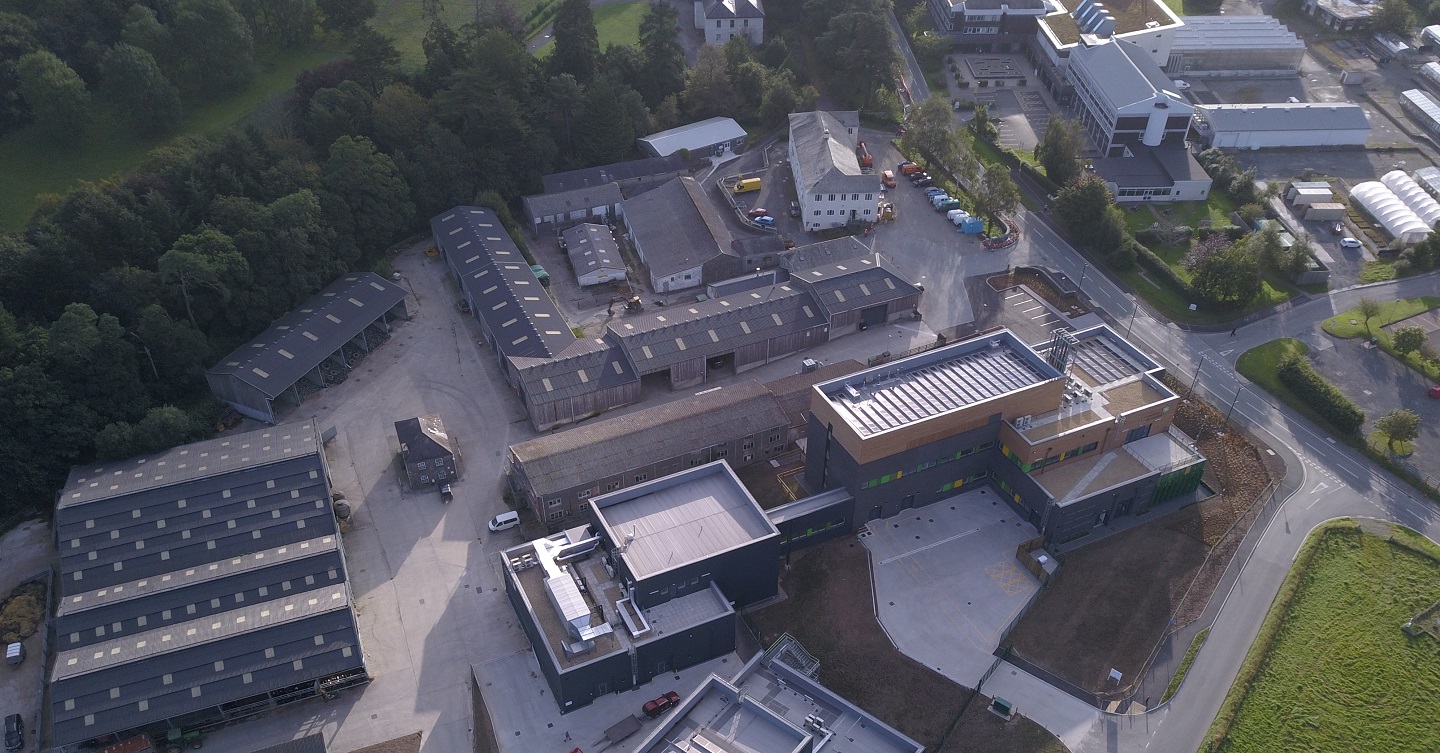 Gogerddan campus
Pioneering plans to set up a National Spectrum Centre (NSC) in Mid Wales could lead to the creation of more than 60 full-time, high-value jobs.
An Economic Impact Assessment of the proposal has been carried out by the Business School at Aberystwyth University.
The study estimates that between 42 and 66.5 permanent positions could be created as a direct consequence of establishing the NSC, as well as up to 172 temporary construction jobs during the phased development of the centre.
Developed in partnership between Aberystwyth University and QinetiQ, the centre would train the next generation of radio spectrum and systems engineers, and upskill current engineers to harness the potential of radio spectrum technologies essential for running a modern economy.
Radio spectrum is the soft infrastructure that enables wireless connectivity between places, people and devices through, for example, mobile phones, navigation systems and radar systems.
The aim is to enable industry and government to identify and demonstrate the next generation of innovative wireless applications needed to double the radio spectrum's annual UK economic contribution to over £100bn by 2025.
"Developments in spectrum engineering and innovation and the start-up companies forming as a result of the NSC will create new opportunities for employment and training for the Mid Wales workforce and population. In particular the NSC will provide opportunities for the younger working aged population seeking to remain in the area," says the report by Professor Nick Perdikis, Dr Sarah Clarke and Dr Wyn Morris of the Aberystwyth Business School.
"The result of both direct and indirect impacts will make an important contribution to the resilience of the local economy by generating high value employment. It will also support the local supply chain and stimulate a vibrant local economy, enhancing a year-round tourism industry, whilst securing local services.
"Wider economic impacts associated with learning include reduced risk of unemployment, better physical health, greater civic engagement and widening participation. Other impacts include the development of spectral technology and its contribution to innovative spectrum industry and the potential for the NSC in Mid Wales to create a globally important hot spot for spectral engineering."
The proposal has the support of Welsh Government, which has provided an initial investment of £60,000 to enable the industrial and academic consortium collaboration between Aberystwyth University and QinetiQ to further develop their plans for a new innovation and research facility.
Economy and Transport Minister Ken Skates said: "Aberystwyth University has a unique opportunity to help reimagine the Welsh economy and create an ecosystem between government, industry and academia to train the next generation of engineers in spectrum-based innovation, research and testing.
"This will offer huge economic benefits to mid Wales in driving forward the latest digital technologies and helping strengthen our resilience to some of the biggest global challenges we face, such as the coronavirus pandemic which has put our economy under enormous pressure.
"The National Spectrum Centre development has enormous potential and the fact it could create a number of highly skilled jobs created is very welcome news. I am pleased the Welsh Government is supporting these proposals."
Professor Elizabeth Treasure, Vice-Chancellor of Aberystwyth University, said: "We want to see the National Spectrum Centre becoming a driving force in the development and testing of the next generation of wireless technologies needed by Wales and the wider UK. Its establishment will also help spur the creation of new, high-value jobs in Mid Wales, and we are grateful to HEFCW and Welsh Government for their support for this pioneering research facility bringing together expertise from across government, industry and academia."
James Willis, Managing Director of QinetiQ's Cyber & Information business, said: "QinetiQ is pleased to be involved in this exciting and novel opportunity which builds on our existing presence in Wales. We are excited to be able to bring our world-leading capability in radio spectrum technologies and our ability to create cross-cutting research collaborations to benefit the Welsh and National economy."
The establishment of a National Spectrum Centre is a key plank in the Growing Mid Wales partnership which includes Ceredigion County Council, Powys County Council and other strategic organisations.
Councillor Rhodri Evans is Ceredigion County Council's Cabinet member responsible for Economy and Regeneration. He said: "We welcome the backing given to Aberystwyth University and QinetiQ to look further into the establishment of a National Spectrum Centre that could lead to real opportunities for the Mid Wales Region. It fits our ambition for Mid Wales to host leading programmes of advance research. We want to see more high-value jobs available in the region; this centre could provide one route to achieve this."
In its first phase, the NSC will be based in the Lord Milford building on Aberystwyth University's Gogerddan campus while the University's Department of Physics will develop a new package of post-graduate modules in Radio Spectrum Engineering. The courses are aimed at students as well as local and national industries and businesses looking to upskill staff in these increasingly important areas.
The Gogerddan campus also houses leading research facilities within the University's Institute of Biological, Environmental and Rural Sciences (IBERS), and AberInnovation, the newly completed innovation and enterprise campus which fosters collaboration between academia and industry. QinetiQ Aberporth conducts novel, complex experimentation and research and encourages collaboration across a diverse stakeholder community.
Ultimately, new infrastructure and bespoke testing facilities for wireless technologies will be needed in a range of locations in Ceredigion and Powys.