Major research grant for global nonviolent protection project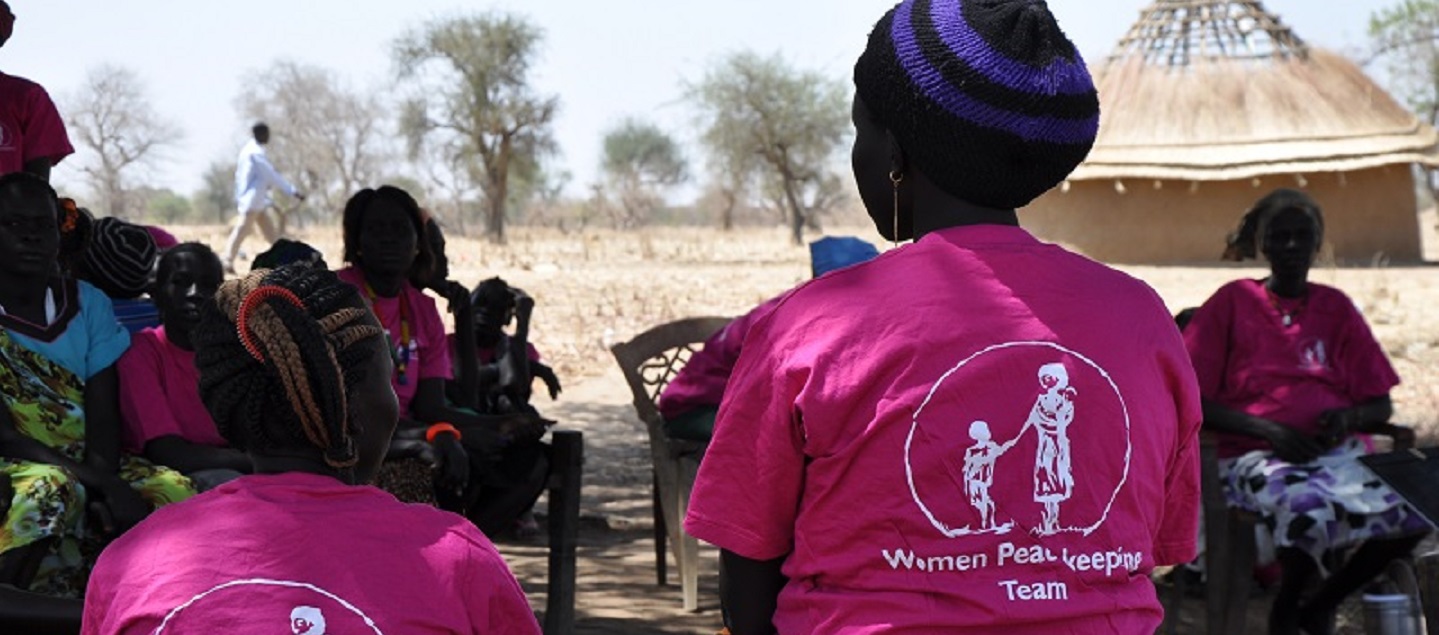 Unarmed civilian protection organisations like Nonviolent Peaceforce's South Sudan Women's Protection Teams work to create physical safety in communities affected by violent conflict. Photo credit: Nonviolent Peaceforce/
Aberystwyth University has been awarded a grant of £1.87m to lead a major international research project aimed at providing greater protection for millions of civilians caught up in conflict zones.
Figures from the United Nations Refugee Agency show that a record 68.5 million people have been forcibly displaced by violent conflict (UNHCR 2019) and the majority of deaths in conflicts are among civilians.
As part of the four-year project entitled "Creating Safer Space", a global interdisciplinary research network will be created to support local civilian-to-civilian processes which help protect communities affected by violent conflict from physical harm.
Together, they will work on enhancing unarmed protection practices which create safer space for communities and individuals amidst violent conflict, raise their levels of resilience and help prevent displacement.
Funded by UK Research and Innovation through the Global Challenges Research Fund, the network will focus on working with communities in four core countries, namely Colombia, Myanmar, South Sudan and the Philippines.
The work is being led by Professor Berit Bliesemann de Guevara at Aberystwyth University's Department of International Politics. 
"The protection of civilians from physical harm in contexts of war is a pressing issue of our time," says Professor Bliesemann de Guevara. "While the international community has acknowledged the need for protection, the physical safety of civilians is still seen almost exclusively as a task of armed outside actors like UN blue helmets.
"The originality of this Network is its focus on protection provided by unarmed actors and deployed at the local level of communities. Unarmed civilian protection (UCP) organisations accompany human rights defenders and deter armed actors from carrying out attacks against them through their presence and proactive engagement strategies.
"They use networks of relationships built with armed and unarmed parties to a conflict to negotiate safe passage of internally displaced persons to a safe camp or to bring forcefully recruited youth back to their families. They also monitor ceasefires and agreements.
"The protection of civilians by civilians without the use or threat of force can work to create physical safety, and help break cycles of violence, contributing to longer-term peacebuilding. Initial research has suggested that UCP may often be more effective than armed protection and we hope to build on these findings over the next four years."
Professor Bliesemann de Guevara will collaborate with 14 international project collaborators and partners: