Aberystwyth University contractors raise funds for Wales Air Ambulance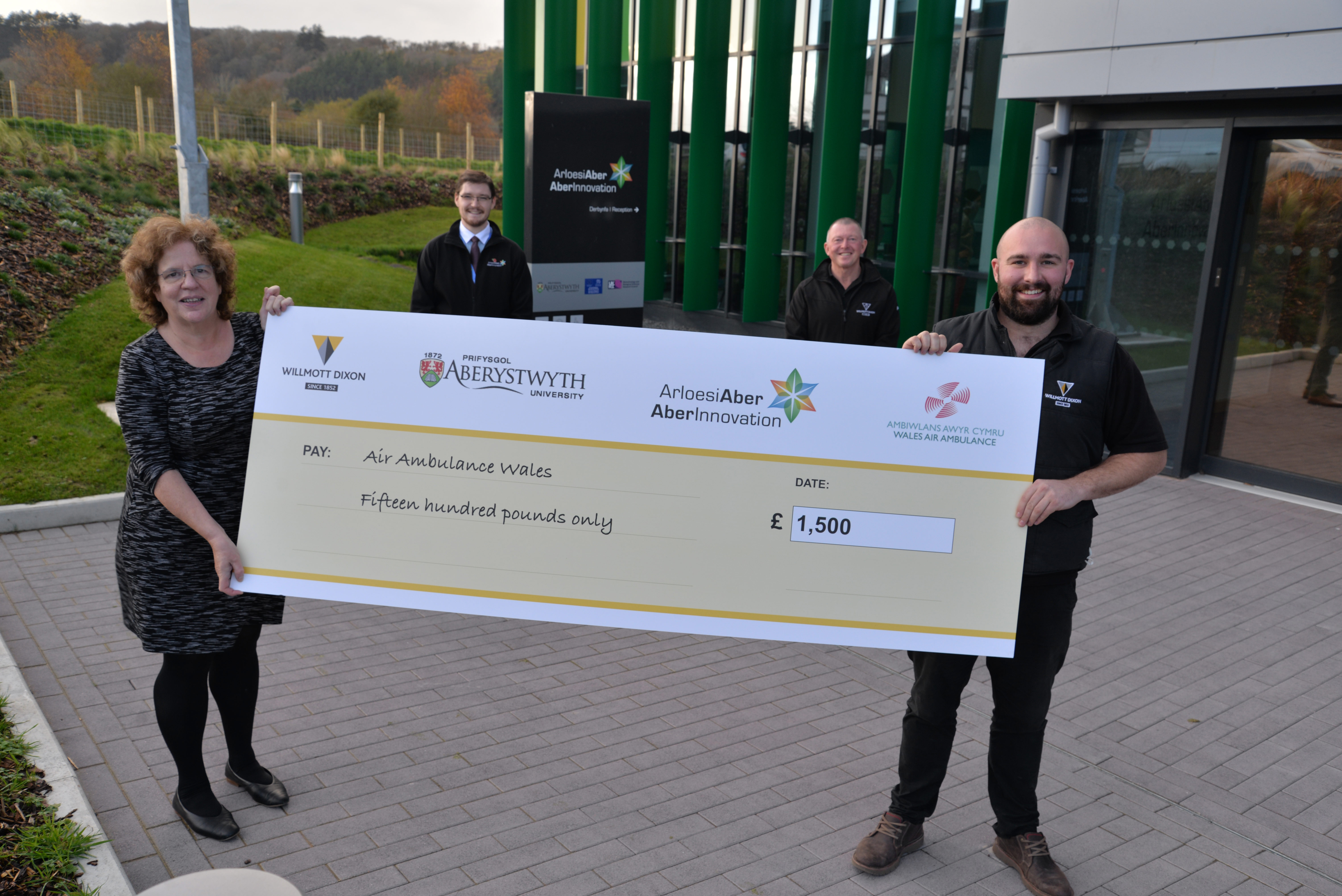 Professor Elizabeth Treasure, Vice-Chancellor of Aberystwyth University receiving a cheque for £1,500 for Wales Air Ambulance from Andrew Jones (Assistant Build Manager), Phil Williams (Assistant Build Manager) and Shaun Davies (Operations Assistant) from Willmott Dixon
Workers at construction company Willmott Dixon have raised £1,500 for the University's Charity of the Year for 2020-21, Wales Air Ambulance.
The company recently completed the two-year construction of the new world-leading bioscience facility, AberInnovation (Aberystwyth Innovation and Enterprise Campus).
Based on Aberystwyth University's Gogerddan Campus, AberInnovation provides world-leading facilities and expertise for the biotechnology, agri-tech, and food and drink sectors. The project was delivered on time and on budget by Willmott Dixon, despite the COVID-19 pandemic.
Site staff from Willmott Dixon presented the cheque to Aberystwyth University Vice-Chancellor, Professor Elizabeth Treasure on 12 November.
Willmott Dixon Operations Manager, Darren Hancock, explained: "During each of our major construction projects, we make it our mission to raise money for a charity as a way of giving back to the local community. Having spent the last two years working in Aberystwyth, it is clear what an essential service the Wales Air Ambulance provides around the coast and countryside of Wales, and it seemed natural for us to support the University's chosen Charity of the Year."
"Unfortunately, COVID-19 restrictions have curtailed our fundraising activities a little this year, but we were delighted to raise this money by running an on-site shop where workers could purchase snacks and drinks."
Professor Elizabeth Treasure said: "We are very grateful to the Willmott Dixon site staff for choosing to support our Charity of the Year with their fundraising efforts. The Wales Air Ambulance provides a vital lifesaving service across Ceredigion and the whole of Wales, and its operation relies entirely on charitable donations."
Wales Air Ambulance Community coordinator, Dougie Bancroft, said: "Thank you to all at Willmott Dixon who helped to raise this money for the Wales Air Ambulance. During Covid-19, like many charities, we have seen a significant decrease in donations due to shops being forced to close and bucket collections and events being cancelled. Donations like this help to keep our helicopters flying and allow us to continue our lifesaving work."
Now in its eighth year, Aberystwyth University's Charity of the Year appeal seeks to raise as much funding as possible for a worthy cause, and provide a fundraising focus for staff, students and the community. The chosen charity is selected through a nominations and voting process involving students and staff across the University.