Consumers will pay premium price for quality beef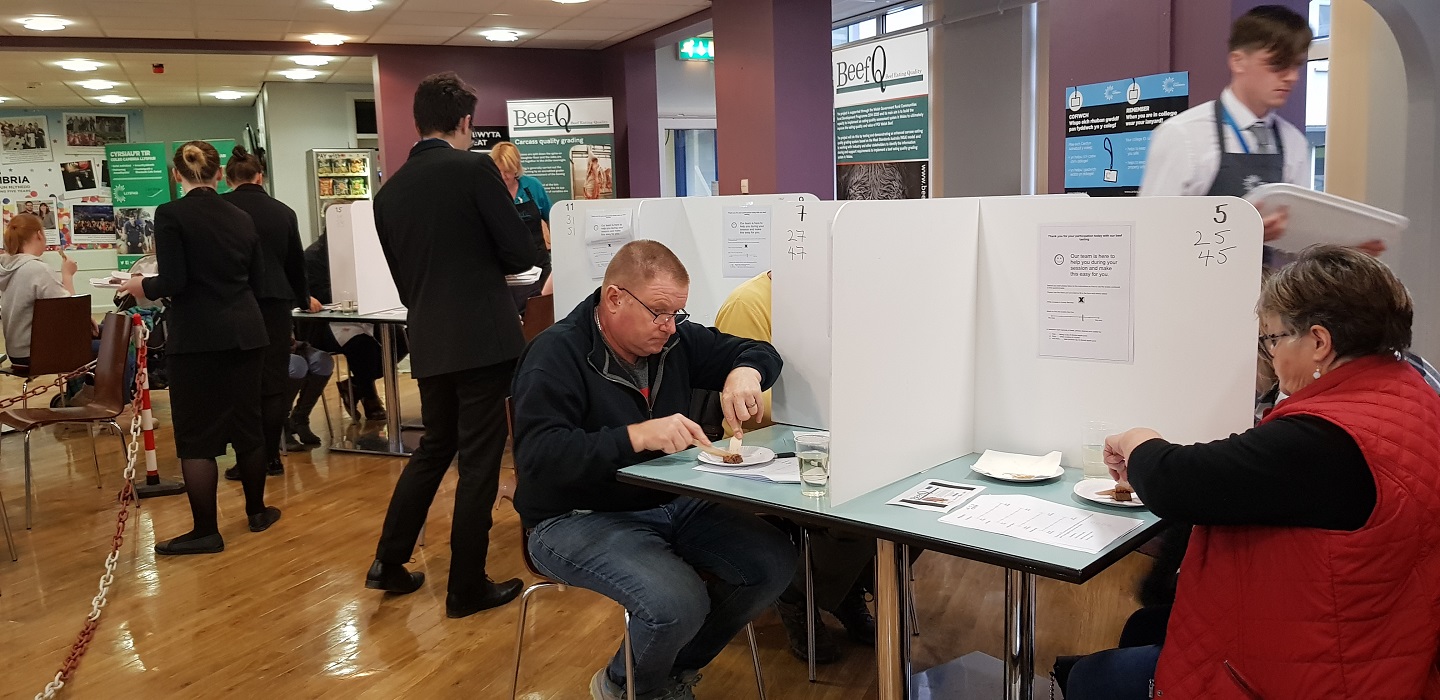 Tasting event
Consumers are willing to pay double for a high quality premium beef, research has revealed.
The findings from a series of tasting events have shown that consumers place a high value on eating quality and are willing to pay double for a consistent, high quality premium product compared to a good every day one.
The findings are part of the Aberystwyth University-run BeefQ project. The research is supported and funded by the Welsh Government Rural Development Programme and the European Agricultural Fund.
A diverse cross-section of 1,200 regular beef eaters and purchasers from Wales and England participated in the tasting panels.
Each consumer was given 7 samples of beef of varying eating quality and asked to grade them (on a scale of 0-100) in terms of tenderness, juiciness, liking of flavour, and overall liking.
They were also asked to rate the quality of each sample as unsatisfactory, good everyday, better than everyday or premium and indicate how much they would be willing to pay for each quality of beef.
A statistical analysis of the data showed that tenderness, liking of flavour and overall liking were evenly ranked, whilst juiciness was deemed less important.
Dr Pip Nicholas-Davies, BeefQ Project Coordinator at Aberystwyth University said: "The analysis provides strong evidence that consumers can clearly differentiate eating quality into 4 distinct categories, from unsatisfactory to premium. Interestingly, it seems that our participants are more discerning at the extremes of eating quality than those observed in other countries where similar work has taken place. This has important ramifications for brands where any inconsistency in eating quality may impact value."
The participants also said that they are willing to pay more than double for a premium quality product, but value unsatisfactory beef at 43% the value of good everyday quality beef. Additionally, it was found that it is not possible to rely on cut or cattle type to determine eating quality.
Hybu Cig Cymru's Deanna Leven, Export Market Development Executive said: "This analysis of consumer data has been a valuable insight into consumer tastes and expectations. We already know that the quality of Welsh Beef is exceptionally high, but an accurate eating quality based grading system could be the pathway to industry profitability through satisfied customers."
Dr Pip Nicholas-Davies added: "The information from the tasting events will now be combined with the carcase survey data collected in 2019 to develop a BeefQ beef eating quality prediction model. To this end, we will be conducting a consultation with industry stakeholders during the winter of 2020/21. The aims of the consultation will be to inform stakeholders about BeefQ and the beef eating quality prediction system developed; to gauge stakeholder desire for an eating quality prediction system in Wales; and to evaluate the strengths and weaknesses of proposed options for implementation."
You can register your interest in participating by emailing Vicki Jones, the BeefQ Project Administrator (beefq@aber.ac.uk).