Ten years of sharing and showcasing innovation in teaching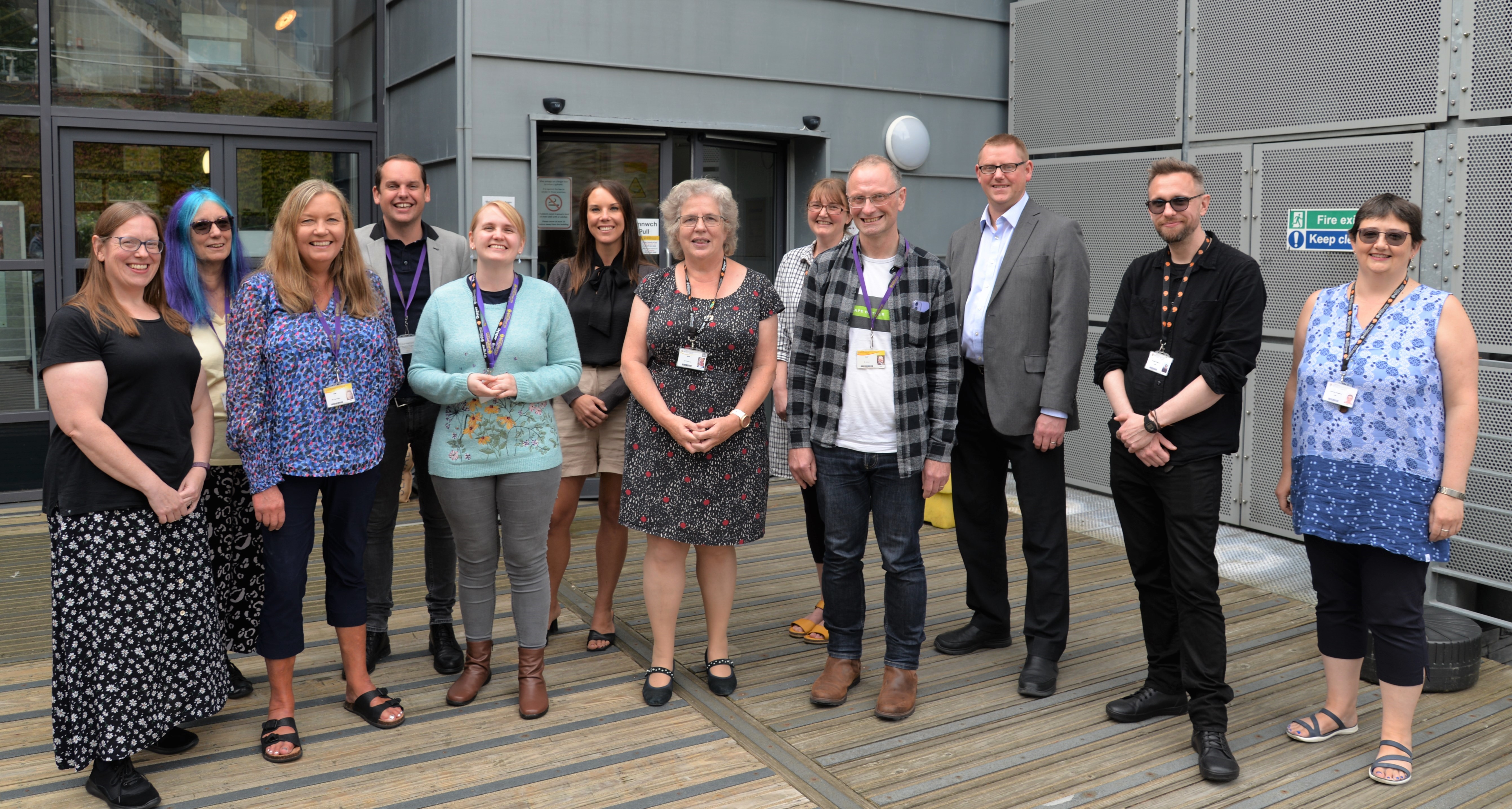 Aberystwyth University Vice-Chancellor Professor Elizabeth Treasure (centre) with organisers and attendees at the Aberystwyth University Learning & Teaching Conference 2022
The potential of immersive virtual reality as a pedagogical tool; the highs and lows of learning with attention deficit hyperactivity disorder (ADHD); improving student engagement and participation; and supporting the development of students' digital capabilities are just some of the subjects under the spotlight at the annual Aberystwyth University Learning and Teaching Conference which takes place this week.
Now in its tenth year, the conference brings together teaching and learning practitioners from across the University to share and showcase the exciting and innovative approaches that are taking place.
The theme of the 2022 Learning and Teaching Conference is 'Designing the Teaching of Tomorrow: Innovation, Enhancement, and Excellence'.
This year's event, which is being held over three days from 12-14 September 2022, consists of a mix of online and in-person presentations, workshops demonstrations and discussions.
The broad and varied conference programme is based around six strands: inclusive and sustainable pedagogies; assessment validity, authentic assessment, and feedback engagement; scaffolding skills across the curriculum and beyond; developing a bilingual University community; working with students as partners to design learning; and active learning in today's higher education landscape.
Dr Jim Woolley from the University's Learning and Teaching Enhancement Unit which organises the event, said: "We look forward to welcoming colleagues from across the University to the tenth Learning and Teaching Conference. The annual conference reflects the commitment that Aberystwyth University staff have to enhancing the student learning experience and sharing good teaching practice and innovation.
"The conference not only showcases exemplary practice from our colleagues, but delegates also get to hear about developments across the sector from external speakers. This year, we'll be joined by Dr Jennifer Fraser, Dr Moonisah Usman, and Kyra Araneta from the University of Westminster to talk about socially just student and staff enhancement work, as well as Dr Alex Hope from Northumbria University to discuss ways in which sustainability might be embedded in the curriculum".
Professor Tim Woods, Pro Vice-Chancellor for Learning Teaching and Student Experience at Aberystwyth University, said: "For ten years the annual Aberystwyth University Learning & Teaching Conference has been an opportunity for staff from across the institution to hear from motivating speakers who inspire their thinking and ignite their creativity, and join thought-provoking discussions where innovation and best practice can be shared.
"As was shown by our improved position in The Times and Sunday Times' Good University Guide 2022, Aberystwyth University excels for both its teaching excellence and high levels of student satisfaction, and events such as our Learning & Teaching Conference are one of the ways in which our staff invest in further improving the Aberystwyth student experience."