The Annual Learning and Teaching Conference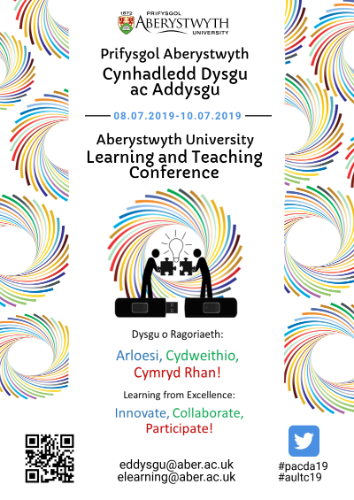 The E-learning Group is responsible for organising Aberystwyth University's Annual Learning and Teaching Conference. The conference brings together a community of teaching and learning practice from across the University to celebrate, share and showcase the exciting and innovative approaches that are taking place.
The conference includes workshops, demonstrations, presentations and guest speakers.
The 7th Annual Learning and Teaching Conference will be held 8th-10th July 2019 on Penglais Campus. This year's conference theme, Learning from Excellence: Innovate, Collaborate, Participate!, aims to reflect the commitment that AU staff have to enhance the student learning experience. The four main strands of this year's conference are:
How students learn
Effective and innovative learning design
Research-led teaching to enhance learning
Collaborative and participatory learning experiences
To submit a proposal, complete this online survey.
For further updates, sign up to our blog.
Recordings and PowerPoints from last year's conference can be found here.
Previous Conferences: