სტუმარს საქართველო Georgia
If you have any questions about applying to, studying at, or living in Aberystwyth, please contact the regional officer for your country:
Contact: Jack Coates
Email: jac136@aber.ac.uk
Phone: +44 (0) 1970 621892
Entry Requirements
Entry Requirements
Undergraduate

A General Education Diploma with a minimum of 50% is required to be considered for entry to our foundation course.

Successful completion of Tanawiya Amma (Secondary School Leaving Certificate) with a minimum 65% pass AND International Foundation Programme is required.

OR Students who have completed a 2-year Diploma from a recognised institution can be considered for direct entry to Undergraduate courses, subject to meeting the University's standard entry requirements as specified for each course.

Postgraduate

Students who have successfully completed a Bachelor degree will be considered for entry onto a relevant postgraduate programme of study (minimum GPA of 2.5)

For specific requirements, please refer to the Postgraduate Admissions Office website.

English Requirements

IELTS score of at least 6.0 - 7.5 depending on course requirements.

If you require help or assistance with your English then our International English Centre will be pleased to offer assistance and guidance. The Centre offers an intensive full-time course available before you commence your degree and provides ongoing support throughout the duration of your studies
Please note each course will require specific entry grades from the qualifications highlighted above. Some courses may also require an additional portfolio or interview.
Student Profiles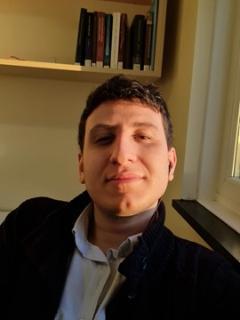 Otar Davitaia
(Law, PhD)
What do you love about Aberystwyth and Aberystwyth University?
It is hard to pinpoint one particular thing that I love about Aberystwyth, I believe it is a sum of the wonderful teaching experience that student gets here and the tight community that is Aberystwyth. The little seaside town by the Irish sea has nearly everything one can desire for study and entertainment. We have the absolute pleasure of having a Welsh national library at our doorstep which gives us the opportunity to find any academic resources necessary for our studies. For me, this is especially important as I am a researcher. Furthermore, Aberystwyth has dozens of cafes and pubs to enjoy ourselves in the evenings and nature in and around Aberystwyth is simply exquisite and one can really enjoy a nice walk on a sunny day.
What have you enjoyed most about your course?
I have completed a bachelor's in law (LLB) in Aberystwyth and I have returned for my Ph.D. Both courses are very different thus I want to discuss them separately.
With regards to LLB, I must admit that students get all the support they may need. The lectures are extremely friendly and always ready to help and one is always encouraged to ask questions. In addition, there are many elective modules that vary from international law to sports law and one can really find their specific interest in law. Furthermore, there are law-specific societies such as law society and mooting society where students can get involved.
With regards to Ph.D., as it is more of individual research, students are assigned a supervisor who is always ready to help and advise which is extremely useful as it is a very large research project and one could feel lost at first yet supervisors and other faculty members are always ready to help. Furthermore, there is a graduate school that provides us with additional research training and a large variety of courses to help us not only with research but our future careers as well.
How did you find adjusting to life in Aberystwyth?
Of course, everyone has their own experience but, in my case, I found adjusting to life in Aberystwyth not that hard, I easily made friends for life. I have met people from across the globe and had many wonderful life experiences.
What advice would you give someone considering studying at Aberystwyth University?
I would recommend joining societies and socializing as much as possible, as it is a wonderful way to make new friends and have different life experiences.
Have you joined any student clubs or societies and what have you enjoyed about them?
During my bachelor's, I was part of a nomadic player society where I have taken part in different plays as an actor and even had a wonderful opportunity to direct a play. Aberystwyth University has a wide range of clubs and societies that cover many different interests and as I said before they are a wonderful way to find new friends as well.
Alumni Profiles
Ilia Gogidze
(MSc International Business Management)
The benefits of studying at Aberystwyth University are great - I would highlight the modern approaches to the learning process. Studying with multinational students granted me better communication skills and helped me to be successful in international organisations. UK education is highly respected globally, which helped me to get a job in the UK and in my home country Georgia as well. Nowadays, I represent one of the international insurance companies in Georgia, where the knowledge I gained from Aberystwyth University helps me on a daily basis to work closely with foreign shareholders and international reinsurance companies.
This is an amazing place for getting the highest standard of education. After I graduated from Aberystwyth, I lived and work in London and visited many cities around the UK. But I confidently confirm that I have never seen such a soft and peaceful environment for education. It is equipped with the richest and most modern library, which gives access for all students to a variety of reading materials. If I were to give three words to describe Aberystwyth University I would say quality, safe, and friendly.
Ilia joined Aberystwyth University through our partner agent Libra.