Dr Mike Brookes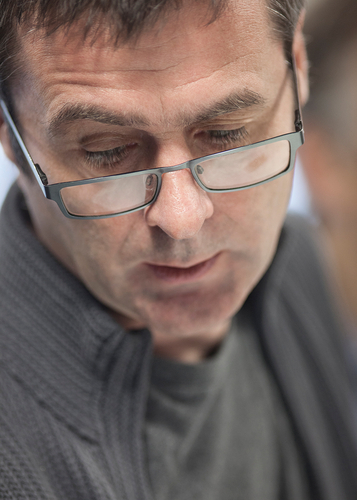 Profile
Mike is an award winning artist, director and designer, working internationally, and was appointed as Research Fellow within the department in 2007.
His mentoring and teaching contributions within both undergraduate and postgraduate programmes draw directly on his professional practices and experience, and focus predominantly on located and compositional practices and research-led practical project work. He became the department's Creative Research Mentor in 2022 – with a particular focus on the support and encouragement of practice-based research, and its outcomes and impacts.
Beyond his solo work, developed across a thirty-year career as an independant artist, his many professional collaborations include notable works with National Theatre Wales, Untitled Projects, and Quarantine – with whom he has collaborated since 2003.
Mike co-founded the performance collective Pearson/Brookes with theatre-maker and academic Mike Pearson in 1997, a creative partnerships whose work together over the subsequent twenty years of their collaboration is generally perceived to have pioneered located and multi-site performance practices.
His current creative and research work is centred on his long-term collaborative practice with artist and performer Rosa Casado, with whom he continues to propose and produce context-specific and interventional works, in a variety of forms, and at a range of scales – their work together having been widely commissioned and presented across Europe, Asia, Australasia, South America, and USA.
Teaching
Module Coordinator
Coordinator
Moderator
Lecturer
Tutor
Research
Mike's established and developing research interests have arisen through long-standing professional and practice-based explorations, primarily within context-specific and intermedial performance and public art, and are currently focused within three symbiotic threads of enquiry:
[1] The performance of place, and performance as place – including propositional practices within the form and functioning of located and context-specific art and design, the activation of located performance and live art as social space, and the activation of critical social situations through performance.
[2] Location, orientation and performing an expanded sense of place – including exploratory approaches to multi-site and multi-scale performance, the simultaneous performance of multiple scales of place, and the activation of expanded environments and landscapes through the performance of interconnections.
[3] Mediation, intermediality and the performance of relational environments – including expanded and alternative strategies within the form and functioning of multi-temporal and multi-site performance, and considerations of mediation as form and dramaturgy in located performance and live art.
Publications
Filmer, A
, Brookes, M
, Pearson, M
& Laughlin, Z 2020, '
Report from…Wales The Ever After Project: Considering theatre and performance in the era of Covid-19
',
Theatre and Performance Design
, vol. 6, no. 4, pp. 383-393.
10.1080/23322551.2020.1856304
Brookes, M
& Casado, R,
El cielo era más claro en aquellos días…
, 2019, Performance.
Brookes, M
& Casado, R,
Prototipoak 2018: …Eta egiten ditugun gauzak / ...Y las cosas que hacemos
, 2018, Exhibition, Azkuna Zentroa, Bilbao.
Brookes, M
& Casado, R,
Quiet, too quiet, but not silent
, 2018, Performance.
Brookes, M
,
Carrying Rubén
, 2016, Performance, Azkuna Zentroa, Bilbao.
More publications on the Research Portal