About Aberystwyth University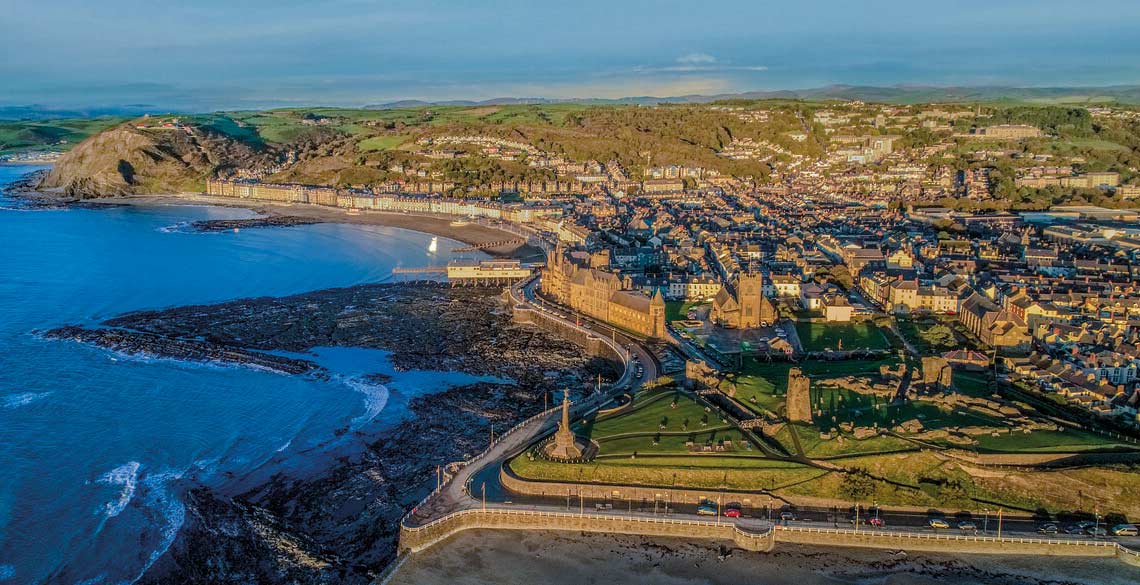 As the first University in Wales, we have a long-standing reputation for delivering academic excellence, an exceptional student experience and world-leading research. 
To deliver inspirational education and research in a supportive, creative and singular environment in Wales. Building on our historical strengths and our reputation for excellence, we will contribute to society in Wales and the wider world by applying our knowledge to local and global challenges. Working within a welcoming and bilingual community, we will use our expertise to cultivate critical thinking, independent questioning and skills that equip our learners for their future lives. 
Over the past 150 years, Aberystwyth University has developed into a strong academic community of over 2,000 staff and 6,000 students from across the globe. We have 19 academic departments, organised into three faculties across the sciences, social sciences, and arts and humanities. We have sterling reputation for teaching excellence. At the heart of our mission is effective and impactful teaching; this is why we are consistently ranked amongst the best universities in the UK for teaching quality and student satisfaction.
We are a research-led university that celebrates knowledge creation and exchange, impact and innovation. Our research underpins and informs our teaching which enhances our students' learning experience. Our research has benefits for wider society and impacts upon the economy, the environment, on public policy and upon cultural life in Wales and beyond. Ranging from combatting climate change, improving food quality and food production, promoting human and animal health, to developing artificial intelligence and helping to advance space exploration, our researchers are at the forefront of innovation and the impact of our research has far-reaching international benefits. In the recent Research Excellence Framework assessment, 98% of the University's research is of an internationally recognised standard or higher (REF 2021).
Student life here revolves around our coastal campus and the safe, close-knit, yet cosmopolitan town of Aberystwyth. In the 2022 National Student Survey, Aberystwyth was ranked 1st in England and Wales for student satisfaction, attesting to the exceptional academic and social experience that our students receive during their time with us.
Investing in our facilities
Our high student satisfaction rates reflect the calibre of the education we offer as well as recent investments of over £100m in enhancing and extending our already excellent residential and teaching facilities.
Lecture theatres and teaching spaces across the University have been refurbished and upgraded, with facilities to record all lectures for revision and learning consolidation. Through targeted investment, we are committed to ensuring our students benefit from world-class teaching and learning facilities, and acquire the skills they need to succeed in life.
We offer a variety of options and locations to find the space that works for you, with the majority of our residences being only a short walk from campus. We have invested over 50 million in improving our student accommodation for all undergraduate and postgraduate students. Set in a beautifully landscaped environment, Fferm Penglais offers some of the best student accommodation in the UK with stunning views of the Cardigan Bay coastline. In September 2020, we welcomed new and returning students to the newly refurbished historic Pantycelyn Hall of Residence, an iconic building dating back to the 1950s. Designated as accommodation for Welsh speakers and learners in 1973, Pantycelyn is recognised nationally for its contribution to Welsh culture and society.
Student life is further enriched by our active Students' Union, which runs more than 100 different clubs and societies. We have our own Sports Centre on campus with a running track, 3G pitch, swimming pool, gym, climbing wall, spin studio, and wellbeing and fitness classes. Our on-site Arts Centre is one of the largest in the UK with theatre, exhibition and performance spaces as well as a boutique cinema, bar and cafés.
We pride ourselves on our long history of Welsh-medium teaching and research. In fact, our level of provision for students who want to study through the medium of Welsh is one of the highest in Wales. We offer opportunities for students who are fluent in Welsh in addition to those who are less confident or learners across a wide range of subjects from agriculture to childhood studies, and politics to animal science.