Anastasija Kirejeva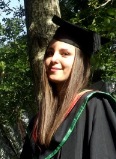 The most exciting yet challenging period of my life has just come to an end. Looking back I can say with certainty that coming to Aberystwyth was the correct decision. Studying Economics with Management gave me a wide exposure to the Business world and also a solid background in Economics. Although you can get an impression that Economics modules are very theoretical and even to some extent historical in nature, it is the tutors that make a difference; many of our lecturers would have an open-door policy, run extra help classes for us and provide the materials, such as videos and documentaries, so that we could see the implications of what we were studying.
Although the workload is a step up from A levels, the social life was a step up, too! I have no clue how I was managing it, but a student definitely somehow uses more than 24 hours a day! I volunteered to be a Course Representative for Economics students and a Student Ambassador for the School of Management and Business on Open and Visiting days. I found it to be the best way to get to know people – we have then partied, travelled and studied together! Aberystwyth is a great place to make friends. Even though many of my friends studied different subjects to me, we would constantly bump into each other in town and arranging a night out or a movie night together would be no problem at all. I found it fascinating and it certainly made my life easier! I guess my message to students coming to University is "do not to be afraid" – everyone will be in the same boat and you will easily get to know people and make friends.
Alongside my studies I worked as a Customer Assistant in Boots the Chemist and later become a Duty Manager. My wages from my part time job were a great help. I was also able to secure a 12 month full time internship on the Year in Employment Scheme (YES between my second and final year of study) with the company. I guess the key is not to turn your nose up at any job – you never know what it might lead to.
I am currently working in London in the financial services sector for ABN AMRO as an intern and I have been offered the opportunity to make my internship permanent. Surprisingly, it was my retail experience that attracted the attention of my current employer when he was interviewing me. They do realize that a graduate will rarely have specific work experience, but transferable skills is what matters to them – so make sure you develop these as much as you can!
I have genuinely enjoyed my time at Aberystwyth University. There are two things that make a significant difference to any experience – the people you meet and the surroundings, and in my opinion, the student can certainly get both here.