Ismael Khan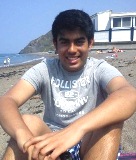 It's a cliché but my studies at Aberystwyth really were the best 3 years of my life. I have amazing memories and will always look back on my time fondly.
Before I started at Aberystwyth I was in touch with a senior professor who happily responded to all my questions and welcomed me to the course. The fact that the lecturers, tutors and staff get to know you personally really sets Aber apart from other Universities and makes a huge difference - you always have someone to get advice from and build long lasting relationships which continue after you graduate.
The town has everything you could want - it's a friendly town with great places to eat and shop, a busy night life and everything is within walking distance of each other. The town is really geared towards students, making a safe and fun environment. You will always see someone you know regardless of where you are!
Aber is a close knit town so it is easy to meet new people and make friends but I think it's really important to get involved in societies. You meet people with similar interests, go on great nights out and also partake in activities which build the skills employees want to see such as event planning, financial control and social media skills.
I was President of Aberystwyth Rag society and Liaison officer of the Biz society for two years and credit the experience I gained for securing my job after I graduated. I am currently a finance trainee for an oil recruitment firm called Petroplan, located just outside of London where I am training to become an accountant. My course included modules in small business accounting and finance and my employees appreciated the relevance of the modules that my course offered.
I couldn't have asked for a better experience and feel really lucky that I got the chance to study in such an incredible place.