Dr Wyn Morris PhD, MSc Econ (Entrepreneurship), BSc (Rural Resource Management), PGCTHE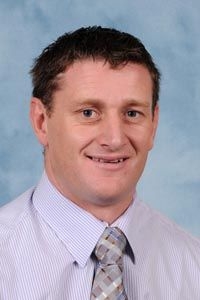 Senior Lecturer in Management
Contact Details
Profile
Dr Wyn Morris is a senior lecturer at Aberystwyth Business School.
He graduated from Aberystwyth University in 2001 with a BSc
in Rural Resource Management, specialising in business and
economics. His career took him to the Farm Assurance Livestock
Scheme where he worked as Certification and Assessment
Coordinator while studying for an MSc Econ in Entrepreneurship
through the medium of Welsh. Wyn joined Aberystwyth University
staff as an Investigational Officer with the Farm Business Survey
in 2003, before taking up a post at the School of Business and
Management in 2010 and successfully defending his PhD Titled:
TECHNOLOGY ADOPTION, ENTREPRENEURSHIP AND EFFICIENCY
IN AGRICULTURAL BUSINESSES: The Case of Upland Sheep
Farmers in Wales. His main areas of research and teaching are
in management, strategy and operations with a focus on rural
entrepreneurship.
Teaching
Module Coordinator
Lecturer
Coordinator
Tutor
Moderator
Business Strategy
Operations and Supply Chain Management
Research
Agricultural and Rural Incomes
Diversification and Entrepreneurship
Animal Production Systems
Technology Adoption in Agriculture
Farm and Rural Crime
Supply Chain Management
Office Hours (Student Contact Times)
Publications
Bowen, R
, Dowell, D
& Morris, W
2023, '
Hospitality SMEs and the circular economy: Strategies and practice post-COVID
',
British Food Journal
.
10.1108/BFJ-10-2022-0932
Islas-Moreno, A
& Morris, W
2023,
Methodological Proposal to address the agricultural Entrepreneurship Process
. in G de Jong, N Faber, E Folmer, T Long & B Ünal (eds),
De Gruyter Handbook of Sustainable Entrepreneurship Research.
De Gruyter.
Manning, L
, Morris, W
& Birchmore, I
2023, '
Organizational unlearning: A risky food safety strategy?
',
Comprehensive Reviews in Food Science and Food Safety
, vol. 22, no. 3, pp. 1633-1653.
10.1111/1541-4337.13124
Kempster, Z
, Morris, W
, Manning, L
& Bowen, R
2023, '
The role of women in United Kingdom farm businesses
',
International Journal of Entrepreneurship and Innovation
.
10.1177/14657503231159766
Islas-Moreno, A, Muñoz-Rodríguez, M, Santoyo-Cortés, VH, Aguilar-Gallegos, N, Martínez-González, EG
& Morris, W
2023, '
Understanding the process of agricultural entrepreneurship: Perspective from strategic movements and entrepreneurial families
',
Journal of Agribusiness in Developing and Emerging Economies
, vol. 13, no. 2, pp. 323-341.
10.1108/JADEE-08-2021-0202
More publications on the Research Portal