Dr Wyn Morris PhD, MSc Econ (Entrepreneurship), BSc (Rural Resource Management), PGCTHE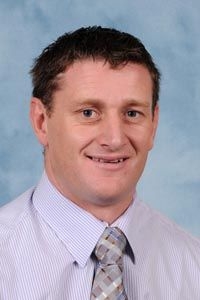 Senior Lecturer in Management
Contact Details
Profile
An alumnus of Aberystwyth University, Wyn graduated in 2001 with a BSc in Rural Resource Management where he specialised in business and economics. His career took him to the Farm Assurance Livestock Scheme where he worked as Certification and Assessment Coordinator while studying for an MSc Econ in Entrepreneurship through the medium of Welsh. In 2018 Wyn successfully defended his PhD Titled: TECHNOLOGY ADOPTION, ENTREPRENEURSHIP AND EFFICIENCY IN AGRICULTURAL BUSINESSES: The Case of Upland Sheep Farmers in Wales.
Wyn joined Aberystwyth University staff as an Investigational Officer with the Farm Business Survey in 2003, before taking up a post as a Teaching Fellow in Management at the School of Business and Management in 2010. Wyn has been a Lecturer in Management since 2014.
Away from work Wyn is an active sportsman who can regularly be seen tackling the hills of Ceredigion on his bike. Before enforced retirement Wyn was a regular with Aberystwyth RFC, and the University team. Wyn is a junior rugby coach and his other interest is agriculture.
Teaching
Module Coordinator
Lecturer
Coordinator
Tutor
Moderator
Business Strategy
Operations and Supply Chain Management
Research
Agricultural and Rural Incomes
Diversification and Entrepreneurship
Animal Production Systems
Technology Adoption in Agriculture
Farm and Rural Crime
Supply Chain Management
Office Hours (Student Contact Times)
Tuesday 11:00-12:00
Thursday 10:00-11:00
Publications
Morris, JP
, Morris, W
& Bowen, R
2022, '
Implications of the digital divide on rural SME resilience
',
Journal of Rural Studies
, vol. 89, pp. 369-377.
10.1016/j.jrurstud.2022.01.005
Norris, G
& Morris, W
2022,
Rural and Farm Crime in Wales
.
Schmidt, I
, Morris, W
, Thomas, A
& Manning, L 2022, '
Smart Systems: The Role of Advanced Technologies in Improving Business Quality, Performance and Supply Chain Integration
',
Standards
, vol. 2, no. 3, 0020, pp. 276–293.
10.3390/standards2030020
Islas-moreno, A, Muñoz-rodríguez, M, Santoyo-cortés, VH, Martínez-gonzález, EG, Aguilar-gallegos, N
& Morris, W
2022, '
The role of conflict in the adoption of governance practices in family businesses
',
Journal of Family Business Management
, vol. 12, no. 4, pp. 959-980.
10.1108/JFBM-03-2021-0019
Lokier, J
, Morris, W
& Thomas, D
2021, '
Farm shop diversification: Producer motivations and consumer attitudes
',
International Journal of Entrepreneurship and Innovation
, vol. 22, no. 4, pp. 215-228.
10.1177/1465750320985364
More publications on the Research Portal