Research Environment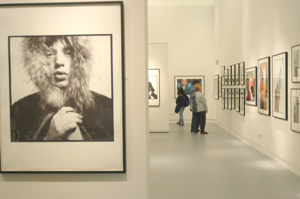 Postgraduates have access to the wealth of resources in Aberystwyth. The School of Art runs two accredited museums/galleries and houses teaching and research collections of original paintings, prints, drawings, photographs, ceramics and decorative art comprising over 20,000 artifacts. The School develops the collections and archives as a major source of primary research material. Unique in Wales, its holdings are of international importance, with particular strengths in graphic art (prints, drawings and photographs) and ceramics (studio and contemporary). A Heritage Lottery Award has funded a purpose-built archive and reference room for works on paper, while an MLA Partnership Grant, the School and National Library of Wales established an Easel Painting Conservation Studio.
The School's research environment has benefited from the 2005 bequest of the Studio and Archive of Handel Evans (1932-1999) comprising some 1000 paintings and drawings, as well as sketchbooks, diaries and photographs representing five decades work in the Caribbean, the USA and Germany. The Handel Evans Trust Fund has been set up to care for and promote the Collection, to provide research grants for work on the Collection, and to acquire works of art and archive material for teaching and research.
Aberystwyth's impressive resources include the galleries of the University's Arts Centre, one of the largest in the UK and a major venue for exhibitions by contemporary artists and designers, and the National Library of Wales (a legal deposit library located adjacent to the main campus of the University), whose art collections are of international significance and provide excellent facilities for research in the visual arts. In addition to its special relationship with the National Library and the National Museum and Gallery of Wales in Cardiff, the School has ties with the distinguished Gregynog Press, which operates from the University's residential centre at Gregynog Hall.
The University's library is extremely well resourced with books, journals and electronic resources. On behalf of the School of Art, it recently acquired the Reference Library of Garton & Co. Ltd., one of the most comprehensive libraries on European printmaking in the UK, comprising thousands of rare books, catalogues raisonné, journals, early exhibition catalogues, archives, correspondence, and several thousand photographs of early British, American and German printmakers. In addition, all doctoral students have subsidised inter-library loan facilities.
The proximity of our working spaces engenders a strong sense of community, as doctoral students in Fine Art and Art History to work alongside each other and remain closely connected to the academic staff. This ensures postgraduate involvement in the School's research culture and activities. Additional dedicated workspace for postgraduate research students is available in the University's newly erected Arts and Humanities Research Centre, located on the main campus. The Centre provides 24-hour access to networked computers, printing and photocopying facilities, and a social space for the exclusive use of arts and humanities research students.