Prof Alun Hubbard
PhD (Edinburgh University)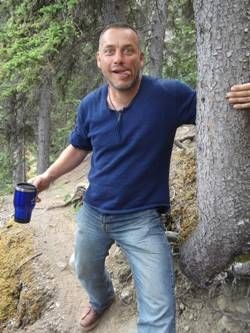 Professor
Contact Details
Profile
Alun joined IGES in April, 2007 as a lecturer after an eclectic career spanning much of the planet. After graduating from Oxford in 1990 he took time off to travel SE Asia and when money ran out enrolled in a PhD at Edinburgh University to study the response of Patagonian and Alpine glaciers to climate change. In 1997 he started one of many fellowships, first based at UBC, Vancouver, then to New Zealand in 1999 working for Canterbury University, in Antarctica and finally returning to Edinburgh in 2003. After a brief stint as a cruise-ship lecturer and entertainer, he has hung up his boots and settled down back in his home-town. He is Secretary of the British Branch of the International Glaciological Society.
Additional Information
Dr Alun Hubbard along with researchers from the University of St Andrews have completed a detailed and thorough survey of the interface between a large marine-terminating glacier and the ocean.
Using a technique called side-scanning-sonar operated from their research vessel Gambo during July 2012, Dr Hubbard and his team from Aberystwyth University mapped changes in the ice-front of Store Glacier on the West Coast of Greenland. This glacier is an outlet for the Greenland ice sheet.
The team's work was filmed as part of a documentary for the BBC, Operation Iceberg, which goes out at 9pm on BBC Two on Tuesday 30th October.
Dr Alun Hubbard, has also recently appeared in the final edition of the BBC's highly acclaimed series Frozen Planet. The final edition saw series presenter David Attenborough meet up with Dr Hubbard on the Greenland Ice sheet as he journeyed to both Poles to investigate what rising temperatures will mean for the people and wildlife that live there and for the rest of the planet.
Dr Alun Hubbard and colleagues at the Centre for Glaciology at Aberystwyth University have established a new website dedicated to the research they are undertaking on the Greenland Ice sheet.
The site www.aber.ac.uk/greenland provides a fascinating introduction to the ice sheet, the second largest ice mass on the planet which accounts for roughly 11% of the global ice surface area.
With stunning photography and moving images, the site provides a dramatic insight into life and work in this hostile environment and provides detailed information on the three principal areas where Dr Hubbard and his team are working, the Russell Glacier catchment near Kangerlussuaq, the Uummannaq region of West Greenland and the Peterman Glacier in the very far North West.
Teaching
Module Coordinator
Lecturer
Research
My focus is on the links between the cryosphere, landscape and atmosphere on a variety of temporal- and spatial-scales from the 'deep' (geological) past to the (socially-relevant) near future. I use field-data to guide computer simulations of glaciers and ice-sheets to understand their dynamics and non-linear (potentially catastrophic) response to climate forcing. Current work includes the application of modelling to predict the future trajectory of glaciers and ice-masses in Antarctica, Patagonia, the New Zealand and European Alps, Iceland, Svalbard and the Canadian Arctic to understand how they will increasingly impact on society through changing runoff and water-supply, increased exposure to hazard and rising sea-level. Models applied to the (deep) past provide insight into abrupt cryospheric adjustment with an emphasis on palaeo-analogues for the potential collapse of the polar ice sheets. I have recently been working in Greenland using dGPS to investigate the dynamic sensitivity of the ice sheet to rapid glacial lake drainage.
Research Groups
Publications
Area and volume of mid-latitude glacier-like forms on Mars
Brough, S.
,
Hubbard, B.
&
Hubbard, A.
2018
In :

Earth and Planetary Science Letters.
507
,
p. 10-20
11 p.
Surface Meltwater Impounded by Seasonal Englacial Storage in West Greenland
Kendrick, A. K., Schroeder, D. M., Chu, W., Young, T. J., Christoffersen, P., Todd, J.,
Doyle, S. H.
, Box, J. E.,
Hubbard, A.
,
Hubbard, B.
, Brennan, P. V., Nicholls, K. W. & Lok, L. B.
2018
In :

Geophysical Research Letters.
45
,
19
Structural glaciology of Isunguata Sermia, West Greenland
Jones, C.,
Ryan, J.
,
Holt, T.
&
Hubbard, A.
2018
In :

Journal of Maps.
14
,
2
,
p. 517-527
11 p.
Resolving the internal and basal geometry of ice masses using imaging phase-sensitive radar
Young, T. J., Schroeder, D. M., Christoffersen, P., Lok, L. B., Nicholls, K. W., Brennan, P.,
Doyle, S.
,
Hubbard, B.
&
Hubbard, A.
2018
In :

Journal of Glaciology.
Rapid surface lowering of Benito Glacier, Northern Patagonian Icefield
Ryan, J. C., Sessions, M.,
Wilson, R.
, Wündrich, O. &
Hubbard, A.
2018
In :

Frontiers in Earth Science.
6
, 47
More publications on the Research Portal