Prof Alex Maltman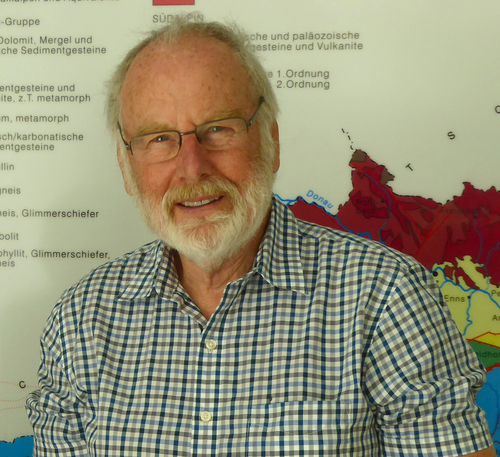 Profile
During 40-plus years at Aberystwyth, my research career touched on a wide range of geological matters and took me all over the world. Much of it centred on how geological sediments (sands, silts, clays, etc.) respond to stresses and strains. Sediment deformation arises in engineered situations such as landfill linings and in a range of natural environments such as unstable slopes (especially on the seafloor), beneath ice sheets, and at the ocean trenches where Earth's plates are colliding. This latter situation led to my twenty year involvement with the international Ocean Drilling Program, and my investigating the deep ocean floor around the Pacific and Caribbean.
Two highlights of my teaching career were when the enrollment for my always popular "Planet Earth" course exceeded 600 students (because no teaching room on campus was big enough, I had to deliver each lecture twice!), and when I received the accolade of "Best Lecturer" the very first time the Guild of Students' held its Student Led Teaching Awards.
Throughout all this time, as a hobby I grew hops and made beer, and grew grapevines and made wine.But my scientific curiosity always made me question what was happening, why things were done in certain ways. So perhaps inevitably I became intrigued by the fashionable and much vaunted - but poorly understood - relationship between wine and vineyard geology. And when I took early retirement from the university, pursuing these interests opened up new vistas. For instance, I have recently published on wine and beer matters in various academic journals together with popular magazine such as Practical Winery and Vineyard, Geoscientist, Wines and Vines, Decanter, and the World of Fine Wine. I have made TV and radio appearances talking about geology and wine, have given webinars and podcasts, and lectures across the UK and internationally. I was responsible for the geological entries in the Oxford Companion to Wine and have advised on the geological content of several books, including the forthcoming 8th edition of the World Atlas of Wine.
In 2018 my book: "Vineyards, Rocks, and Soils: A Wine Lover's Guide to Geology" was published by Oxford University Press to high acclaim ("No student of wine should be without this book; every wine writer and sommelier should read it, several times", Andrew Jefford in Decanter magazines), including being short-listed for the Andre Simon Wine Book of the Year award. So much for retirement!
.
Publications
Parr, WV
, Maltman, A
, Easton, S & Ballester, J 2018, '
Minerality in Wine: Towards the Reality behind the Myths
',
Beverages
, vol. 4, no. 4, 77.
https://doi.org/10.3390/beverages4040077
Maltman, AJ
2013, '
Minerality in wine: a geological perspective
',
Journal of Wine Research
.
Hambrey, MJ
, Huddart, D
, Maltman, AJ
, Crawford, KR, Gonzalez, S
& Glasser, NF
2011, '
Terrestrial glacial sedimentation on the eastern margin of the Irish Sea basin: Thurstaston, Wirral
', pp. 131-146. <
http://hdl.handle.net/2160/7186
>
More publications on the Research Portal