Building environmental excellence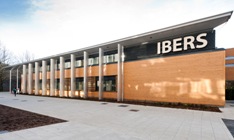 The IBERS building on Aberystwyth University's Penglais Campus. Credit: Keith Morris.
The award winning Institute of Biological, Environmental and Rural Sciences (IBERS) building on Aberystwyth University's Penglais campus has achieved its final certification as BREEAM Excellent.
This is confirmation that the building is fulfilling a high standard of environmental performance.
BREEAM, the Building Research Establishment Environmental Assessment Method, is described as "the world's foremost environmental rating system for buildings".
BREEAM sets the standard for best practice in sustainable building design, construction and operation by encouraging designers, clients and others to think about low carbon and low impact design, minimising the energy demands created by a building before considering energy efficiency and low carbon technologies.
Professor April McMahon Aberystwyth University's Vice-Chancellor said; "Sustainability is at the core of our new Estates Strategy and as a University which is currently undertaking a programme of development, we are careful to ensure that environmental considerations are at the heart of all our capital projects. We are therefore delighted to have received this acknowledgement that the new IBERS building is achieving the highest standards of environmental performance, and is setting the standard for future investment in building projects here."
The building project on Penglais campus received funding from the Welsh Government and the Biotechnology and Biological Sciences Research Council (BBSRC) and was officially opened in May 2012 by the then Minister for Education and Skills, Leighton Andrews AM.
The building is home to the Centre for Informatics and Computational Biology Laboratory, and features seminar rooms, office space and the popular IBERbach café.
Professor Wayne Powell IBERS Director said; "The building provides a great working environment and its design, build and operation is in line with the core values of IBERS – sustainable environmental development, and addressing the grand challenges facing society today including climate change and water security."
At the design stage in 2011, the building was awarded the BREEAM Award for the highest scoring building in the Higher Education sector, and the final certificate retains the building's Excellent rating.
Designed to make the most of natural sunlight and ventilation, the IBERS building is heated by a 4000m2 ground source heating system installed under Pantycelyn field.
Other sustainable energy saving features include insulation made of sheep's wool, a green planted roof and a rainwater harvesting system that provides all the water required for WC flushing.