Professor Gerd Althoff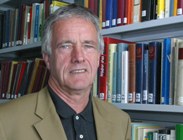 Professor Gerd Althoff
Professor Gerd Althoff
The leading German academic, Professor Gerd Althoff of the University of Münster, will visit Aberystwyth University on Monday 11 February.
Professor Althoff will conduct a lunchtime workshop at the International Politics Building between 12 and 2 p.m. on Ritual, Symbolism and Society, jointly with Professor David Trotter (European Languages) and Dr Peter Jackson (International Politics).
Later, at 5 p.m. in room C43 of the Hugh Owen Building, Professor Althoff will deliver a lecture to the Department of History and Welsh History on 'Irony in medieval politics'. Both events are open to anyone interested in participating.
Professor Althoff is one of the founding fathers of the "New Political History", that is, an approach that stresses informal networks of power, on the role of symbolism, of ritual and gesture in the conduct of political relations, and that has dominated work on the political culture of continental Europe for most of the last twenty years.
Professor Althoff has held several visiting fellowships, among others at Berkeley and the Ecole des Hautes Etudes en Sciences Sociales in Paris. A flavour of Althoff's approach can be had from his
Family, Friends and Followers
(Cambridge, 2004),
Otto III
(State University of Pennsylvania Press, 1999) and his articles in
Ordering Medieval Society
, ed. Bernard Jussen (University of Pennsylvania Press, 2001).
This visit is the opening leg of a lecture tour organised by the British Academy Research Network, "Political Culture, 1066-1300", run from the Department of History and Welsh History, and is sponsored by the Institute of Medieval and Early Modern Studies. It demonstrates Aberystwyth's place as a leading venue of research into politics and political culture, and the vibrancy of interdisciplinary approaches to the study of politics.
For further information contact Björn Weiler (
bkw@aber.ac.uk
)